Top 5 IPOs of 2020 Revisited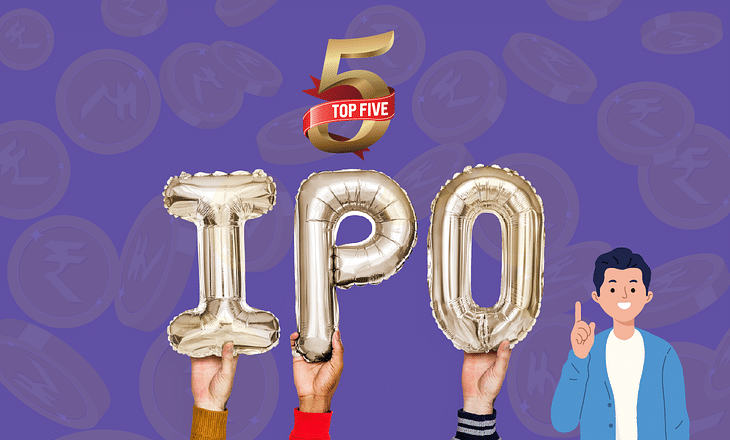 The year 2020 is concluded and it's the right to look back how it panned out for the IPOs. The Indian stock market touched the rock bottom due to the lockdown announcement in various countries in March. Since then, it has been on a serious uptrend. If there has to be a year where IPO should not perform well, it has to be this year. But, surprisingly, IPOs have generated huge demand this year. In fact, 2020 has been an amazing year for most of the companies who opted to take public routes this year. Out of the 16 companies which launched their IPO in 2020, only four of them gave listing day losses to the investors.
Let's have a look at the top 5 IPOs of 2020 with the most listing gain percentage.
#5 Rossari Biotech - 74.67%
Mumbai-based Rossari Biotech is a textiles speciality chemicals manufacturer. They provide customized solutions to specific industrial and production requirements. The IPO hit the market from 13th July 2020 to 15th July 2020. The issue price band decided for the IPO was Rs 423-Rs 425 equity per share. Rossari Biotech's decision to take the public route became an instant hit. It was subscribed 79.37x times on July 15, 2020.
It was subscribed 239.83x times in the NII category. Followed by 85.26x times in the QIB category and 7.23x times in the retail category. We believe that one of the strongest reasons for this success is the wide portfolio under which the company operates. They operate in 18 countries and in several sectors like apparel, animal & poultry feed, and FMCG industries, home & personal care and performance chemicals. Their shares get listed at a price of Rs 670 per share. This was 57% higher than the issue price. On its listing day, their price closed at Rs 742.35 which was 74.67% higher than the issue price. Thus, taking the 5th position on this list.
#4 Route Mobile - 86.02%
Route Mobile Limited is a 16-year old company and is one of the leading Cloud Communication Platform providers. They offer their services to many enterprises, over-the-top (OTT) players and mobile network operators (MNO). Mainly they offer smart solutions in Messaging, Voice, Email, and SMS Filtering, Analytics & Monetization.
Route Mobile raised Rs 600 crore from its IPO which was subscribed by 73.30x times on September 11, 2020. The price band was set at Rs 345 to Rs 350 per share. The issue was subscribed 192.81x in the NII category, 89.76x in the QIB category and 12.67x in the retail category. Their shares get listed at a price of Rs 708 per share which is more than double of its issue price. The stock closed its listing day at Rs 651.10. Thus, giving a massive listing gain of 86.02% to the investors.
#3 Mrs Bectors Food - 106.79%
One of the most recent IPOs to hit the market was that of Mrs Bectors Food. And, it was a grand success for the companies and the people who were allotted the shares. Mrs Bectors Food caters in two categories which are biscuits and bakery products. They operate in the biscuit segment as "Mrs Bector's Cremica'' and in the bakery segment as "English Oven" brand. They possess 96 products and 384 products in its bakery segment and biscuits segment respectively.
Mrs Bectors has a huge presence in north India but they still have the opportunity to explore other locations of the country. According to us, Mrs Bectors Food's IPO was a hit because of its robust in-house operations. They wholly manufacture and sell their products on their own. Currently, the company has 6 manufacturing units in India. To support the manufacturing domain, they have an exemplary distribution network.
The company raised more than Rs 540 crore via its IPO to expand in other districts. This will help them to spread their brand in other parts of the country, thus boosting their revenues. The price band for this IPO was Rs 286 to Rs 288 per share but due to huge oversubscription, it got listed at Rs 501. The IPO was subscribed by 198.02x times. Their successful run didn't stop there as the stock closed at Rs 595.55. Thus, giving an astounding 106.79% listing gain to the investors.
#2 Happiest Minds Technologies - 123.49%
The IT sector is destined for a big future. This pandemic reminded us of how important a role these IT companies play in our life. Bangalore based Happiest Minds is an IT service provider company with a global presence in countries like US, UK, Australia and Canada. They are one of the strong brands which offer Digital IT services. It didn't take long for people to realise that this surely will be a hugely profitable opportunity for them if they are allotted the company's shares.
Happiest Minds raised Rs 700 crore through their IPO. The price band was set at Rs 165 to Rs 166 equity share and the IPO was subscribed 150.98x times. Thus, the stocks get listed at Rs 351, that is, more than double the issue price. It went even higher and got closed at Rs 371. Thus, giving investors a magical 123.49% listing gain.
#1 Burger King - 130.67%
Who other than the great Burger King? As soon as Burger King announced their intentions to go public, the market knew it would be big. The only question was, how big? Currently, Burger King is India's one of the fastest-growing quick-service restaurant chains. The youth of India, who is a major part of the population, are well aware of Burger King as a brand. People expect the FMCG industry, especially these QSRs to do well in the future as they expand their Indian portfolio. Thus, many considered Burger King to be a good option for long-term investment.
Burger King raised Rs 810 crore via the public route. The price band for the IPO was Rs 59-60 per share. The company stated that the proceeds from the IPO will be used to open at least 700 restaurants by December 31, 2025. This showed that the American multinational chain has no intentions in slowing down their growth in India. Burger King got listed at Rs 115.35 in comparison to their issue price of Rs 60. It was oversubscribed by 156.65 times.
The stock closed at Rs 138.40 on the day of its debut on the market. That is a mighty 130.67% listing gain! That means, if you had invested Rs 15,000 in its IPO, it would value Rs 34,600 after just one trading day. Not only this, Burger King hit the upper circuit three continuous days which showed how much people were interested in buying the stock. After three trading days, Burger King touched Rs 219 which means a gain of 265.25% over its issue price. To make it simple, your initial investment of Rs 15,000 would value to be Rs 54,787 after just four days!
The Way Forward
It was a rock-solid year for IPO in India. Who could have imagined that only 4 out of the possible 16 IPOs will fail to give listing day profits in 2020? It seems like people are more aware of the pros of an initial public offer and they are ready to invest in future. If you missed out an opportunity to get profits via IPO in 2020, do not worry! New year comes with new opportunities and that's what 2021 will be offering you. Zomato Ltd, Aditya Birla Sun Mutual Fund Ltd, Grofers, Kalyan Jewellers are few of the probable companies which might come with an IPO this year. marketfeed will bring you a thorough analysis before any IPO hits the market so that you can know all the positives and negatives of the company. Hoping 2021 comes with a jackpot for all of us! Until, next time.
Post your comment
No comments to display