Three Black Crows! Bears Taking Over the Bulls? - Post-Market Analysis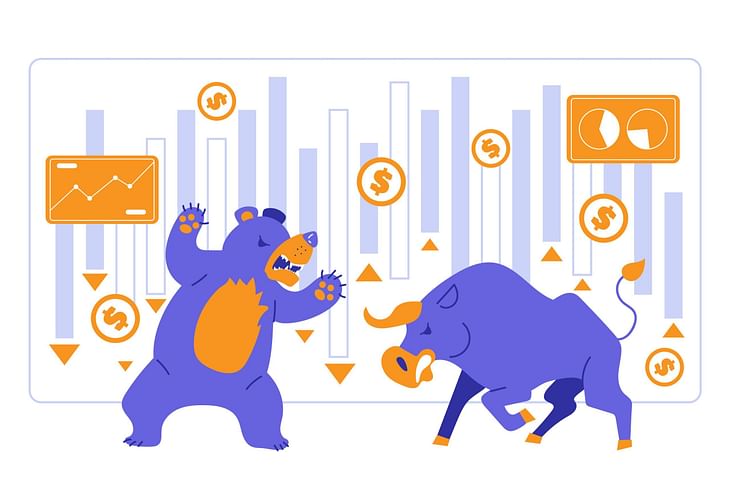 NIFTY opened the day at 18,008 with a gap-up of 15 pts. It was a continuation of yesterday's fall and the index moved 250 pts from day high to day low. It took multiple support from 17,800 levels and recovered some pts. Nifty closed the day at 17,859, down by 132 points or 0.74%.
BANK NIFTY started the day at 42,649 with a gap-up of 41 pts. After the morning fall the index tried to consolidate around yesterday's low. After 2 PM, it hit a day low at 41,877 and took good support there. Bank Nifty closed the day at 42,188, down by 419 pts or 0.99%.
FIN NIFTY started the day at 18,808 with a gap-up of 26 pts. Even though the index fell below the recent low of 18,550, it took strong support from 18,500. Fin Nifty closed the day at 18,603, down by 178 pts or 0.95%.
Nifty Bank (-0.99%), Nifty Finserv (-0.95%), Nifty IT (-2%), Nifty Media (-1.4%), and Nifty Metal (-0.95%) fell heavily. Nifty FMCG (+0.03%) closed slightly in the green.
Major Asian Markets are closed mixed. European markets are trading flat and mixed.
Today's Moves

Britannia (+1%) closed as Nifty 50 Top Gainer.
Oil-related companies- Reliance (+0.91%), BPCL (+0.69%), and ONGC (+0.58%) also featured in the Top Gainers list.
TCS (-3%) closed as the Nifty 50 Top Loser. TechM (-2.5%), Persistent (-1.9%), Infy (-1.8%), and Mphasis (-1.7%) also fell heavily.
IDBI Bank (+7.7%) moved up after SEBI allowed Govt holding in the bank to be reclassified as public after divestment.
Sobha (+3.8%) achieved the highest-ever quarterly sales value of Rs 1425 crore in Q3.
Dabur India (-3.4%) moved down as it expects weak revenue growth. They said that revenue is expected to report low to mid-single-digit growth.
CEAT (+4.4%) closed in the green as it forecasted Rs 16,500 crore revenue in the near term.
Markets Ahead
We have already lost the psychological support of 18,000. But Nifty hasn't broken the 17,750-800 zone and this would act as a decider.
If Nifty breaks this support, there is a higher possibility of hitting 17,500. However, even if the fall continues I do not expect Nifty to breach the 17,150 level next week.
Supports for Bank Nifty are at 41,500, 40,750, and 39,600.
Please remember that if HDFC Bank and HDFC break their recent consolidation it will bring more downside momentum to the market. And the market will not respect technical levels during this time.
Nifty, Bank Nifty, and Fin Nifty have formed three black crow patterns which are used to indicate a strong reversal after a rally.
After hitting 18,887, the Nifty fell to 17,800. From there it retested to 18,250 and is now falling with good momentum.
All these things indicate more fall in the market. Three black crows occur when a candle opens within the body of the previous candle and closes below the previous candle's low.
CY23 is considered a cool-down year where both inflation and growth rates slow down. Our current interest rate hikes, GDP value, inflation rates, and corporate results are doing very well compared to other economies.
FIIs net sold for the tenth consecutive day yesterday and this is huge. As we discussed a few days before, there is a chance that FIIs might be booking profits in India and buying more in lower-valued economies like China.
Indian (5:30 PM) and US (07:00 PM) inflation rates will be out next Thursday after market hours.
Which is your best strategy to attack a trending market? Share your answers in the comment section below.
Post your comment
No comments to display