The Success Story of Vijay Kedia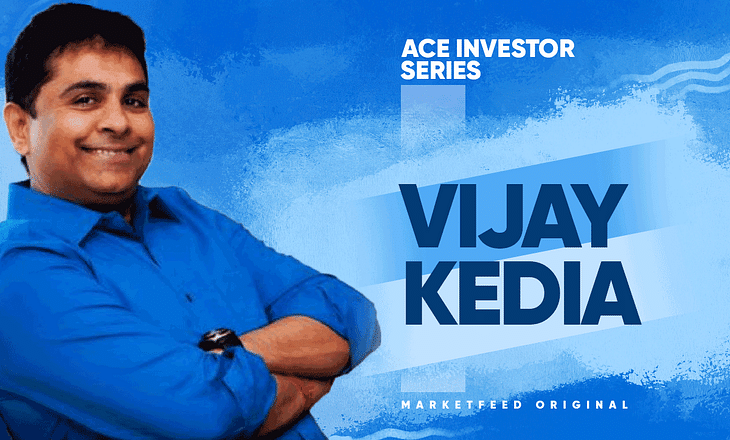 India has its fair share of inspirational and highly successful stock market investors. One such ace investor is Vijay Kedia, who has developed unique skills and expertise to pick stocks over his 30-year career. Kedia and his investment firm, Kedia Securities Pvt Ltd, are the largest shareholders of several listed companies in India. His success story can be a motivation for all aspiring investors out there. In today's article, learn more about Dr. Vijay Kishanlal Kedia and his journey in the stock market so far.
Vijay Kedia - A Brief Profile
Kedia was born into a family of stockbrokers based in Kolkata. He is part of the Marwari community, an ethnic group well-known for its strong business acumen. At the age of just 14, he started to develop a passion for trading and learnt several strategies from his grandfather. Kedia joined his family's stockbroking business after his father passed away. He was 19 at the time. However, he was never really interested in stockbroking and thus, decided to leave the business after working for three years. He began to focus on his trading career.  
Initially, Kedia was able to make sufficient profits from several trades. He built the confidence to increase his capital gradually. Unfortunately, he started incurring huge losses that ultimately ate up all realized profits and some part of his capital. Highly relatable, right? After analysing the mistakes he made, Kedia decided to make a transition towards investing. This would turn out to be one of the most important decisions in his life. He began to learn the different concepts behind fundamental analysis and growth investing. Around the same period, he moved to Mumbai to try his luck in conquering Dalal Street.
Since the early 1990s, Vijay Kedia had developed the ability to identify numerous multi-bagger stocks. In 1992-93, he bought ACC shares at Rs 300 per share and sold them at ~Rs 3,000/share within a year and a half. Similarly, Atul Auto, Aegis Logistics, and Cera Sanitaryware are some of the stocks that gave him a return of over 1,000% each within 10-12 years. He could analyse and pick a stock way before the market realised its true potential. In 2012, Kedia rightly predicted the beginning of the structural bull run in India, at a time when most analysts were bearish. The Economic Times has described him as a "market master".
As per corporate shareholdings filed for June 30, 2021 (Q1 FY22), Vijay Kedia and his firm publicly hold 16 stocks with a net worth of over Rs 810.6 crore.
Important Lessons from Vijay Kedia's Life & Career
Vijay Kedia's initial losses or failures in his trading days are what drove him to become one of the most successful investors in India. He was able to learn from his mistakes, as well as observe the success and failures of those in the same field. He keeps himself updated by reading newspapers, business magazines, and annual reports of listed companies. Kedia often watches interviews of CEOs and managers to frame an idea about a firm's future plans and growth targets.
To become a successful investor, Kedia says one must acquire the knowledge to search for the best stocks and have the courage to purchase them at a sufficient cost. Most importantly, one must develop the patience to hold stocks until the market finds its real value. "Invest like a bull, sit like a bear, and watch like an eagle (mantra for long-term investing)".
Kedia adheres to the SMILE principle of investing, which refers to Small in size (small-medium market cap), Medium in management experience, Large in Aspiration, and Extra-large in market potential. He has time and again emphasized the importance of a strong management team while selecting a stock to invest in. He believes that the best businesses can be ruined by bad management and bad businesses can be revived by the best management. An experienced team will protect your investment in order to safeguard their own wealth and reputation. Investors must carefully analyse the future projection of a company, and check whether its management is ambitious towards achieving its goals. 
Here is an inspiring quote from Vijay Kedia. "One must understand that the stock market is a 'high risk-high gain' business. It is a full-time business which has its own rules which need to be strictly followed. One has to fall in love with the market. The market rewards you as per your perception of it. If you treat it as a gambling den, it will prove a gamble for you".
Post your comment
No comments to display