The Success Story of Razorpay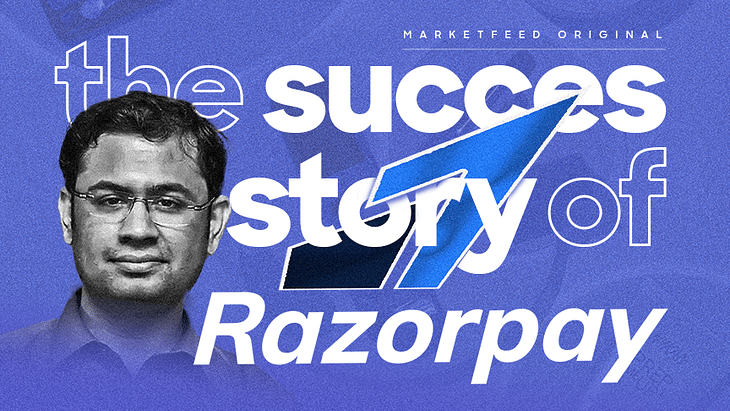 The payment gateway ecosystem in India is a huge market to capitalise upon. The firms participating in this industry require a reliable system and robust mechanism of logistics and financial compliance at every stage. Today, Razorpay is one of the leading internet-based financial solution providers revolutionising the fintech space with groundbreaking innovations.
From days of justifying every payment the company made for essential items from its college seed fund to raising millions and becoming members of the coveted unicorn club, Harshil Mathur and Shashank Kumar of Razorpay have come a long way.
In today's article, we throw light on how Razorpay has been rising up the charts to emerge as a dominant name in the Indian fintech space.
Razorpay's Origin
In 2014,  Kumar and Mathur met at IIT Roorkee when the duo decided to work on a crowdfunding platform. However, they realised that online payment was a problem for small & medium-sized (SME) businesses, especially e-commerce platforms. Thus, they created Razorpay to address this issue. The idea of Razorpay was to offer a simple payment gateway platform for startups/SMEs.
The platform provides access to several online payment methods for business entities, including credit & debit cards, net banking, and UPI. They charge just 2-3% for each transaction. It also supports many leading wallets in India, including JioMoney, Mobikwik, Airtel Money, FreeCharge, OlaMoney, and PayZapp. Razorpay provides a comprehensive dashboard for handling payments for users and is applicable for both web and mobile applications.
The dashboard has various products, namely Razorpay Route, Razorpay Smart Collect, Razorpay Subscriptions, Razorpay Invoices and Razorpay Capital. These products handle tasks such as cash flows, disbursement of money, and automating electronic fund transfers. Razorpay also collects scheduled payments and supports businesses with instant loans to help them resolve cash flow issues. They also offer smart payroll software to manage and automate employee salaries.
Oyo, Cred, Facebook, Flipkart, Zomato and Swiggy, Byju's, Zilingo, Yatra, Goibibo, and Airtel are some of Razorpay's most prominent clients! Even marketfeed has been using its payment gateway and payroll services since 2020!
Razorpay's Latest Funding Rounds
In October 2020, Razorpay obtained $100 million in a funding round headed by Singapore's sovereign wealth fund GIC and Sequoia India. With this funding, Razorpay joined the exclusive batch of unicorn startups from India. It raised $375 million in a Series F round in December 2021. In May 2022, the firm announced its fourth liquidity event for Employee Stock Ownership Plan (ESOP) for $75 million.
Ribbit Capital, Tiger Global, Y Combinator, Matrix Partners, Singapore's GIC, and Sequoia India are the platform's leading investors.
At $7.5 billion, Razorpay is currently India's most valuable fintech firm!
Razorpay's Acquisitions
In 2019, Razorpay announced its first acquisition of Thirdwatch, an AI-powered company specialising in big data to reduce return-to-origin and fraud orders for e-commerce businesses.
It also acquired cloud-based payroll management startup Opfin in 2019. The acquisition allowed Razorpay to roll out a new HR automation product, primarily for the payroll process. It also complemented RazorpayX's B2B banking product, which is a neo-banking platform targeted at businesses and corporates.
2021 - Acquired TERA Finlabs to strengthen its B2B Credit Infrastructure.
2022 - The company made an international foray and acquired leading Malaysian fintech startup Curlec to transform the payments ecosystem in Southeast Asia.
Purchased a stake in payments tech startup IZealiant Technologies to build industry-first solutions for banks to create a world-class payments experience for their businesses and customers.
Razorpay acquired Ezetap to build a full-stack omnichannel payments solution.
Ventured into Loyalty and Rewards Management with the acquisition of PoshVine. The acquisition was made to enhance the offline shopping experience for customers by integrating PoshVine's loyalty and reward offerings on its point-of-sale network.
Peer Analysis
Razorpay faces heavy competition from PayU, Paytm, PayPal India, CCAvenue, BillDesk, Instamojo, and many more. These firms aim to increase their market share by forming multiple partnerships, investing in projects, and launching new products. The market is highly concentrated with various small and large players.
Razorpay's Strong Growth
The platform has close to 80 lakh merchants who are primarily small & medium enterprises (SMEs). This figure is expected to reach 90 crores1 crores as the industry matures.
With an annual payment processing volume of roughly $80 billion, the business has a solid opportunity to overtake rival PayU as the leading online payment processing platform.
The company clocked revenue of ₹1,484.4 crore in FY22 along with a profit (undisclosed) as per unaudited financial reports.
Over the past years, Razorpay has expanded beyond digital payments. In just four years of its launch, RazorpayX and Razorpay Capital, the company's lending arm and neo-banking division, have already contributed 30% to its total revenue.
With the Curlec acquisition, Razorpay is looking to expand its core payments services to markets in Malaysia, Indonesia, Thailand, the Philippines, etc.
As a result of its strong product and technology stack, Razorpay was also voted as The Economic Times Startup of the Year 2022.
Razorpay's Mission
India's payments space has seen increased activity over the last few years. Consumers are changing their preferences for making online payments as a result of increasing internet penetration and awareness about the ease of online transactions. Razorpay's mission and vision lie in the objective of making payments easier; making it super-simple for businesses to accept and receive payments. By strengthening its focus on the web and consumer categories through additional acquisitions, Razorpay has been working to establish itself as an omnichannel payments operator.
The company's razor-sharp focus on creating start-up offerings has helped them grow substantially. Its focus now lies on increasing market share in India and building a base in the South Asian payments market.
With larger offerings like upgrading neo-banking platforms and smaller ones like introducing multilingual checkout pages, do you think Razorpay looks ready to dominate the global payments space? Let us know in the comments section of the marketfeed app!
Post your comment
No comments to display