The Story Of Zoomcar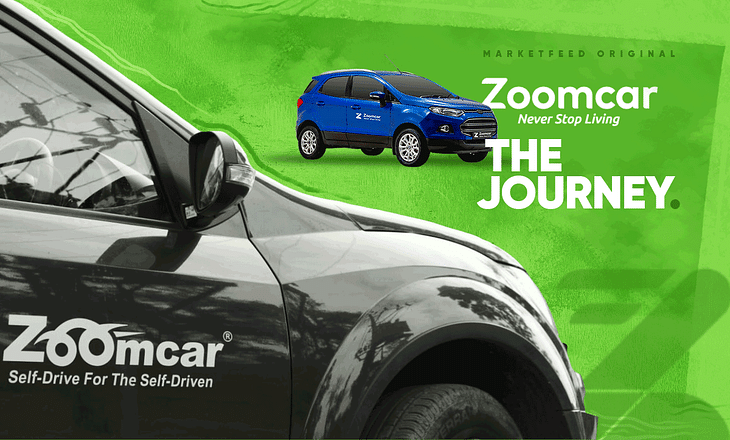 Zoomcar is a word synonymous with road trips and getaways. Before the COVID-19 menace started in 2020, many of us would take a much-needed escape from routine. Munnar, Nandi Hills, Lovanala, Shimla. Oh, the nostalgia! Oftentimes, for many of the young Indians who didn't own a car, Zoomcar came to the rescue.
The last one and a half years have been harsh on the car rental industry. As people stayed home and travel restrictions crept in, people stopped renting cars and the industry was left paralyzed for quite some time.
In this piece, we explore how the Idea of Zoomcar came about, its business model, and what the company plans to do in the future while navigating out of the pandemic-struck market at the same time.
The Inception
Zoomcar was founded by American duo Greg Maron and David Back, who met while they were pursuing a business degree at USC Marshall School of Business.
Greg used to work in finance at a company that had its operations in India. As an analyst, Greg did have some idea about the Indian market. He felt that there was a void in the Indian car rental space. In 2013, the two friends ventured out to the city of Bangalore in India, and with the help of some Indian friends, started Zoomcar.
The provisions for rented self-drive car companies in India were introduced almost TWO DECADES before Zoomcar took off in India. The Rent A Cab Scheme, 1989, was launched by the Government of India. According to the rules, the licensee company needs to have at least 5 offices and 50 cars to get a license for the state. Apart from this, there were some unusual requirements. The unusual requirements and rules could have been the reason that self-drive companies did not succeed for almost two decades. This was until Zoomcar came and cracked the scheme. Since the startup did not have the right funds to buy offices and cars, it approached local vendors with a taxi fleet and onboarded them on their platform. This way, they were not only able to get the licenses but also quickly expand their market.
The Indian car rental space is fuelled by its growing young population. An average young Indian doesn't want to own a car because it is too much of a hassle to maintain them. Also, many would use their car infrequently. Some couldn't afford it, while many thought that the money could be used elsewhere. After all, it would be convenient and cheap to share a cab or a ride to work.
Now, what if the average young Indian wants to go on a road trip or a vacation? Without a car rental space, the only other way would be to borrow a car from a friend or a less trustworthy car dealer. Zoomcar founders Greg and David caught the smell of it in 2012, and the rest is history.
How Zoomcar Makes Money
Headquartered in Bangalore, owned by parent company Zoomcar Inc in the US, with a fleet of more than 10,000 cars in 50+ cities, Zoomcar is beating the odds having captured close to 75% of the car rental space in India. The global car rental industry was valued at $92.92 billion or Rs 7 lakh crore in 2019. Rising fuel prices and the uncertainty of COVID-19 have made the growth estimates of the industry contentious.
Zoomcar has managed to raise a funding of close to Rs 1,200 crores. The company is currently valued at more than Rs 1,600 crores. The latest round of funding was in May 2021, where Zoomcar raised Rs 40 crores. The company is backed by close to 36 investors in total. Sequoia Capital, Mahindra & Mahindra, Ford Motor Company, Nokia Growth Partners are some of the big names.
As for revenues, Zoomcar makes money through two segments. Car rentals and Car 'Sharing'. The company rents cars for days, weeks, and even months. The renting procedure is simple: you pay a rental amount along with a security deposit and get going for your trip. Zoomcar's subscription-based model was a huge hit where one could pay anywhere between Rs 10,000/month and Rs 40,000/month based on requirements like sharing, model, frequency of use, etc
Zoomcar has also tied up with automobile manufacturers like Tata, Mahindra, and Ford that lease their cars to Zoomcar for a definite period. Mahindra's REVA E20 electric vehicle became the first EV to get listed on a car rental platform in India. Apart from this, Zoomcar leases cars from other leasing companies and onboard local operators to meet requirements at the same time.
Coming to the Zoomcar Associate Program or ZAP. Simply speaking, if you own a car and do not intend to use it frequently, you can choose to list it on the Zoomcar platform where other users can rent it. The ownership remains with you while you earn a passive income when not using the car. Zoomcar tears a commission off it while guaranteeing to pay you a minimum revenue every month. You can check out the detailed ZAP policy here.
The Future
The car rental industry wasn't regulated much before the entry of Zoomcar. The idea that you could rent a car whenever you wanted instead of spending money on buying and maintaining it was appealing. Zoomcar has the first-mover advantage in the rental space.
In a recent interview, CEO and Founder Greg Maron hinted that the company is planning to list on the US markets. The financial condition of the company isn't pretty impressive. The bottom line remains, Zoomcar isn't profitable yet. The company's loss doubled from Rs 202 crore in FY2019 to Rs 424 crore in FY2020. The company has managed to get a valuation of $170 million, far from $1 billion when it would be called a Unicorn. The company is eyeing foreign markets like the Middle East and Southeast Asian countries. An IPO in the US markets could be a turning point for the company where it could spearhead operations not only in India but globally as well.
Post your comment
No comments to display