The Story of boAt: The First Indian D2C Brand to Launch an IPO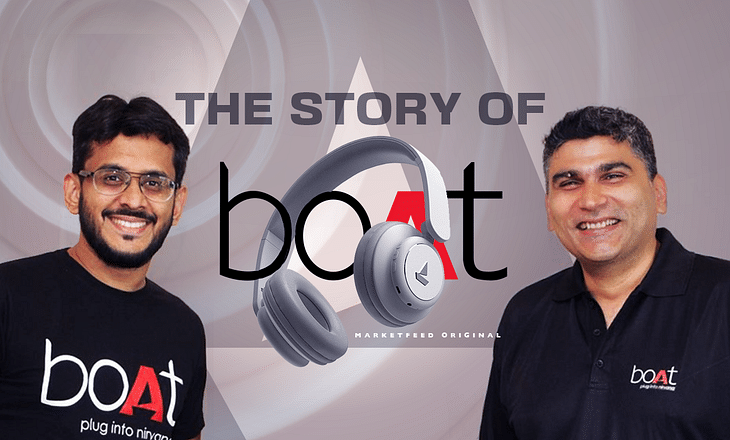 Imagine Marketing, the parent company of popular consumer electronics brand boAt, has filed the draft papers for its IPO. It is inspiring to see a young company floating an IPO just six years from its incorporation. Within such a short period, boAt has become the fifth largest wearable brand in the world! The company aims to raise Rs 2,000 crore via the public issue and is eyeing a $1.5-2 billion valuation. boAt will be the first Indian direct-to-consumer (D2C) brand headed for public listing.
In this article, we discuss the inception of boAt and its impressive growth.
The Story of boAt
Back in 2016, Aman Gupta and Sameer Mehta wanted to create a lifestyle brand that catered to the needs of India's millennials. They realised that a majority of our country's population wanted audio products and electronics that were affordable, durable, and fashionable. The duo established boAt in 2016 with an investment of Rs 30 lakh. In the initial stages, the company manufactured and sold indestructible charging cables. Most of you iPhone users out there must love this product.
After the immense popularity of the Apple AirPods, boAt sensed an opportunity and entered India's hearables industry. Existing wireless earphones and headphones in the market were too expensive at the time. boAt's founders realised that owning the intellectual property (IP) in a brand was important. It focused on product quality, research & development, and took feedback from members of its online community.
And thus, the company launched a wide range of audio products with a strong focus on affordability, quality, and style. The boAt BassHeads and Airdopes have become extremely popular.
Despite heavy competition, the brand has been able to drive sales as it offered good-quality products at very reasonable rates. boAt's product portfolio now includes portable speakers, home audio products, smartwatches, gaming accessories, and personal care appliances.
boAt's Marketing Strategy
boAt's co-founder and Shark Tank fame Aman Gupta had experience handling sales at Harman International—  the company behind brands like JBL, Harman, and AKG. He focused on creating a seamless experience to build a premium aspirational brand. Aman also wanted boAt to build a strong relationship with its customers (dubbed the "boAtheads").
Over the years, the company has roped in several cricketers, actors, musicians, and fashion icons as its brand ambassadors. Their creative ad campaigns on social media and targeted offers have attracted lakhs of customers. It has also partnered with IPL and Marvel to launch exclusive products. boAt's founders believe that the lifestyle segment is only going to grow further as India's youth continue to consume more content.
In 2018-19, boAt expanded its offline presence by meeting distributors and training them in the brand's value system. The company also sells its products at Reliance Digital and Croma stores. On the other hand, it is highly dependent on Amazon and Flipkart for its online sales. They derive ~83% of their total sales from online marketplaces. In 2021, boAt sold 15,000 units of wearables each day! The homegrown startup has managed to attract customers with its trendy and pocket-friendly products.
Impressive Sales Growth!
boAt's parent company, Imagine Marketing, has reported strong revenue growth over the past three years. In FY21, its revenue jumped ~115% YoY to Rs 1,313.7 crore. The company's net profit grew 81% on a yearly basis to Rs 86.53 crore during the same period. Amidst the Covid-19 pandemic, the brand witnessed a massive surge in demand for its diverse range of products. Total expenses jumped 122% YoY from Rs 637.5 crore in FY20 to Rs 1,420 crore in FY21.
For the six months ended September 30, 2021, the company's revenue stood at Rs 1,553.15 crore and net profit at Rs 118.2 crore! In H1 FY22, audio products accounted for nearly 83% of its sales, while wearables accounted for 14.05%.
However, the high working capital requirements of the startup have forced its cashflows to turn negative. Its debt has increased from Rs 41 crore in FY20 to Rs 731 crore in FY21. The company will be using a significant portion of its IPO proceeds to repay loans.
The Way Ahead
Imagine Marketing currently procures its products and essential components from China. Any delays or disruption in the supply chain as a result of strict regulatory action from Chinese authorities could severely impact boAt's business. The company is now working closely with manufacturers in Vietnam, Malaysia, and Singapore to reduce its reliance on China. boAt is also hoping to start its manufacturing operations in India in the next few years. Reports also indicate that Imagine Marketing has been exploring contract manufacturing with Dixon Technologies for its Bluetooth-enabled hearables business.
The brand will continue to focus on its online business and take the necessary steps to improve its customer service. While Flipkart and Amazon will be part of the D2C strategy, boAt will also work on driving sales through its direct e-commerce channel. They also intend to expand to overseas markets such as the United Arab Emirates (UAE). Nepal, and other Southeast Asia regions.
You can read Imagine Marketing's draft red herring prospectus here. What are your views on boAt? Let us know in the comments section of the marketfeed app.
Post your comment
No comments to display