The Rs 8,000 Crore Scam at SBI, Canara Bank: Explained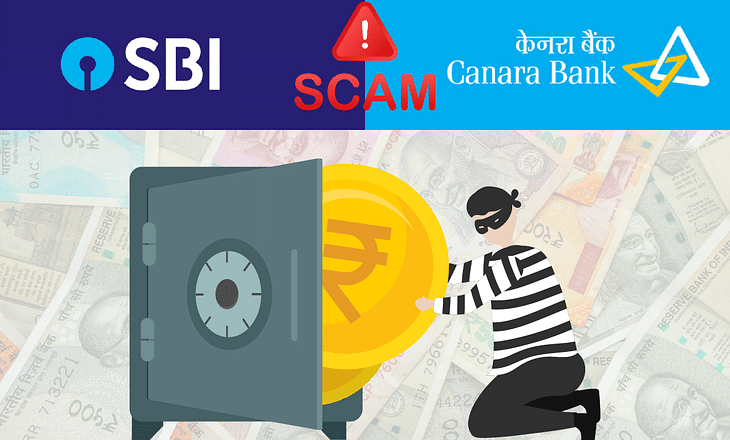 The public sector banks of our country have fallen prey to another major scam. The State Bank of India and Canara Bank had filed separate cases against two private firms for alleged bank fraud of over Rs 8,000 crore!
We know that banks are the backbone of any economy. When such fraudulent activities occur frequently in our banks and financial institutions, it causes major harm to India's economic growth. Moreover, it affects the lives of common citizens. Let us take a closer look at the important details surrounding this latest scam.
The Canara Bank Fraud Case
A consortium of 14 banks, led by Canara Bank, had lent over Rs 7,926 crore to a Hyderabad-based company known as Trannstroy (India) Ltd. The company deals in the construction of highways, bridges, irrigation projects, and metro-related work. They are also in the oil and gas business.
In a detailed filing to the concerned legal authorities, Canara Bank alleged that Trannstroy Ltd had availed credit facilities using multiple banking arrangements. This refers to when a borrower avails loans independently from more than one bank. There is no contractual relationship between the various bankers of such borrowers.
The lender alleged that Trannstroy was involved in falsification/fabrication of books of accounts, hiding of stock statements, and tampering with its balance sheet. Canara Bank also alleged that the private firm misappropriated its funds and diverted the loan amount sanctioned by the consortium. Transstroy (India) Ltd had caused a loss of around Rs 7,926.01 crore to Canara Bank and other member banks. The account had to be declared as a non-performing asset (NPA).
It is surprising to know that this case was referred to the National Company Law Tribunal (NCLT) and was admitted by NCLT Hyderabad on October 10, 2018! The company was declared as a wilful defaulter by Canara Bank on December 26, 2018, more than two years ago!
Recent Developments
On December 19, 2020, the Central Bureau of Investigation (CBI) registered an FIR against Transstroy (India) Ltd and its Chairman & Managing Director (CMD), Cherukuri Shridhar Sridhar. The CBI has also booked the firm's Additional Directors Rayapati Sambasiva Rao and Akkineni Satish, and some unknown public servants. One of the accused, RS Rao, is a former Telugu Desam Party MP. The investigation agency conducted raids at the premises of the private company and the offices/homes of the accused members at Hyderabad and Guntur and found necessary documents.
On the same day, Canara Bank issued a clarification on the details regarding the alleged fraud by Transstroy (India) Ltd. The lender stated that its share in the amount lent by the consortium of 14 banks stood only at Rs 678 crore. The bank had also made 100% provisions for the same, as per the RBI guidelines.
The SBI Fraud Case
The details of the scam which occurred at the State Bank of India are very similar to that of Canara Banks'. SBI had filed a complaint of fraud of Rs 313.79 crore against Agnite Education Ltd. It is a Chennai-based edtech firm that primarily offers e-learning courses.
The bank has alleged that Agnite Education, represented by its Chairman & Directors, availed loans of about Rs 310 crore from SBI. The loan amounts were diverted to accounts of related parties, and has been marked as a non-performing asset(NPA). This led to SBI incurring a loss of Rs 313.79 crore.
On Saturday (December 19), the CBI registered cases against Agnite Education Ltd, its Chairman K Balasubramaniam, Director K Padmanabhan, some unknown public servants, and others. The agency had also conducted raids at the firm's office in Chennai and found substantial evidence.
Conclusion
The scams related to our banks and financial institutions continue to occur in India. Over the past few years, we have noticed that SBI and other PSU Banks have reported the most number of fraudulent accounts or loan defaulters. The public sector banks, which continue to give loans to big corporates and wealthy entities, end up incurring huge losses. The people who manipulate and deceive these lenders manage to safely escape from India as well. Nirav Modi and Vijay Mallya are just two out of the many prominent business figures who have been convicted of thousands of crores of bank fraud. These entities always find a way to evade the law.
At the same time, people from low-income groups do not get essential loans for their life-sustaining activities. Farmers are having a tough time securing funds for their agricultural activities. If a common man is not able to pay off their loans, banks end up acquiring their properties which had been kept as collateral. In many cases, they are further penalised and even beaten up by goons. People also tend to forget that it is the common taxpayers' money that has been deposited or infused into these public sector banks. We find that there is no sense of accountability or transparency in their activites.
Fortunately, both SBI and Canara Bank had made 100% provisions against their respective fraud accounts. The investigation related to both scams is underway. We would be able to receive more clarifications from the CBI in the days to come. Will the accused be lawfully punished for their fraudulent activities, or, will they be able to escape from all charges? Let us wait and watch.
Post your comment
No comments to display