The Rise of India's Drone Industry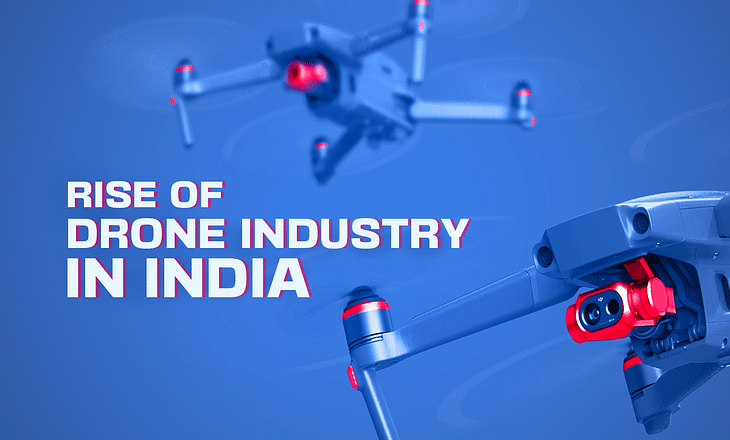 From capturing breathtaking videos to delivering life-saving drugs, drones can carry out a wide range of activities. Governments and industries across the globe are using drones for executing tedious, repetitive, or dangerous tasks. New-age drones provide enhanced levels of safety, accuracy, and efficiency. Over the past year, the Indian government has introduced various measures to support the domestic drone industry. With its traditional strengths in innovation and information technology, our country has the potential to become a global drone hub by 2030!
In this article, we dive into the exciting and revolutionary drone industry.
The Drone Industry: An Overview
A drone or unmanned aerial vehicle (UAV) is essentially an aircraft that operates without a human pilot. They are remotely controlled and can even fly autonomously using advanced software programs. In the 1930s, the British manufactured several radio-controlled aircraft and used them as targets for training purposes. Since then, drone technology has come a long way. They come in all shapes and sizes these days— from those that can fit in your palm to large, high-flying, armed ones.
Drones are widely associated with military forces around the world. It can carry out anti-aircraft target practice, gathering intelligence, and surveillance. Military drones can travel long distances and carry weapons systems. They are equipped with thermal imaging cameras, laser range finders, and even tools to perform surgical strikes.
Government agencies use drones for geographical mapping and surveillance in areas that are not easily accessible. To save time and costs, farmers use special drones to spray pesticides, insecticides, and fertilizers in pre-fixed quantities and patterns. It can even perform field surveys and track livestock. On the other hand, we see many logistics and e-commerce companies conducting trial runs of drones for automated last-mile delivery. 
You would have seen drones used by law enforcement agencies to monitor Covid-19 hotspots and containment zones. Across all these use-cases, drones replace human labour and improve efficiency. The application and potential are endless!
Government's Boost for the Drone Industry
While presenting the Union Budget 2022-23, Finance Minister Nirmala Sitharaman spoke about the government's focus on drone technology. In the agricultural sector, 'Kisan drones' will be used for crop assessments, digitisation of land records, and spraying insecticides. The Centre will also promote startups that work on various applications of drone services under the Drone Shakti scheme.
Earlier this month, the Government of India announced a blanket ban on the import of foreign-made drones. Now, drones can only be imported for research & development (R&D), defence, and security after due clearances. This move aims to promote the domestic manufacturing of drones and offer protection against commercial imports.
In September 2021, the Centre approved a Production-Linked Incentive (PLI) scheme for drones and their components. The government has set aside Rs 120 crore (spread over three financial years) towards this scheme. If they avail of the scheme, the manufacturers of drones and essential components will receive an incentive of up to 20%.
Last year, the Centre established liberalised drone rules to encourage R&D and make India a drone hub. It abolished several time-consuming permission and approval procedures. Now, a remote pilot license is not necessary for the non-commercial use of micro and nano drones. Moreover, drones can carry payloads up to 500 kilograms. The government will develop drone corridors for cargo deliveries as well.
The Way Ahead
The drone market is developing at a rapid pace in India. As a result of the new regulations and incentive schemes, the drone manufacturing industry could see direct investments of more than Rs 5,000 crore over the next three years. The government expects the industry to generate ~10,000 direct jobs. Several environmental conservation projects use drone technology for mapping and monitoring ecologically-sensitive areas. Sky's the limit!
Many large players are now competing to secure a piece of this emerging market. As per reports, Reliance Industries Ltd (RIL) has set its sights on developing drone technology via a Bengaluru-based startup, Asteria Aerospace. Meanwhile, Info Edge has entered the segment through its investment in Skylark Drones, a startup developing infrastructure for a global drone ecosystem. Zomato has acquired TechEagle, a leading manufacturer of long-range, high-speed delivery drone solutions.
Paras Aerospace is well-known for its direct involvement in developing UAV technology. The subsidiary of Paras Defence & Space Technologies has partnered with Europe-based FIXAR and Nurjana Tech to bring drones to India. On the other hand, Zen Technologies Ltd has developed anti-drone technology and is working on heavy-lift logistics drones. Hindustan Aeronautics Ltd (HAL) manufactures combat air defence drones for the Indian armed forces.
Due to high demand, India's drone market could easily become a multi-billion dollar industry over the next decade. It's time to keep a close watch on this space! What are your views on India's drone industry? Let us know in the comments section of the marketfeed app.
Post your comment
No comments to display