The Rise, Fall, and Revival of Cafe Coffee Day (CCD)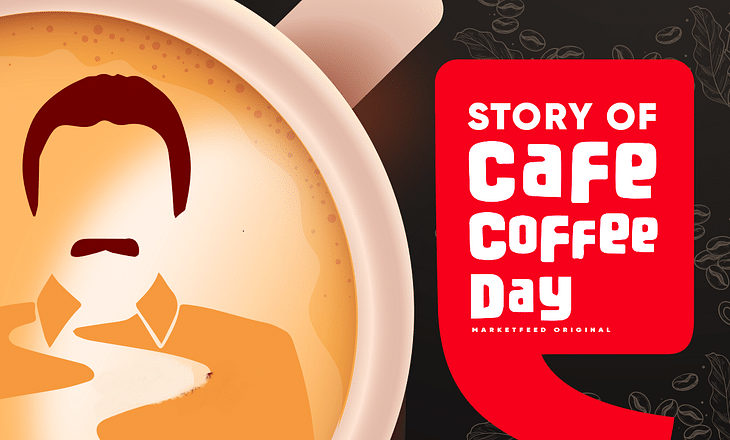 'A lot can happen over coffee'. Since its inception nearly 25 years ago, Cafe Coffee Day (CCD) has become a favourite hangout spot for Indians. It defined the café landscape within India. You can find CCD outlets on major highways, near colleges and corporate parks across our country. Its founder, V.G. Siddhartha, had an ambitious and strategic vision that powered the company's remarkable growth. Unfortunately, the lack of focus on vital financing decisions led to the company's downfall.
In this article, we discuss the story of Coffee Day Enterprises Ltd and the recent developments surrounding the company.
V.G. Siddhartha: A Brief Profile
V.G. Siddhartha hailed from an affluent family of coffee planters in Chikmagalur, Karnataka. After completing his master's degree in Economics, he decided not to join his family business. Instead, he wanted to come out of his comfort zone and start a venture on his own. He moved to Mumbai in the early 1980s and started his career as an intern/trainee at JM Financial Services. There, he discovered the world of stock markets and managed accounts of several large corporations.
In 1984, he moved to Bangalore and acquired Sivan Securities, an investment banking and stockbroking company. It was later renamed to Way2Wealth Securities.
Around the same period, V.G. Siddhartha identified a crucial problem that was affecting coffee growers in India. The Coffee Board (a govt agency) had a monopoly on the marketing of coffee globally. Coffee planters were unable to sell their produce directly to foreign markets. In 1985, he noticed that international coffee prices stood at $1.2 per pound, whereas Indian coffee growers were only getting 35 cents a pound. Siddhartha and a few of his colleagues approached the then Finance Minister Manmohan Singh with these statistics.
Within six months, the government resolved the issue. Private entities were now allowed to supply coffee directly to international markets.
Entry Into the Coffee Business:
In 1993, V.G. Siddhartha established his coffee trading company— Amalgamated Bean Company (ABC). It is an integrated coffee business involved in procuring, processing, and roasting coffee beans. They also started exporting and retailing coffee beans and products. Between 1993-1995, ABC became the largest exporter of coffee in India. After analysing the trends of coffee hubs in his international trips, Siddhartha developed an idea of linking the experience of drinking coffee with technology.
With an initial investment of Rs 1.5 crore, he established the first Cafe Coffee Day (CCD) in Brigade Road, Bangalore, in 1996. It sold coffee for Rs 25 a cup and also offered internet services. The idea clicked instantaneously, and the cafe began to attract the city's youth (mainly IT professionals). CCD started to sell espressos and lattes in a country where people predominantly drank filter coffee. It became a symbol of India's urban culture.
Cafe Coffee Day rapidly expanded to other cities in India. Over the next two decades, CCD became the largest coffee retailer in India, with more than 1,700 outlets. It also aligned its pricing model to match the spending capacity of Indian consumers. CCD primarily focused on attracting more footfall to its stores, rather than fixing higher prices for the coffee-based beverages. You can also find their coffee machines in most college cafeterias, hospitals, hotels, and corporate offices.
Coffee Day Enterprises Ltd and its Downfall
Coffee Day Enterprises Ltd (CDEL) is the parent company of the Coffee Day Group, which houses CCD outlets. CDEL went public in 2015. V.G. Siddhartha's innovative thinking and entrepreneurial mindset led the company to become a dominant player in the Indian coffee chain segment. They used creative marketing and promotional strategies to drive sales. CCD posted a profit of Rs 8.03 crore in FY17, which increased to Rs 48.94 crore in FY18 and Rs 60.27 crore in FY19. Apart from exporting coffee and the café business, CDEL is also present in the logistics, hospitality, and financial services sectors.
However, things were not always smooth from an operational point of view. As part of its ambitious expansion plans, CDEL had accumulated a debt of Rs 6,328 crore in 2015. This figure rose to Rs 6,574 crore as of March 31, 2019 (FY19). Between 2014-2019, Siddhartha and CDEL promoter group's four private holding companies had pledged shares worth Rs 3,522 crore as security to raise these huge loans. There was also an instance wherein the Income Tax (IT) department raided CDEL's offices and uncovered concealed income of over Rs 650 crore.
Moreover, CCD had also been facing stiff competition from Starbucks, Barista, and newly-launched local chains such as Chaayos and Chai Pe Charcha.
The Death of V.G. Siddhartha
On July 30, 2019, CDEL reported that its Managing Director V.G. Siddhartha had been missing since the previous day, and authorities were tracing him. The next day, his body was found on the Hoige Bazaar beach by local fishermen. Siddhartha left a letter allegedly written to CDEL's board which said: "I have failed to create a profitable business model despite my best efforts. I would never cheat or mislead anybody intentionally; I have failed as an entrepreneur."
In the letter, V.G. Siddhartha said he faced pressure from private equity partners who forced him to buy back shares. He also stated that he was harassed by Income Tax officials and the company's lenders. The suicide of CCD's founder unfolded the truths surrounding the company's failure, which were improper debt management and lack of control over financing decisions. Data revealed that V.G. Siddhartha's debt pile may have crossed even Rs 11,000 crore at one point! Shares of CDEL tanked 43% in three days and kept falling.
Recent Developments
Following her husband's death, Malavika Hegde took over as CEO of Coffee Day Enterprises Ltd in December 2020. She was on the company's board, but only as a non-executive member. She was in charge of the day-to-day operations at CCD since 2008. CDEL's total debt stood at ~Rs 7,200 crore when Malavika took over. Thousands of jobs were on the line, and she had to keep the firm viable. CCD currently operates 572 cafes in 165 cities and 333 CCD Value Express kiosks.
Under her control, Coffee Day managed to bring down its debt to Rs 1,731 crore by March 2021. She ultimately stood up to the challenge and was able to bring down the company's debt by 75%! That too, during a time when the Covid-19 pandemic severely impacted business. As per reports, CDEL paid Rs 1,644 crore to its lenders. The company also accepted an undisclosed amount from US private equity firm Blackstone and sold off a stake in Mindtree Ltd, which helped in reducing debt.
CDEL's shares have surged 68% to Rs 71.80 over the past week. Cafe Coffee Day and its new CEO's resilience has given investors optimism that V.G. Siddhartha's legacy will remain intact. The company is now in revival mode. Let us look forward to seeing how CDEL performs in the years to come.
What are your views on Coffee Day Enterprises? Let us know in the comments section of the marketfeed app.
Post your comment
No comments to display