Reliance Retail's Acquisition of Just Dial: Explained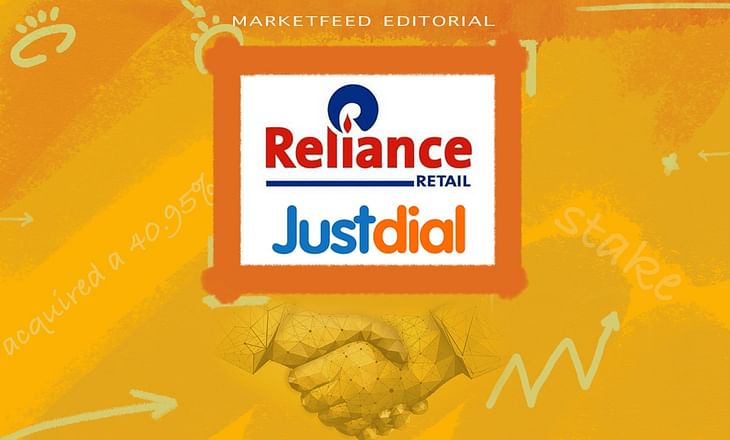 Last week, Reliance Retail Ventures Ltd announced the acquisition of a 40.95% stake in Just Dial for Rs 3,497 crore. The subsidiary of Reliance Industries Ltd (RIL) will make an open offer to acquire a further 26% stake in the local search engine platform, which will take its total holding to 66.95%. In this article, we dive into the details of this acquisition and find out how it would be beneficial for the companies involved.
Just Dial's Business Model
Just Dial is a leading internet technology company that specializes in hyperlocal search, business-to-business (B2B), and e-commerce. It was launched in 1996 as a phone-based local directory. Currently, they provide local search-related services to users in India through multiple platforms such as desktop, mobile application, over the telephone, and text. A person could list their business on Just Dial and pay a premium price in exchange for more leads. Business firms can also pay a certain fee to ensure that their details are easily accessible/visible on Just Dial's popular website and app.
Basically, Just Dial's search services help users find relevant products and services easily, and at the same time, it helps businesses listed on the database to market their offerings. Users can inquire about local plumbers, carpenters, tailors, details of hotels, housekeeping services, and much more. The company has a database of approximately 3.6 crore listings as of June 30, 2021. It has more than 12.41 crore quarterly unique users across all available platforms.
Under JD Ratings, the company offers review and rating certification services. Additionally, it provides online payment services under the 'JD Pay' brand. Just Dial is also engaged in the advertising and events businesses. They recently launched a B2B e-commerce portal— JD Mart. It facilitates the sale of high-quality products and services between businesses.
Ambitious Plans Gone Wrong?
For years, Just Dial had been registering a consistent increase in revenues and profits. The company had a strong sales force that constantly persuaded customers to upgrade to paid services. However, business firms did not stick to the paid programs, as they failed to find value or obtain leads. Just Dial had to hire additional salespeople and try to drive customer growth. This led to an increase in expenses.
Around 2015-'16, the company started focusing on adding further value to its existing customers by launching extensions such as Search Plus and JD Omni. The Search Plus service allows customers to find local businesses and also make online transactions. Meanwhile, JD Omni supports businesses with inventory management, billing, creating websites, and much more. Unfortunately, both campaigns failed to deliver the results as Just Dial had hoped. It was back to square one.
Just Dial later turned its focus towards the listing of SMEs in Tier II and Tier III cities. However, it was unsuccessful, as people from small cities/towns did not find it necessary to find local products and services through such platforms. Meanwhile, specialized platforms such as Uber, Zomato, Swiggy, and Practo (for finding doctors near your area) began to thrive in large cities. All these factors have become major hurdles for Just Dial as it looks to add more customers.
Interestingly, the Covid-19 pandemic provided them an opportunity to adopt a new and improved strategy. Just Dial launched various offers on its paid campaigns for SMEs, including better discounts, flexibility in activation of their paid plans, better payment terms, etc. The company also began to cut back on its advertising expenses. This ultimately led to fewer customers, and hence a sharp decline in revenues. From a financial perspective, things are not looking good as of now.
Reliance to the Rescue?
It is clear that Just Dial is facing difficulties to find new avenues of growth. Thus, an acquisition by a large company such as Reliance Retail would simply ease their burden. Moreover, Reliance's extensive network would also help the company accelerate its latest B2B venture (JD Mart). VSS Mani, the founder and Chief Executive Officer of Just Dial, will continue his leadership role at the firm. He stated that the partnership with Reliance will enable the company to realize its vision and transform the business going forward.
Meanwhile, Reliance Industries is acquiring one of the best internet startups at a fairly reasonable price. It would also allow them to utilise Just Dial's wide reach (database) of users and business firms. "The investment in Just Dial underlines our commitment to new commerce by further boosting the digital ecosystem for millions of our partner merchants, micro, small, and medium enterprises. We look forward to working with the highly experienced management team of Just Dial as we further expand the business going forward", said Isha Ambani, Director of Reliance Retail.
Truly a well-strategized move by both parties! Let us know your views on this acquisition in the comments section of the marketfeed app.
Post your comment
No comments to display