The Real Estate Boom in India. Who Will Benefit?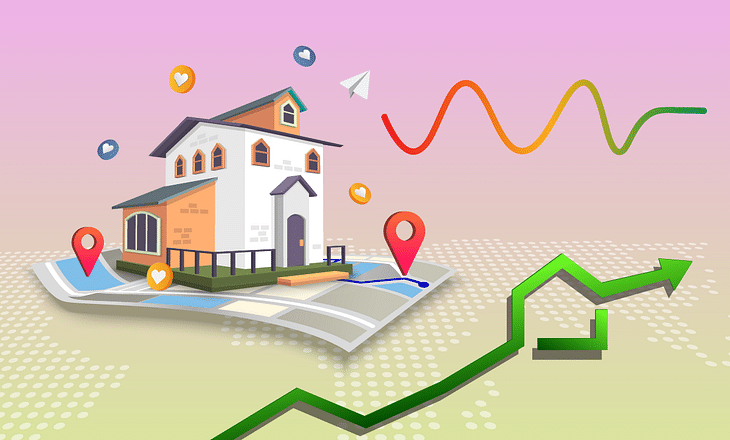 The real estate sector is one of the largest contributors to India's economy. It is a highly competitive industry that constantly faces massive hurdles. Amidst the Covid-19 pandemic, real estate developers were forced to halt construction activities. They saw a considerable decline in sales volumes. The rental income from malls and office complexes saw a fall. All external conditions led these companies to incur losses.
Fortunately, with the removal of lockdowns, things are finally looking positive for the sector. Certain realty firms are now witnessing demand recovery and have also posted great Q3 results. However, we must understand an interesting concept that defines the trend of this particular industry. We shall look at how the present conditions prove to be favourable for large real estate companies. Let us dive right in.
What is the Real Estate Cycle?
The real estate cycle is a concept that helps predict the income and appreciation performance of a real estate property. It is a sequence of recurrent events based on the economic and emotional factors that affect supply and demand for properties. Historically, it is found that the average real estate cycle spans 15-18 years. However, these cycles are unpredictable and can sometimes last much longer. The population structure, interest rates, overall health of the economy, and government policies (taxation) are some of the major factors that affect this cycle. With interest rates of loans at very low levels, there is no doubt that Indian Real Estate is in a booming cycle now.
Four Phases of the Real Estate Cycle
The real estate cycle consists of four main phases- recovery, expansion, hyper supply, and recession. This means that there has never been a sustained period of expansion or hyper supply without a recession- followed by recovery. Let us understand each phase in detail:
Recovery: This is a period when rental growth remains stagnant and there are no signs of new construction. Due to financial setbacks, people would be hesitant to buy or construct new properties. It is also a phase when investors buy and hold distressed properties and add value to them. This would allow them to sell or rent out these properties at high rates, right as the economy shifts into the expansion phase.
Expansion: This refers to a period when the general economy is improving, with more people being employed. They will regain their confidence in the economy, and thus, the real estate market. Individual renters and homebuyers will be in a better position to move to higher-quality houses/apartments. Real estate developers receive greater demand for their properties. New residential or commercial projects would be launched to meet this growing demand.
Hyper Supply: During the expansion phase, there would be a tipping point when supply begins to exceed demand. This could be due to the availability of too many apartments or houses in the market. And, there could be a sudden shift in the economy that leads to a decline in demand. Property owners often start to liquidate their assets out of fear that their properties will go vacant or unsold.
Recession: This is a period when supply exceeds demand with a wide margin, and property owners suffer from high vacancy rates. People would be suffering from the economic downturn, and landlords will be forced to lower their rental rates. At the same time, certain investors use this opportunity to purchase distressed properties at very high discounts. They hold on to these properties, add value to them, and finally sell or rent them out just as the economy begins to recover.
The Current Scenario in India
Major real estate developers in India feel that the real estate cycle has now turned for the better. According to Pirojsha Godrej (Executive Chairman of Godrej Properties), demand is picking up and inventory is getting absorbed steadily. Customers and investors who had stayed away from residential real estate over the last 4-5 years are returning to the sector. This is primarily due to lower interest rates and higher disposable income among individuals. With the removal of all lockdown restrictions, we are witnessing a great recovery in economic activities. Developers have been receiving an influx of demand from home-buyers or even investors who wish to buy and hold properties. There is a marginal increase in demand for commercial spaces, as people are now slowly returning to work from offices.
As we know, people were forced to work from home amidst the Covid-19 pandemic. Many felt an urge to shift to better locations or apartments/houses. The geographical markets of Bengaluru, Hyderabad, Pune, and Gurugram have contributed heavily to the overall sales volumes of real estate companies. These firms believe that the real estate sector would continue to perform well over the next 6 months. The Maharashtra Government even reduced all premiums related to this sector by 50% till December 31, 2021. It has been reported that other states would follow suit and introduce cuts on stamp duties and registration fees. The Centre had also introduced a 'last-mile' funding mechanism for delayed housing projects. These measures would bring down the financial burden on developers and allow them to offer properties at cheaper rates.
On the other hand, construction activities have resumed and are now in full swing. To meet the growing demand, developers are focusing on completing existing projects. They have also acquired land in major cities and towns to launch new projects. This ultimately provides a well-needed boost for the cement, steel, paint, and other allied industries. It also generates employment opportunities for lakhs of people in India.
Listed Companies in Focus
As mentioned above, real estate companies in India are now showing an improvement in overall operational performance. Some of the major players in this sector had posted very strong results for the October-December quarter (Q3). Let us look at some of these:
Oberoi Realty Ltd reported a 93% year-on-year (YoY) increase in net profit to Rs 286 crore in Q3, while its revenue rose 57% YoY to Rs 828 crore. There was a sharp surge in demand for higher-end apartments in Mumbai, where the company has a strong foothold.
Indiabulls Real Estate Ltd reported a 64% YoY increase in net profit to Rs 80.69 crore in Q3. Its revenue stood at Rs 756.81 crore during the same period. We saw that the share price of the company jumped 12% after it posted these results.
Sobha Ltd is yet to post its Q3 financial results. However, the company announced that it had achieved its highest-ever quarterly sales volume in Q3 FY21. It posted a total sales volume of 11.33 lakh square feet of super built-up area, valued at Rs 888 crore. Sales volume and total sales value were up by 27% and 29%, respectively, as compared to Q2 FY21.
It is expected that prominent firms such as DLF, Godrej Properties, Phoenix Mills, Prestige Estate, Embassy Office Parks REIT, and others are very likely to show robust sales growth during Q3. These companies have a positive outlook on India's real estate sector for the upcoming fiscal year.
Allied Sectors
As construction activities have resumed, the demand for steel and cement are at a record high. At the same time, the prices of both these components have skyrocketed due to alleged cartelisation by large domestic players. China has also been importing and hoarding large quantities of steel, even though they contribute ~51% to global steel production. Now, companies such as SAIL, Tata Steel, JSW Steel, ACC, JK Cements, and Ambuja Cements are benefiting from increased margins.
Similarly, we are also witnessing a strong sales growth of companies such as Asian Paints, Berger Paints, and Kansai Nerolac Paints. The paints business in India is booming, and we can see conglomerates having a strong desire to enter this segment. For example, Aditya Birla Group's flagship company- Grasim Industries Ltd - announced its plans to enter into the paints business with an initial capital of Rs 5,000 crore.
Conclusion
After going through a prolonged period of difficulties, things are finally looking positive for the real estate sector. With the anticipation of robust growth and financial performance, we could see an uptrend in the share prices of companies mentioned above. These firms are highly confident about the future prospects of the industry as a whole. This is supported by the present economic conditions, which encourage people to invest or buy new properties. The very low interest rates offered in housing loans, and lower stamp duties and other taxes are making this a perfect time for house-owners.
Developers are in a position to offer incentives or attractive payment schemes. The state and central governments had also introduced mechanisms to decrease the financial burden faced by these companies. The changing patterns of consumer behaviour and the integration of online and offline retail formats have positively influenced the real estate sector. Firms that offer interior-decoration solutions will also obtain a massive boost.
In the upcoming Union Budget 2021, this sector will look forward to additional measures that can support a further recovery in demand and remove supply-side challenges faced by developers. Such policies would help them show increased growth in the prevailing favourable conditions. Exemptions or deductions in tax rates would encourage people to acquire the houses or apartments of their choice. All eyes are focused on how the developers make use of the recovery and expansion phases of the real estate cycle. Will they be able to leverage the current situation and cater to the rising demand? Let us wait and watch.
Post your comment
No comments to display