The RBI's E-Rupee Explained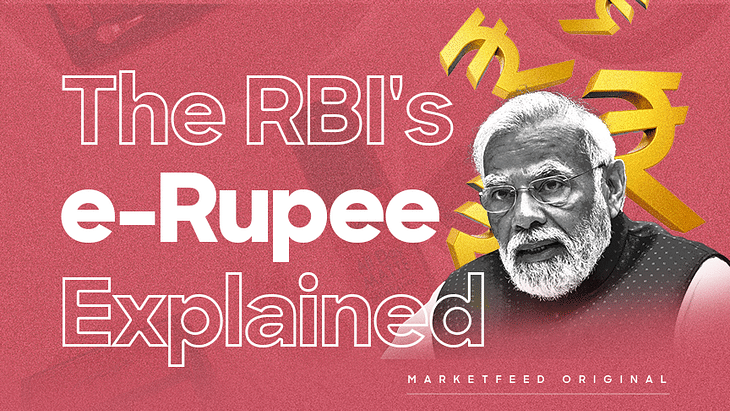 On November 1, the Reserve Bank of India (RBI) launched the first trial of the Digital Rupee (e-rupee or e₹) in the wholesale segment for government securities. The central bank will also launch a similar trial of e₹ in the retail segment later this month.
The RBI has selected nine banks to engage in the pilot project— State Bank of India, Bank of Baroda, Union Bank of India, HDFC Bank, ICICI Bank, Kotak Mahindra Bank, YES Bank, IDFC First Bank, and HSBC.
India's central bank published a concept note on the Central Bank Digital Currency (CBDC) on Oct. 7, outlining its characteristics and intent. The concept note addresses the objectives, alternatives, benefits, and drawbacks of introducing the Digital Rupee in India.
In today's article, we discuss what the e-rupee is and what the RBI aims to achieve with its launch.
What is Digital Rupee?
e-rupee is a digital version of currency notes issued by the RBI, a type of digital money that can be used in contactless transactions. According to the concept note, the Digital Rupee or Central Bank Digital Currency (CBDC) will be a legal tender issued by the RBI. We'll be able to exchange digital currency with fiat currency/cash (notes).
The digital rupee will serve as the settlement amount for the purchase and sale of government securities such as bonds. Additionally, RBI said e-rupee will soon be available for regular transactions by consumers and businesses.
"A CBDC would vary from present digital money available to the public because it would be a liability of the Reserve Bank, and not of a commercial bank," the RBI said in a statement.
How Will it Function?
While RBI will be the sole issuer of e₹, its distribution will be handled entirely by commercial banks. One can examine the balance in their e₹ wallet in a manner similar to checking their bank balance. The foundation of CBDC will be blockchain technology.
A blockchain is essentially a collection of blocks. Each block would contain a group of transactions. Specific computers will run the CBDC's code and store its blockchain. A token-based system would provide universal access to e-rupee while also providing privacy by default. Thus, individuals will be able to pay Digital Rupee to whoever they want to via apps.
CBDCs are of two types:
Central Bank Digital Currency Wholesale: Used for large-scale transactions. It will be used by large financial institutions, including banks, and large non-banking finance companies.
Central Bank Digital Currency Retail: Used for retail transactions in the second phase. CBDC can be utilised by people for everyday/regular transactions. It will be initially launched at select locations and banks first. The retail project will involve participants of all ages. The features will be modified based on their experiences.
Features of the Digital Rupee
CBDC will be the official digital token of the nation. It is a sovereign currency that RBI will issue based on its monetary policies. 
CBDC is freely convertible against commercial bank money and cash.
It will simplify commercial dealings.
CBDC is a fungible legal tender for which holders need not have a bank account.
It is expected to lower the govt's cost of issuing/printing currency.
Money transfers from smartphones will be quick and hassle-free.
All individuals, businesses, and government organisations must acknowledge e₹ as a form of payment, legal tender, and a secure store of value.
Objectives of Launching Digital Rupee
CBDC offers an additional payment avenue, and will not replace the current payment systems.
RBI is certain that the introduction of the digital rupee will boost India's digital economy, expand financial inclusion, and improve the efficiency of the monetary & payment systems.
e₹ could help resolve the issue of counterfeit money in the nation.
To explore the application of CBDC to enhance cross-border transactions.
Encourage financial inclusion.
Promoting competition, effectiveness, and innovation in payments.
Reduction in cost associated with physical cash management.
Protect the public's confidence in the national currency against the growth of crypto assets.
The rise in popularity of cryptocurrencies is another justification for this launch. The digital rupee will boost efficiency and transparency owing to blockchain technology.
The steady growth of digital payments throughout the Covid-19 pandemic has been a glaring sign of the rising need for acceptable digital substitutes for the Indian currency. The launch of the e-rupee will assist RBI in reducing costs connected with paper money, including slowing down the loss of damaged notes.
Challenges:
Weaker banks could find it difficult to retain low-cost deposits if e-rupee becomes popular and RBI does not impose any restrictions on the amount that can be stored in mobile wallets.
Unlike perfectly anonymous cash, the RBI will be able to trace the spending patterns of citizens who use CBDC. Moreover, transactions conducted with e₹ may not be accessible to payment apps. Fintech firms may lose access to big data they use for building products and services.
India is already dealing with several cyber security threats. The introduction of digital currency may lead to an increase in cyberattacks and provide a risk of digital theft.
There will be many operational issues for the implementation of CBDC, including the Know your Customer (KYC) norms and privacy of data.
The e-rupee will help India progress in the race for digital currencies. The RBI has hailed CBDC's debut as a landmark milestone in the history of the nation's currencies. It could fundamentally alter how people do business. What are your views: will the Indian Rupee be propelled into the global arena via RBI's Central Bank Digital Currency? Let us know in the comments section of the marketfeed app!
Post your comment
No comments to display