The PLI Scheme - All You Need to Know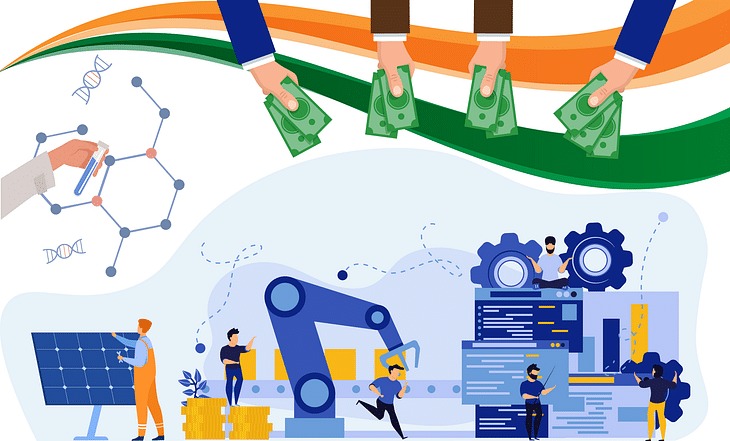 One of the most important strategies to improve the economic growth of a country is to promote domestic production and become self-reliant. This is exactly what our Indian Government has been aiming for. The policies such as Make in India and the Atmanirbhar Bharat Abhiyan are prime examples of this. On November 11, the Union Cabinet announced the approval of a Production Linked Incentive (PLI) Scheme for 10 key sectors. This scheme would help to further strengthen the foundation of India's path towards self-reliance.
Here at marketfeed, we always make sure to fulfill our promises and provide you with the best insights about such important events. Let us understand what this scheme is all about, and which sectors are included in it.
What is the PLI Scheme?
The Production Linked Incentive (PLI) scheme is a relatively new concept that was introduced in India earlier this year. The Government believed that it was time to initiate concrete steps to boost domestic manufacturing and cut down on huge import bills. Through the PLI scheme, companies would be provided with certain incentives to scale up production activities in India. It has three main objectives:
To encourage foreign companies to set up their production activities in India. When this happens, we could see more foreign investments coming into our country.
To provide support towards the existing domestic companies to expand their manufacturing units.
To ensure that more employment opportunities are provided to Indian citizens in the manufacturing sector.
The PLI Scheme for Electronics Manufacturing
This scheme has become an absolute game-changer. Let us find out how our country adopted it initially. In April 2020, the Government introduced a PLI scheme worth Rs 40,000 crore for large-scale electronics manufacturing. The main aim of this particular scheme was to boost domestic manufacturing of mobile phones in India. The eligible companies were promised an incentive of 4%- 6% on incremental sales of goods that were manufactured in our country. This incentive would be applicable for 5 years. 
A total of 22 companies applied for the PLI scheme in August. And, three of these firms were contract manufacturers for Apple iPhones. We could also see that the share price of companies that had applied for the scheme (for eg, Dixon Technologies) had seen a surge during those periods.
According to Ravi Shankar Prasad, the Minister of Electronics and Information Technology, production worth Rs 11.5 lakh crore and exports valuing Rs 7 crore is expected over the next 5 years. It is very reassuring to learn that this scheme had received quite an overwhelming response from companies around the globe. It has become such a huge success.
The Latest PLI Scheme
In the notification made on November 11, the Government stated that it will offer incentives to an additional 10 vital sectors. The Union Cabinet has approved Production Linked Incentive Scheme worth up to Rs 1.45 lakh crore, for a period of 5 years. 
This would ensure that necessary support is provided to make India a global manufacturing hub, and create more jobs in the economy. The domestic companies would get the necessary push to cater to the local demand. The policy has been strategically targeted to very important sectors and would make Indian goods more competitive.
We can also state that the scheme has come at a very perfect time, in relation to the present global scenario. Most companies around the world are planning to shift their manufacturing operations from China. India could grab this opportunity and transform India into one of the best manufacturing centers in the world. The scheme would accelerate the existing plans of foreign companies that were considering to invest in India.
Which Sectors are Included in the PLI Scheme?
Given below is a table that shows the 10 sectors that will come under the PLI scheme, and the amount allocated to each sector.
Source: BloombergQuint
As we can see, the automobile and auto components sector has been allocated the highest amount in the PLI scheme. This would definitely help the sector to become a large exporter, and reduce import dependence. It has also been ensured that an amount of Rs 18,100 crore has been allocated for advanced chemical cell batteries. This would provide a major boost to the production of electric vehicles, as batteries are a key component of it. 
As per a statement from the Finance Minister, Smt. Nirmala Sitharaman, speciality steel in India could become a potential champion in the country's exports. Hence, an amount of Rs 6,322 crore has been allocated for incentivizing its production as well.
Similarly, eight other sectors will be provided with sufficient incentives to completely improve the overall manufacturing capacity in India.
India and PLI
India has definitely received a massive Diwali gift from the government. If this scheme goes through precise planning and execution, it could become one of the most vital initiatives that have been adopted in our country. Our producers would certainly get the push to cater to the domestic demand, and foreign firms would be encouraged to invest heavily in India. The citizens of India would obtain more employment opportunities as well. It is a win-win situation for all the parties that would be involved!
At the same time, we would urge our readers to follow the latest updates surrounding this scheme. We could see listed companies applying to get the benefit of these incentives, and ramping up their production activities in India. This would certainly become a factor for many stocks to rally. We would also keep an updated list of the specific stocks that have been selected for the PLI scheme. Let us look forward to a positive outcome and see our country grow into one of the best manufacturing hubs in the world.
Post your comment
No comments to display