The UPI Transaction Cap - All You Need To Know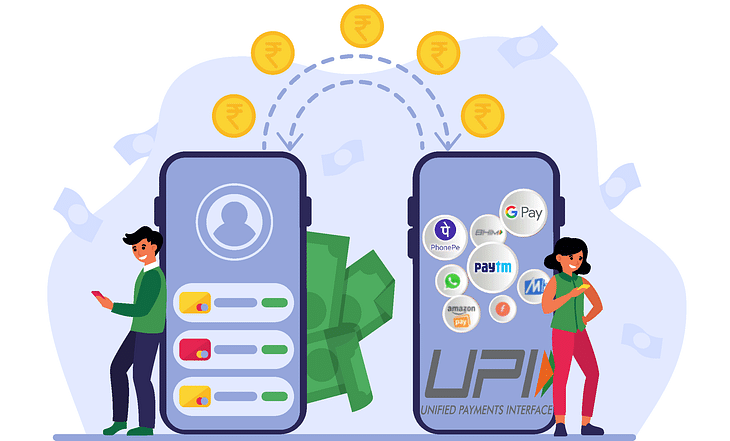 On 5th November, an official notification from the National Payment Corporation of India (NPCI) came as a bitter surprise for digital payment companies. The notice stated that the amount of UPI transactions on third-party applications would be capped at 30%. This would impact firms such as Google Pay and PhonePe, and also consumers like you and me. Let us understand more about why this limit is introduced and what its effects could be.
Why was this Rule Introduced?
Since 2016, India has been seeing a rapid growth of online payment systems. We know that there are many third-party Unified Payments Interface (UPI) apps such as Google Pay, PhonePe, Paytm, and Amazon Pay. These apps dominate the payment services industry. With these apps, we can send or receive money through our bank accounts with great ease. These companies do not charge us for transferring funds, and even provide us with cashback offers as well. Since these apps have a large number of active users, they can be found as a payment option on almost all online platforms.
Source: BloombergQuint
As lockdown restrictions were introduced this year, these UPI apps have reported a sharp increase in its active user base. India's digital payments ecosystem had registered almost 200 crore monthly transactions through the UPI network in October 2020. At the same time, Google Pay and PhonePe together hold more than 80% of the market share in this industry. In fact, on November 9, the Competition Commission of India (CCI) had ordered a detailed probe against Google Pay. It has been alleged that the company is using unfair anti-competitive practices.
To ensure that these big companies do not control the payments market, NPCI believed that it was time to introduce a strict limit on the number of UPI transactions for each payment app. They have stated that the new rule would create a more competitive market. It would also protect the UPI ecosystem, as it is scaling up at a rapid pace. NPCI has also stated that this limit would bring down transaction risks and failures.
Hence, a 30% cap on the total volume of UPI transactions through third-party app providers (TPAPs) would be imposed from January 2021. The 30% cap will be calculated based on the total volume of transactions processed in UPI during the preceding three months. These companies would get two years to ensure that the new rules are imposed in a phased manner. It would also apply to the new member of the industry- WhatsApp Pay.
Interestingly, the new limit would not apply to PayTM and Reliance's Jio Payments Bank. This is because they have payments banking licenses and do not fall under the category of third party apps. If you have noticed, a UPI ID on Google Pay would end with @okicici or @okaxis while it ends with @paytm on PayTM.
How Would it Affect Third-Party Apps?
It is believed that this rule could cause a major effect on the user experience of third-party UPI apps. The main cause of rapid innovations in the UPI platform was only because of the user experience created by Google Pay and PhonePe. If you have noticed, there are options ranging from paying your monthly expenses to even splitting a bill amongst your friends. These are the main features that popularised digital payments in India.
With this new limit, the third-party apps would have to remove small online merchants from their platforms. They would also have to cut back on incentives such as coupons and cashback. These were important features that allowed payment apps to attract more individuals to join the digital movement. More importantly, the number of UPI transactions that an individual can conduct per day would be cut down from these apps. Once the daily limit has been reached, people would have to use less-popular UPI apps to make essential payments.
"This announcement has come as a surprise and has implications for hundreds of millions of users who use UPI for their daily payments and could impact the further adoption of UPI and the end goal of financial inclusion,"- Sajith Sivanandan, the Business Head at Google Pay India.
The Entry of WhatsApp Pay
Facebook-owned WhatsApp has finally received approval from RBI and NPCI to launch its digital payment platform in India. According to the company's records, the messaging app has an active user base of almost 40 crore members in our country. This would be a great advantage for the company as it makes its entry into the UPI market. Similar to the existing UPI payment apps, WhatsApp will not be charging a transaction fee. A report from the Times of India suggests that WhatsApp could end up achieving a market share of about 30%. This would automatically lead to a decline in the share of both Google Pay and PhonePe in the UPI industry.
However, they are faced with some major hurdles. Even with such a large user base, the regulators have ensured that WhatsApp Pay will only be launched in a phased manner. What this means is that only 2 crore users will be able to use the platform to conduct transactions in the initial stages. Also, the introduction of the 30% cap would harm the user experience of the app. It seems like the entry of WhatsApp Pay has come at a rather difficult time in this highly competitive industry.
The Future of UPI in India
The future of payments is digital. India has successfully launched multiple methods (such as NEFT, IMPS, UPI) to support this transformation. According to a report from Crisil in 2019, digital payments in India seem to grow at a CAGR of 12.7%. It may jump to Rs 4,055 lakh crore in FY24 with a five-year CAGR of 20%. Also, the prediction shows that all UPI payments will dominate the payments space with 59% payment transactions. For the first time in India, UPI payments had exceeded ATM cash withdrawals due to lockdown restrictions this year. These are very promising figures that would ultimately help our country to establish a much easier flow of funds.
What we are witnessing now is a complete restructuring of UPI payments. This method was completely free of charge and a much-loved mode of online transactions. Now, banks which offer UPI service in our country have started to charge a specific transaction fee on all UPI transfers. Several banks such as Axis Bank and Kotak Mahindra Bank are already charging Rs 2.5 for amounts of up to Rs 1,000. These charges are levied after a free transaction limit is crossed. So, it would be applicable to all the payment apps we had mentioned earlier.
Even if these small charges are imposed, we could say that the usage of UPI transactions across our country would not decline. It would remain to be one of the most convenient and user-friendly modes of payment for all our needs. Let us look forward to how these payment companies would implement the new rule. Only time will tell if users would react positively to these changes.
Post your comment
No comments to display