The National Logistics Policy 2022: Explained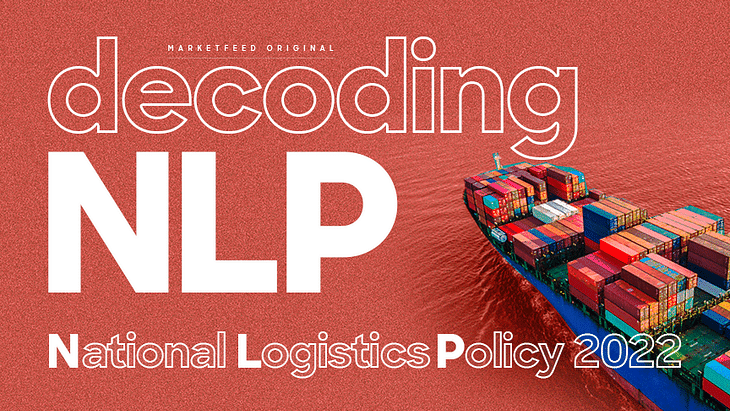 As we know, a well-functioning logistics sector forms the backbone of domestic and international trade in any country. It connects all vital industries and ensures a smooth supply chain of goods and services. A logistics sector requires efficient transportation systems, inventory management (warehousing), quick & easy flow of data, and reliable customer service.
During strict lockdowns amidst the Covid-19 pandemic, our logistics sector rose to the occasion and delivered essential goods and services with limited resources. Now, the Indian government has introduced an important policy that aims to bring much-needed changes to the logistics sector.
On September 17, Prime Minister Narendra Modi announced the National Logistics Policy (NLP) 2022. It aims to ease the movement of goods and boost the trade sector in our economy. In this article, we dive into the challenges faced by the Indian logistics sector and how this new policy plans to address them.
Key Challenges Faced by the Logistics Sector
The Indian logistics market is worth over $200 billion as per government estimates. However, the sector is extremely complicated and inefficient. There are 20 government agencies, 40 government partner agencies, 36 logistics services, 129 inland container depots, 168 container freight stations, and many other intermediaries in between. So it takes a lot of time and money to clear all paperwork in order to transport goods!
Currently, if the logistical cost of moving a product from one location to another is $100, customs, paperwork, insurance, and administration costs account for nearly $12. The logistical cost in India is about 13% of our gross domestic product (GDP). This figure is higher than that of the US, Europe, and China.
Due to high logistical costs, the competitiveness of India's exports has fallen. Poor infrastructure across our country, increasing fuel costs, and legal complications continue to severely affect the transportation of goods. There are constant delays, and some of our existing networks are under-utilised.
What is the National Logistics Policy?
For nearly three years, the Indian govt has been working on a policy to address the primary concerns of institutions and stakeholders in the logistics sector. Here are the main features of the National Logistics Policy 2022:
The policy aims to bring down the logistics cost from 13-14% of the GDP to around 8% of GDP in the next five years.
The Indian government will create a roadmap to reduce the country's dependence on road transport for cargo movement. It will explore more options like railways, shipping, and air transport. The govt also plans to establish logistics parks/hubs strategically across the country.
The govt will focus on digital transformation in the logistics sector and bring it in line with global standards. The new policy has four features: Integration of Digital System (IDS), Unified Logistics Interface Platform (ULIP), Ease of Logistics (ELOG), and System Improvement Group (SIG).
Under the IDS, data from the road transport, railways, customs, aviation, and commerce departments will be integrated into a single platform.
A ULIP will bring all the digital services related to the transportation sector into a single portal.
Industry associations can use ELOGs to reach out to the government and resolve issues.
Thus, all key entities involved in the Indian logistics sector can track real-time movements, access documents digitally, reduce costs, and save valuable time.
The Way Ahead
NLP aims to remove all obstacles and inconsistencies in the logistics sector by re-engineering current processes. The government's vision is to develop a technologically enabled, cost-efficient, sustainable, and trusted logistics ecosystem for accelerated growth. The fall in logistics costs would improve the competitiveness of Indian goods in domestic and export markets.
However, there's a long way to go. Our logistics sector is heavily dependent on roadways. The ambitious Bharatmala Project was launched in 2015 to develop a massive highway network across our country by FY22. Sadly, the project is now facing a six-year delay, and the costs of raw materials are surging. Connectivity between roads and ports is another critical issue. We don't have a dedicated rail corridor for freight transport yet even though it's the cheapest mode to transport goods.
We can see that logistics companies are now̧ trying to expand their current networks and increase their capacities. The most prominent listed firms in the Indian logistics industry include Blue Dart, Delhivery, Container Corporation of India, VRL Logistics, Allcargo Logistics, Navkar Corp, Aegis Logistics, Mahindra Logistics, and TCI Express. Do keep a close watch on all these companies and further developments in the National Logistics Policy in the near future!
Post your comment
No comments to display