The Most In-Depth Zomato IPO Review: All You Need to Know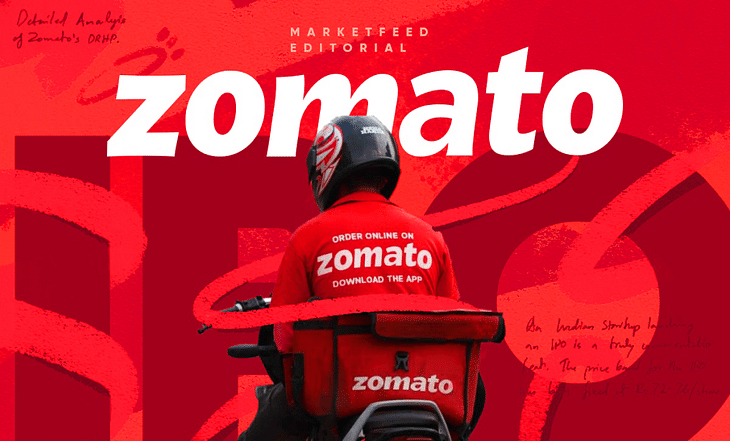 What an exciting week in the Indian stock market! Zomato's IPO is finally here! What started as Foodiebay in 2008 by two IIT graduates has grown multifold and expanded to 24 countries. They have pushed boundaries and revolutionised the Indian food-tech industry. An Indian startup launching an IPO is a truly commendable feat. There has been so much buzz on the startup's public issue and its valuations over the past few months.
Before going ahead, we recommend that you go through our detailed analysis of Zomato's DRHP. It will give you an idea of the company's business and financials. In this article, we dive into Zomato a little deeper and learn more about its IPO.
Brief Profile on Zomato Ltd
Zomato Limited is one of the leading online food service platforms in India. It connects customers, restaurants, and delivery partners. The company's business-to-consumer (B2C) segment offers food delivery and dining-out services. Customers can easily search and discover restaurants, order food, reserve a table, and make payments through Zomato's mobile application. On the other hand, its business-to-business (B2B) segment generates revenue through Hyperpure. It supplies high-quality ingredients and kitchen products to restaurants. It allows restaurants to buy organic vegetables, fruits, poultry, groceries, meats, seafood, and beverages. Hyperpure works directly with farmers, mills, producers, and processors to source these products.
The company also offers Zomato Pro, a customer loyalty program. The subscription-based program offers privileges and discounts on the best restaurants across dining-out and delivery. It is an interesting business model that allows Zomato to generate more revenue, and at the same time, help restaurants drive sales. They also host Zomaland, a food and entertainment carnival that brings some of the top eateries, musicians, DJs, and comedians under one roof.
The Zomato brand is widely recognized across India. They have a widespread and efficient hyperlocal network. The company made headlines when it acquired the Indian operations of Uber Eats in 2020. Recently, Zomato received approval from the Competition Commission of India (CCI) to acquire a 9.3% stake in Grofers, an online grocery delivery platform. They have also ventured into the cloud kitchen space, whereby multiple brands/restaurants can prepare food for takeaway or delivery.
Factsheet
The Zomato App has been the most downloaded application under the food & drinks category in India during the last three years on both iOS App Store and Google Play. As a result, restaurants pay certain fees for better visibility of their names on the platform. Currently, the company has more than 1.69 lakh delivery partners and 3.89 lakh active restaurant listings. It has 15 lakh Zomato Pro members and ~3.2 crore monthly active users. They are present in more than 500 cities in India. Their operations are also spread across 24 countries, including Australia, the United Arab Emirates (UAE), New Zealand, and Canada. Zomato has committed to 100% adoption of electric vehicles (EVs) for delivery by 2030.
About the IPO
The public issue opens on July 14 and closes on July 16. The price band for the IPO has been fixed at Rs 72-76 per share.
The fresh issue of shares (of the face value of Re 1 each) aggregates to Rs 9,000 crore. The IPO also consists of an offer for sale (OFS) by Info Edge India Ltd (a promoter), which aggregates up to Rs 375 crore. Individual investors can bid for a minimum of 195 equity shares (1 lot) and in multiples of 195 shares thereafter. You will need a minimum of Rs 14,820 to apply for Zomato's IPO. The maximum number of shares that can be applied by a retail investor is 2,535 equity shares (13 lots).
Zomato will utilise the net proceeds from the IPO for two main purposes:
Around 75% of the net issue will be used to fund organic and inorganic growth initiatives.
The remaining 25% will be used to meet general corporate purposes.
Looking at the structure of the IPO, we can confidently say that Zomato will prioritise its efforts on achieving growth objectives. Meanwhile, the promoters will continue to hold a significant stake in the firm, which fosters a sense of confidence and validation in the company's future prospects.
Financial Performance
From the table given above, it is clear that the startup is incurring significant losses. Zomato's ambitious expansion plans have caused a serious dent in their financial performance (and will continue to do so). It has to pump crores into advertising and promotional activities to drive customer growth. They incur huge customer acquisition costs for offering frequent discounts and referral bonuses.
However, the company has posted an increase in average order value (AOV) during the pandemic. The AOV rose from Rs 264 in March-June 2019 to nearly Rs 400 in Q4 2020. Many Indians have spent more on ordering their favourite food/beverages during lockdowns. Unfortunately, there was still a major decline in the total number of orders during certain months.
Over the last three financial years, Zomato has posted a negative average Earnings Per Share (EPS) of Rs -(2.99). The company has revealed that it may not be posting profits anytime soon. Many investors/analysts are planning to stay away from the IPO due to the poor financial performance.
Risk Factors
The major risk factors mentioned in Zomato's DRHP are:
Zomato has expanded and grown substantially over the past few years. However, the company has stated that it may not be able to sustain its historical growth rates. At the same time, its historical performance may not be indicative of its future growth and financial results.
The company has posted huge losses over the past three financial years. It expects a further rise in costs and losses in the future as well. Zomato's overall financial performance and operations could be adversely affected if they are unable to increase revenues, manage costs, and maintain sufficient cash flows.
The Covid-19 pandemic had severely impacted the company's food delivery business and dining-out services. Most restaurants were temporarily closed due to strict lockdowns. Similar health threats in the future could further affect its financial results.
Zomato's business would be negatively affected if they fail to retain existing restaurant partners or food delivery partners. They will also need to focus on adding new customers, restaurant partners, and delivery partners in a cost-effective manner.
They face intense competition in food delivery and other businesses. Apart from Swiggy, localised food delivery apps are gaining popularity across India. Zomato will need to maintain quality and competitive rates to retain customers.
IPO Details
Kotak Mahindra Capital, Morgan Stanley India, Credit Suisse Securities (India), BofA Securities India, and Citigroup Global Markets India were selected as the book-running lead managers to the public issue. Zomato Ltd had filed draft papers for its IPO in April 2021. You can read it here.
Conclusion
Zomato's IPO is very likely to get oversubscribed on the first day itself. There is no doubt about that. It is a brand that most of us love, respect, and rely on. A quick interview with some of Zomato's delivery partners in our area gave us an idea that they are happy with all perks and remuneration. There is a lot of room for growth in the food services industry in India, and Zomato will continue to expand its operations. They have announced strategic plans to scale up the Hyperpure and Zomato Pro offerings as well.
Due to oversubscription and a favourable grey market premium (GMP), investors of the IPO are likely to receive substantial listing gains.
However, many feel that the startup's valuation is very high. We cannot conduct a full-fledged comparison since it does not have any listed peers in India. Moreover, many investors are likely to avoid the IPO due to its disappointing financials. There are also reports that Amazon would enter the Indian food delivery space, which ultimately means more competition for Zomato. Over the past few years, many of its global acquisitions have failed to deliver results, and the company is yet to crack the international markets. As we can see, there are a lot of uncertainties surrounding Zomato. The GMP of Zomato's IPO shares had declined to Rs 7.75 or 10% on July 13 (Tuesday). The shares were being traded in the grey market at a premium of 25% last week!
Applying for an IPO is purely subjective, and if you are planning to subscribe to Zomato's public issue, make sure you carefully weigh out the pros and cons.
What are your opinions on Zomato's IPO? Will you be applying for it? Let us know in the comments section of the marketfeed app.
Post your comment
No comments to display