Bharti Infratel Merges With Indus Towers - All You Need to Know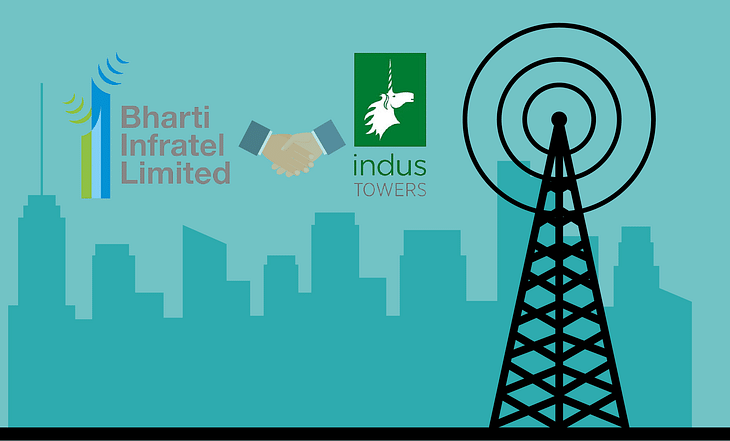 One of the biggest mergers in India's telecom industry was officially completed on November 19. Bharti Infratel Ltd. has merged with Indus Towers to create our country's largest telecom infrastructure firm. This is surely a massive power play within the major telecom companies in our country. Let us understand the details of this merger, and find out how it would be beneficial for the companies involved.
Company Profile - Bharti Infratel
Bharti Infratel Limited is one of the world's largest telecom tower infrastructure providers. It was incorporated in 2006 as a subsidiary of Bharti Airtel Limited. They have over 39,000 towers across 18 states in India. Our country has a total of 22 telecom circles, and Bharti Infratel is present in all of them. The company provides Shared Tower Telecom Infrastructure services. This essentially helps telecom operators to offer highly affordable telecom services to its customers. Interestingly, Bharti Infratel also had a 42% stake in Indus Towers before the merger.
As of March 2019, Bharti Airtel and Nettle Infrastructure Investments Ltd. hold 18.3% and 35.18% stake, respectively, in Bharti Infratel. A point to be noted here is that Nettle is also a subsidiary of Bharti Airtel. This means that Bharti Airtel has a total shareholding of 53% in its telecom infrastructure firm.
Company Profile - Indus Towers
Indus Towers was established in 2007 as a joint venture between Bharti Infratel, Vodafone, and Aditya Birla Telecom. The company was formed to ensure that a separate 'telecom group' was formed to dominate 15 telecom circles in India. Before the merger, these four companies had a specific stake in Indus Towers:
Bharti Infratel (42% stake)
Vodafone Group Plc. (42% stake)
Vodafone Idea Ltd. (11.5% stake)
Providence (4.85% stake)
This telecom infrastructure firm has over 1,22,730 towers in 15 circles across the country. It also has the widest coverage in India. The company had already achieved 288,013 operators, a first in the telecom tower industry globally.
The Merger
A Timeline of the Merger
Let us first look at the timeline of this merger. It was in 2018 that Bharti Infratel initially announced plans to merge with Indus Towers. They had even received regulatory approval for the proposed merger from the Department of Telecommunications (DoT), in the following year. Unfortunately, some of the companies that were involved in this merger were struck with major hurdles.
Since its entry in 2016, Reliance Jio has completely revolutionised the telecom sector with its cheap prices. This had ultimately led to a price war among leading telecom operators. Some were even forced to close down their operations. Also, a Supreme Court verdict in 2019 stated that Vodafone Idea and Bharti Airtel had to pay unpaid dues worth thousands of crores to the government. You can read more about the verdict on Adjusted Gross Revenue (AGR) of service providers here. Due to these issues, there was a significant delay in going ahead with the merger of the two telecom infrastructure firms.
Against all odds, an official announcement was made by Bharti Infratel on August 31, 2020. The Board of Directors of the company had approved the proposed merger with Indus Towers. The company approached the National Company Law Tribunal (NCLT) to ensure that the merger goes through necessary legal proceedings. On 22nd October, they received the approval from NCLT to go ahead with the 'Scheme of Amalgamation'.
On November 19, Bharti Infratel Ltd. announced that it has finally completed its merger with Indus Towers. According to the terms of the arrangement, the merged company will be referred to as Indus Towers Limited.
Details of the Merger
Let us now look at the details of the completed merger. The total shareholding of Bharti Airtel (along with Nettle) in Indus Towers Limited will be 36.73%.
As per the agreement, Vodafone Idea had opted to sell its entire stake in Indus Towers. Hence, It has now received a sum of Rs 3,760 crore for its entire shareholding in Indus Towers. This would help the troubled telecom company, as it is currently looking for multiple financing options to cover its dues.
The board of Bharti Infratel has also allotted 75.78 crore equity shares of Rs 10 each to the Vodafone Group Plc. This amounts to a 28.12% stake in the newly merged entity. Providence has been allotted 8.75 crore shares at Rs 10 each. Thus, Providence (or PF Asia Holding Investments [Mauritius] Ltd) has a 3.25% stake in Indus Towers Ltd.
Bimal Dayal, who was the Managing Director and CEO of Indus Towers, has been appointed as the CEO of the merged entity.
The combined entity has become the largest tower company in the world outside China. It has a pan-India tower reach with over 1,63,000 towers across 22 telecom service areas. Bharti Infratel has also mentioned that the new entity would have a turnover of over Rs 25,000 crore, and control more than a third of the tower industry in the country.
Bharti Infratel has also estimated that merging of both tower companies would help them save close to Rs 560 crore annually. This will help Bharti Airtel to focus on covering their dues to the government.
Shares of firms involved in the merger saw a huge jump on Friday (November 20). Bharti Infratel's shares saw a jump of 17.8% and closed at Rs 219.05. The share price of Vodafone Idea saw a rise of 8.65% and closed at Rs 10.05 on the NSE.
Conclusion
This merger will prove to be a complete game-changer in India's telecom sector. With improved tower technology, we would be able to obtain better services from our telecom operators. Let us hope that this merger would also help people living in remote areas to get better network facilities. At a time when the whole world is relying on the internet to complete daily tasks, maximizing the potential of telecom towers should be made a top priority.
Moreover, this has been an opportunity for telecom companies such as Vodafone Idea and Bharti Airtel to obtain the necessary funds to cover up their AGR dues. However, there is a lot more money to be raised, and both companies are coming up with new methods to obtain it. Let us look forward to seeing if they can pay back the government within the specified time.
Will Indus Towers Limited be able to exceed all expectations and become the best telecom infrastructure firm in the whole world? Or is it just another desperate and final attempt by Jio's competitors? Let us patiently wait and watch.
Post your comment
No comments to display