The Honey Scam - All You Need to Know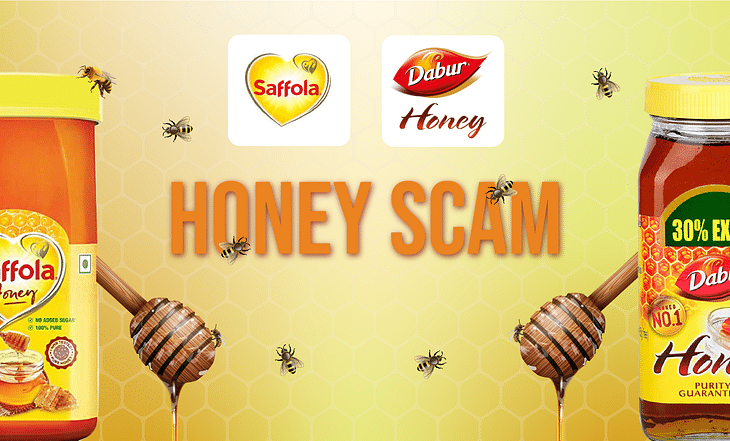 The Covid-19 pandemic has created a necessity to improve our immunity. Many people started taking vitamin tablets, while others turned to a more natural alternative. This is when we saw an increase in the consumption of honey all over the world. It is one of the best remedies for a sore throat, due to its antibacterial properties. Indian brands used this as an opportunity to ramp up their honey production. They even came up with interesting marketing campaigns to improve sales.
However, a shocking report from CSE was released last week, which claims that major Indian brands are involved in adulteration of honey! How pure is the honey that we have been consuming all this while? Have the companies been selling a cheap alternative? Let us understand the details surrounding these latest revelations.
The CSE Investigation
The Centre for Science and Environment (CSE) is a not-for-profit public interest research and advocacy organization based in New Delhi, India. They had earlier exposed a large number of illegal practices such as pesticides in colas and packaged water, antibiotics in honey, and excess salts and trans fats in junk foods.
Earlier this year, CSE received many tip-offs from Indian beekeepers. They informed the organization about the presence of widespread contamination of honey by domestic manufacturers. The beekeepers pointed out that major brands were sourcing sugar syrup from China. The brands opted to buy sugar syrup, as it is available for half the price of raw honey. This had led to many beekeepers going out of business. The CSE took up the mission to find out the truth behind these claims.
Key Findings
Now, let us specifically look at the details regarding CSE's recent study on the adulteration of honey:
Between August-November 2020, the CSE collected 22 samples of honey from 13 Indian brands. Eight of these brands sell processed honey, while the others sell raw honey.
They initially sent the samples for testing at the Centre for Analysis and Learning in Livestock and Food (CALF), in Gujarat. The testing was conducted as per the parameters set by the Food Safety and Standards Authority of India (FSSAI). All the major brands passed this particular test, whereas smaller brands failed to meet the Indian standards.
However, CSE was not convinced with the results from the initial test conducted by CALF. They believed that these samples had to go through a world-class purity test. Thus, they sent all the samples to a renowned food testing laboratory in Germany. This lab has a more advanced testing technology that helps detect adulteration and also the origin of honey. These specific tests are called Nuclear Magnetic Resonance Spectroscopy (NMR Test) and Trace Marker for Rice Syrup (TMR Test).
The German lab sent a very detailed analysis of their findings on December 2. This was exactly when things became very serious. It was found that 10 out of the 13 honey brands had failed the purity test. Out of a total of 22 samples, only 5 passed all the tests.
More importantly, the investigation revealed that Indian companies were importing synthetic sugar syrups from China for adulteration of honey.
CSE stated that honey is also mixed with syrup acquired from rice, corn, beetroot, and sugarcane and is sold as 'pure honey' by these brands. This syrup is factory-made and produced in bulk (mainly from China) and was cheap. The Indian brands used large quantities of these cheap syrups in their honey. This is clearly a health hazard.
At least 77% of Indian honey brands including Dabur, Patanjali, Zandu, Baidyanath, Hitkari have failed the NMR test. Saffola Honey (a product of Marico Ltd), Markfed Sohna, and Nature's Nectre were the only brands that passed all the tests.
Recent Developments
After CSE released these shocking revelations, the companies such as Dabur Ltd., Patanjali Ayurved, and Emami Group (Zandu Honey) have denied all claims. They stated that their respective honey brands adhere to all protocols and quality standards as per the Indian Government and the FSSAI. The companies have also stated that CSE's claims seem to be motivated and aimed at defaming them. They have also insisted that honey sold by them are collected from Indian sources and packed with no added sugar or other adulterants.
Over the last few days, some of you may have seen the advertisements of Dabur Honey popping out on all types of media. It states that their honey passes all key tests of the Indian food regulators and is 100% pure with no added sugar. At the same time, Marico Ltd has also posted newspaper ads that mention that their brand- Saffola Honey- has passed the international standards test. Interestingly, both Dabur and Marico have decided to move the Advertising Standards Council of India (ASCI), accusing each other of making false purity claims of their ads!
On December 4, CSE forwarded all details regarding their investigation to the FSSAI. This contains step-by-step developments that brought the fraud to light. This would help the agency to understand the loopholes in its purity and quality testing standards.
Conclusion
We had increased the consumption of honey to boost our immunity. Unfortunately, we were actually ingesting sugar instead of natural honey. Widely consumed honey brands in India have been misleading or deceiving us with their promise of purity. Such an important food item, that has immense health benefits, is completely filled with sugar syrup. The CSE has provided us with concrete evidence that brands have used demand opportunities arising from the Covid-19 pandemic as an excuse to sell adulterated items. The business of adulteration has constantly evolved over the years to beat laboratory tests as well. Consuming such items could cause severe health issues in individuals.
Also, do bear in mind that India imports these adulterants in bulk orders from China. The Chinese companies had openly claimed that its syrups will not be detected in adulteration checks. As India has now stopped all imports of Chinese items, the major domestic companies have even moved on to local entities for their supply of sugar syrup. The Indian beekeepers have been losing their business, as brands are using fewer quantities of raw honey in their products.
Let us hope that the government, and its agencies such as the FSSAI, introduce new and better standards for the testing of honey. The agencies need to step up surveillance, sampling, and inspection to check the misuse of such activities. It needs to be completely stopped at all costs. The health of all Indians needs to be given utmost importance, especially at a time when we are facing a global pandemic.
Post your comment
No comments to display