The Global Semiconductor Shortage: Explained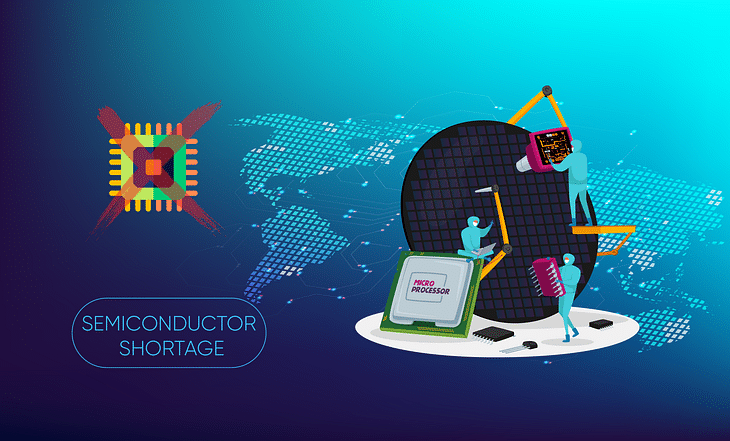 Over the past year, manufacturers of personal computers (PCs), smartphones, and automobiles have been facing a major shortage of a vital component— semiconductors. The supply of chips, which is the "brain" within every electronic device, has been declining steadily since 2020. Prominent companies such as Apple, Samsung, Ford, Sony, and many others have been forced to delay the supply of their latest products. Let us take a closer look into the reasons behind this shortage.
What are Semiconductors?
Semiconductors are essentially materials like silicon that can conduct electricity. These materials are in the form of chips and are an integral part of almost all electronic devices in the world today. In the automobile industry, features such as power steering, brake sensors, and parking cameras are all dependent on these chips. According to a report from Deloitte, a petrol or diesel car has an average of 1,300 chips, while an electric vehicle requires over 3,500 chips. Moreover, chips available today have exceptional processing power and are in high demand in our tech-savvy world. 
What Led to the Semiconductor Shortage?
The Covid-19 Pandemic and Lockdowns
The global lockdowns imposed due to the Covid-19 pandemic led to a huge spike in the demand for electronic devices. Most of us turned to our smartphones, laptops, TVs, or gaming systems to pass the time. Thus, chipmakers primarily focused on supplying the manufacturers of such devices. At the same time, automobile companies had to shut down their production units. As lockdown restrictions were eased gradually, automakers began to resume production. Unfortunately, at that point, there were not enough chips available for global auto players.
At the beginning of the pandemic, global automakers cut down their sales forecasts as they assumed that demand for new cars would drop. With the removal of lockdowns, there was a substantial and sudden increase in demand for passenger cars (as people did not want to use public transport). Since the auto industry did not anticipate this pent-up demand, they did not hold an adequate inventory of chips for cars. They are still not able to ramp-up the production of vehicles, which is causing a major hit on their profits.
With people confined to their homes, there was a need for video conferencing platforms to conduct meetings or classes. Enterprises such as Zoom and Microsoft had to invest heavily in their cloud services to boost their data centers (servers). Fast-processing chipsets are required for PCs or laptops to ensure better audio and video quality.
Demand-Supply Issues
Last year, we could see that chipmakers had actually been pumping out more Central Processing Units (CPUs) and Graphics Processing Units (GPUs) than ever before. And, people all over the world had actually been buying more devices for their daily use. Many had blamed cryptocurrency miners for a shortage of GPUs. [Mining for cryptos such as Bitcoin requires very high processing power]. However, several reports mention that these GPUs were actually bought by gamers.
Graphics card-makers Nvidia and AMD have to guess how many GPUs they will sell months or even a year in advance. This is based on historical data or trends in the gaming industry. However, the numbers that they had guessed in 2020 were way off. Ultimately, the demand for their products was much greater than the supply.
There are only two major companies in the world that can manufacture the latest high-processing chips— Taiwan Semiconductor Manufacturing Company (TSMC) and Samsung Foundries. In normal circumstances, both firms would be manufacturing at roughly 80-90% of their capacity to make enough semiconductors to stay profitable. If Nvidia and AMD have a higher demand for GPUs, they would buy out the remaining 10-20% of TSMC's 'idle time' and make more chips.
In the current scenario, chip fabrication systems are already running at 100% capacity. This means that Nvidia, AMD, Apple, or any other company would only get chips based on exactly what they pre-booked, and nothing more.
When Will This Issue Be Resolved?
A multi-layered approach has been initiated to address the effects of the global chip shortage. In February, US President Joe Biden signed an executive order that seeks to eliminate the semiconductor shortage, which has impacted industries ranging from medical supplies to electric vehicles (EVs). He called for $37 billion in federal funding for the same. On the other hand, chipmakers have announced plans to increase their production capacity to meet the rising demand. TSMC stated that it would establish a $35 billion production facility in Arizona. Samsung Foundry will also build a $17 billion chip fabrication facility in the US by late 2023.
As we can see, tens of billions of dollars are required to ramp up production. The units being established by prominent chipmakers will take two years to complete. Unfortunately, the problem will not be resolved even after setting up these factories. The chips are incredibly complex and can take up to 26 weeks to produce. Moreover, every part of the supply chain (including testing, assembling, packaging, logistics) needs to be upgraded. This means that these shortages will continue for a long time. As per reports from MarketWatch, the worldwide chip shortage is expected to last well into the next year. This is clearly bad news for the automobile, smartphone, and PC/GPU manufacturers. Prices of their products would definitely go up further.
Let us look forward to seeing how the automotive and electronics industry tackles this pressing issue.
Post your comment
No comments to display