The Escorts-Kubota Deal Explained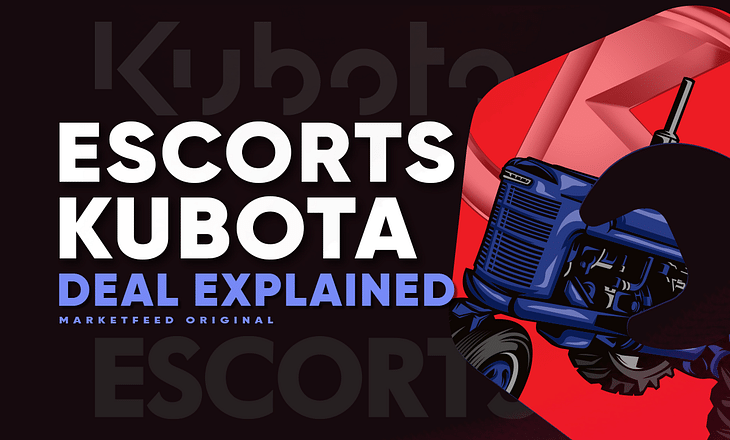 On November 18, Escorts Limited announced that Japan-based Kubota Corporation will join the company as a co-promoter. The foreign entity will invest nearly Rs 9,400 crore in the tractor manufacturing company. With this investment, Escorts is looking to obtain a sizable share of the world's largest tractor market— India. Dalal Street welcomed this news with open arms, with the stock surging 10% on the same day.
Details of the Deal
Escorts started its partnership with Kubota Corp in 2018 by forming a joint venture (JV). Both firms invested in each other's operations in the early 2020s. Currently, the Japanese firm holds a 9% stake in Escorts. It will increase to 53.5% after the deal goes through.
As per current agreements, shares worth Rs 1,870 crore will be issued to Kubota Corp on a preferential basis. These shares will have higher priority than ordinary shares. Further, Kubota will make an open offer for shares of Escorts worth Rs 7,500 crore. The Nanda family, who are the existing promoters of Escorts Ltd, will not be selling any shares of the company in this deal. They currently hold an 11.6% stake in the firm.
The current shareholding pattern is as follows:
Kubota Agricultural Machinery India will be merged with Escorts Ltd, and the new entity will be named Escorts Kubota Ltd. The joint entity intends to attain global leadership in the farm equipment sector.
Kubota Corp - A Brief Profile
Kubota Corporation is based in Osaka, Japan. It started operations towards the end of the 19th century. In 1960, the company developed the first farm tractor in Japan. Currently, Kubota is a full-fledged manufacturer of tractors and other agricultural machinery across the globe. Nearly 67% of its total revenue comes from outside Japan, mainly from North America. Looking at the financials, Kubota reported a revenue of Rs 1 lakh crore for the calendar year 2020. The firm is looking to enter the electric vehicle (EV) market. They had revealed prototypes of electric tractors in 2020, along with driverless tractors as part of their automation technology division. Thus, Escorts can benefit from the technological advancement of Kubota.
Escorts Ltd - Company Profile
Escorts was established by Hari Prasad Nanda and Yudi Nanda in 1944. Initially, the company sold tractors under a franchisee agreement with Massey Ferguson, an American agricultural machinery manufacturer. Forming joint ventures and partnerships with Ford Motors, JCB, Tadano (Japanese crane manufacturer) helped Escorts gain knowledge and experience in the global automotive industry. Currently, the company has 3 plants in Haryana with an annual capacity of 1.2 lakh tractors. It also has a production unit in Poland with a capacity of 2,500 tractors per annum. The JV with Kubota has allowed them to build another plant in Haryana with 50,000 capacity.
An interesting fact: Famous Indian two-wheelers such as the Rajdoot and Yamaha RX100 were assembled at Escorts' plant!
The company currently has three business verticals:
Tractor & Related: Tractors are the main product of the company, along with sprayers, engines, harvesters, spare parts, etc. Escorts produces three models based on various power ranges. The company leads in the 41-50 horsepower (HP) tractor range with a 52% domestic market share. Moreover, Escorts is the fourth largest manufacturer of tractors in terms of overall sales, holding a 12% market share.
Construction equipment: Escorts provides solutions for construction and mining-related activities. It offers earthmoving equipment, material handling (cranes), and road building (compactors) machinery. Progress in the road construction infrastructure and steel industry is likely to benefit the company. This segment is a low-profit margin business for the company (~3%).
Railway equipment: This vertical focuses on providing brake systems, gears, and other engineering components for the railway industry.
Financials
The sales of Escorts Ltd have surged at a 5-year Compounded Annual Growth Rate (CAGR) of 15.7% from Rs 51,455 in FY16 to Rs 1,06,741 in FY21. The total revenue has also grown at a CAGR of ~15% during the same period. Escorts have managed to grow their Profits at a 5-year CAGR of 50% to Rs 871 crore in FY21. However, the inflation in input materials and commodities has affected the tractor business with high expenses. The increase in profit margin is shown in the chart below.
A profit margin of 12% means that for every Rs 100 generated as revenue, the company can retain Rs 12 as net income after every expense. On the leverage side, a Debt to Equity ratio of almost zero makes the company virtually debt-free.
Conclusion
The Indian tractor market has been facing headwinds in recent periods. Financial insecurities of farmers created by the Covid-19 pandemic, steep rise in input costs, and inconsistent monsoon are some of the major concerns. However, technological advancements in Agri machinery, government initiatives to develop rural infrastructure, easy low-interest loans for farmers, subsidies/tax concessions on Agri equipment are the drivers for the tractor industry.
With Kubota Corp joining as a promoter, increasing the domestic market share and using the manufacturing capabilities to address the global demand for tractors will unlock better profitability for Escorts.
What are your views on Escorts Ltd? Let us know in the comments section of the marketfeed app.
Post your comment
No comments to display