Vedant Fashions: Leading India's Ethnic Wear Market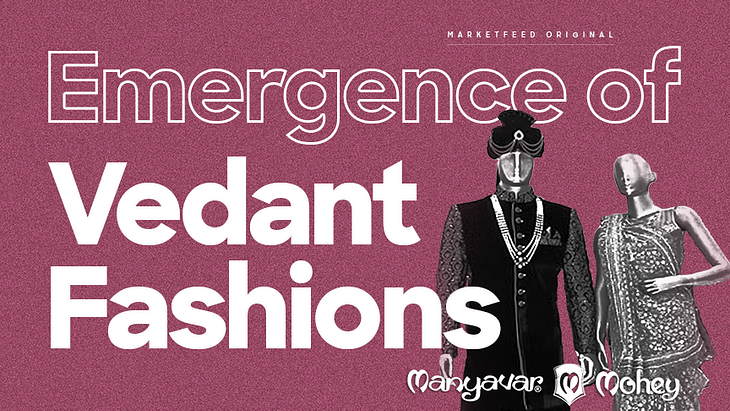 The festive and wedding season is upon us!
Festivals and weddings are an integral part of Indian culture. They represent our core values and traditions. While each community has its own style of festivals and weddings, all religious groups are welcome to participate in these celebrations, which binds us together in a multicultural space.
Both events are intricately planned, vibrant, culturally rich, and full of tradition and celebration. They have a profound influence on the clothing industry in India and form customer purchasing patterns and design concepts.
When we think of the ethnic apparel industry, one name pops up in our mind: Manyavar. But did you know that Vedant Fashions Ltd (VFL), the company that owns Manyavar, dominates the market? In today's article, we dive into Vedant Fashions and its strong growth.
Vedant Fashions' Origin 
Vedant Fashions was established by lifestyle tycoon Ravi Modi in 2002. It offers a one-stop destination for a wide range of product offerings for every celebratory occasion in India. The Kolkata-based company is primarily engaged in manufacturing, trading, and sale of readymade ethnic wear for men, women, and children. The company has an extensive retail network of 546 exclusive brand outlets (EBOs), including 58 shop-in-shops globally, and 11 overseas EBOs across the United States, Canada, and the UAE.
VFL's 'Manyavar' is a category leader in the branded Indian wedding and celebration wear market with a pan-India presence. The company also owns and operates four other brands— Mohey (women's ethnic wear), Mebaz, Manthan, and Twamev. Vedant Fashions focuses on spreading India's vibrant culture and traditions through these brands.
You might have come across their impressive ads starring brand ambassadors Amitabh Bachchan, Virat Kohli, Ranveer Singh, and Alia Bhat.
Financial Performance
Big fat weddings and pent-up desire to party after easing Covid-19 restrictions are boosting Vedant Fashions' numbers:
Vedant Fashions' financial performance should give Ravi Modi and its shareholders cause for celebration. In the financial year ended March 31, 2022 (FY22), its total income grew by 84% YoY to ₹1040 crore, and net profit more than doubled to ₹310 crore. The strong results reflect a low base in 2021, hurt by Covid-19-related restrictions that put a lid on celebrations. Nevertheless, the latest revenue was 30% higher than in FY19, while profit was up 79%.
Over the next two financial years, both revenue and profit are expected to expand at a compound annual growth rate (CAGRs) of almost 30%, according to an Axis Capital report. In the upcoming years, Ravi Modi intends to nearly double the total retail space to 2.4 million square feet.
A "big fat Indian wedding" can last several days. It includes not only the wedding ceremony and reception, but also welcoming parties, religious rites, and other celebrations. Such trends are helping Vedant Fashions to record robust revenues. According to analytics firm CRISIL, weddings are becoming larger, more elaborate, and longer. This trend can be attributed to rising disposable incomes and an increase in discretionary expenditure. CRISIL expects the ethnic clothing industry to expand 15-17% to reach nearly ₹1.38 lakh crore by 2025, driven by an increase in Indians' preference for traditional attire over Western attire during important events.
Major Competitors 
Vedant Fashions does not have any direct listed rivals in India. However, it faces competition from companies like Tata-owned Trent Ltd., Metro Brands, TCNS Clothing Company, Aditya Birla Fashion & Retail, and others that have a presence in the Indian wedding and celebration wear categories. Brands such as Biba and Soch also predominantly operate in this segment.
The Challenges
Vedant Fashions has only experienced gains since its IPO in February 2022. Its shares have soared by more than 60%, exceeding brokerages' estimates. However, the company faces many challenges:
High reliance on one type of discretionary goods— wedding and celebration apparel. The number and frequency of marriages determine the demand for Indian wedding and celebration attire. Additionally, this industry is characterised by rapidly-changing customer preferences.
The concentration risk comes next. Despite having over 600 exclusive brand shops, 30% of sales are generated by the top five franchisees.
VFL engages with third-party manufacturers (generally known as jobbers) for a significant portion of its apparel and accessories. A slowdown or disruption in the operations and performance of third parties (or inability to retain them) could severely impact its business.
The company's warehouse, factory, and a majority of its jobbers are mainly based in a single geographical region: Kolkata. Vedant Fashions' operations are more susceptible to regional risks.
Vedant Fashions' Mission
Amid a growing demand to wear ethnic apparel on special occasions and as the post-Covid climate fuels a desire to party, Ravi Modi amassed a ₹375 crore fortune through his traditional Indian wear design company. In February, VFL listed 15% of its total equity shares on the Indian stock exchanges— the basis of Modi's fortune that added him to the ranks of India's richest for the first time in 2022.
The company aims to lead the category toward a global perspective, beyond cultural or ethnic sensibilities. It intends to be a dominant player in Indian wear, across genre, price, and gender. VFL is driven by a collective mission: to be an authority in celebration wear.
Vedant Fashions is indeed well-positioned to increase its footprint in the domestic and international markets in the near term. The company plans to penetrate deeper into the existing markets and identify inorganic growth opportunities.
Will it continue to enjoy its haven or perish due to its regional risks? Let us know your views in the comments section of the marketfeed app!
Post your comment
No comments to display