The Coal India Puzzle: Should You Invest For Dividend Yields?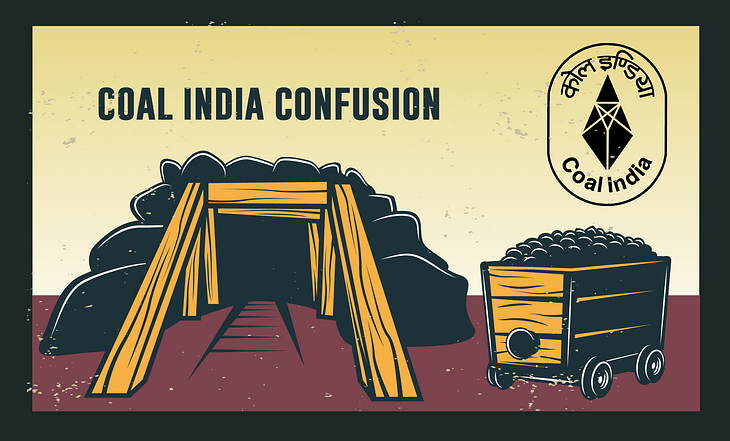 Soon after independence, the Indian government nationalized most coal mines, which led to the birth of Coal India. Our country is the world's second-largest producer of coal and this company was banked upon to have a big future. Coal India Limited is a government-owned entity that came into existence almost 50 years back in 1975. It is one of those esteemed Maharatna companies under the direction of the Government of India. As of 1st April 2020, Coal India Limited has 352 mines: 158 are underground, 174 opencast and 20 mixed mines. It produces around 83% of India's overall coal production in India.
They make several coal products like coking coal, semi-coking coal, non-coking coal, middling, tar and others. It has been a single entity to operate in the Coal industry but since the last few months, there are rumours about some private companies being allowed to enter the market. If this happens, the coal business will have to be shared and their market share will eventually fall.
In recent years, Coal India is unable to meet its target of production which has increased the fears of privatization. On 16th May 2020, Indian finance minister Nirmala Sitharaman announced that India will further open up commercial coal mining, with revenue share arrangement, to boost the fuel's production in the country. Two years before that the government had allowed commercial mining by private entities. Possibly more competition into the industry in the near future?
A look at the financials
Coal India's total revenue generated has been on a constant rise since the fall it faced in FY2017. In the last five years, the company has seen their top-line increase at a rate of 4.84%. Their EBITDA (Earnings before interest, tax, depreciation and amortization) almost doubled from FY17 to FY19.
In FY17, their EBITDA was Rs 17,763.51 crore which surged to Rs 30,840.91 in two years. Last year (FY20), they failed to surpass their top-line and EBITDA metrics marginally. This slight fall of 3% in total revenues can be attributed to the Covid-19 pandemic which started placing it foot by the 4th quarter of last year. Their net profits also decreased marginally by 4% to reach Rs 16,714.19 crore.
This year has been challenging for this government-back entity. From March 2020 quarter to June 2020 quarter, there was a significant fall in demand. During this one quarter, their revenues fell by almost one-third. However, this fall was seen in every other company's financials due to the nationwide lockdown. The point to put focus on is that from there on, there is an upturn in almost every meaningful financial metric. The chart below shows how the company has improved in each of its last three quarters of this year. 
A major point to notice is the Q4 of the last three years has been the most profitable for the company. If that's just a coincidence or is for a special reason, that's doubtful but if they continue to live up to that trend, Coal India will manage to do quite well on an annual basis even in these challenging times.
After facing a 55% dip in the net profits in Q1FY21 as compared to Q4FY20, they sharply rebounded in Q2FY21 with an increase of 42% in profits. This rollercoaster ride and quick upturn tell that they did well to weather the storm of lockdown and pandemic. With the results of the final quarter yet to be out, Coal India investors had every reason to be optimistic.
No capital gains?
Financials do seem to offer hope of a robust recovery however the charts say a different story. The drastic fall of March last year was the lowest point for many stocks. However, Coal India fell to its 52-week low of Rs 109 in October 2020. Since then, it is trying to move up but the chart below suggests that the journey has not been easy. It still seems to be on a sideways trajectory since last year.
Needless to say, it is way below its all-time high of around Rs 400-450. Hopefully, no one in our community is trapped from that price region. The FIIs have not been generous with the stock either. In December 2019, they held more than 8.5% stake in Coal India. This stake has been on a downward trend since then. In fact, it fell to 6.5% in December 2020. In a year when we have seen FIIs pumping money in huge amounts and stocks giving mega-returns, Coal India is following its own slow and steady path of recovery.
For long-term investment, the stock might look good considering the high dividend it issues. The company announced a second interim dividend of Rs 5 per share for the FY 2020-21 in March. Earlier in the same fiscal year, they have issued Rs 7.5 per share as dividend. In fact, they have maintained a high dividend payout of 78.66%. Based on the current share price, they offer a robust dividend yield of around 8.5%.
However, dividends do not attract me personally. There is no doubt that being a government-owned company and one of its kind in India, Coal India has a lot to offer. However, NSE offers you thousands of stocks. Do you think that Coal India should be your preferred choice of destination to bag returns in the short term?
Are you holding Coal India and still in losses? What are your opinions on the company and its future? You can have a completely different view on Coal India. So, do not hesitate and let us know in the comments section in the marketfeed application. Let's learn and grow together!
Post your comment
No comments to display