The Bajaj KTM Collaboration Explained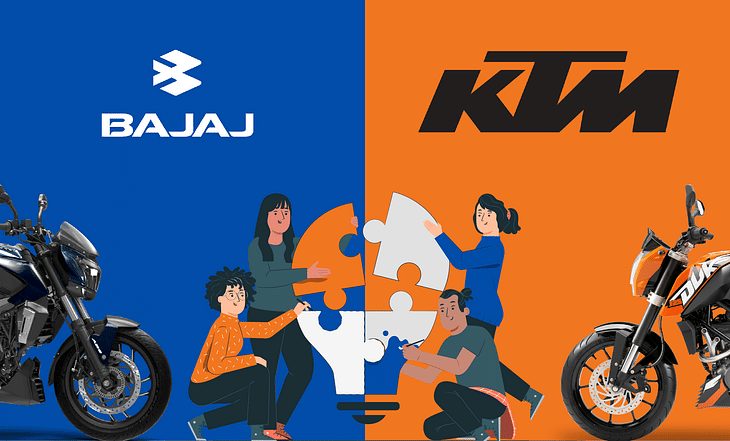 Bajaj Auto, one of India's favourite two-wheeler manufacturers, acquired a stake in KTM more than 13 years ago. Since then, they have created one of the most successful partnerships in India's motorcycle industry. Both companies have launched some of the greatest motorcycles and have shown impressive growth over the years. Let us understand more about how Bajaj and KTM improved from this collaboration. Let us also learn why the companies have been in the news recently.
The collaboration began in 2007 when Bajaj Auto bought a 14.5% stake in the Austrian company, KTM AG. During that period, Bajaj had the aim of democratising motorcycle racing in India. They even had plans of expanding its operations to developed markets such as Europe, Canada, Australia, and Japan. Bajaj Auto strongly believed that its targets could be met with the support of an experienced motorcycle manufacturer such as KTM.
On the other hand, KTM was facing financial difficulties around the same time. It had accumulated high debt and was not in a position to pay it off. Bajaj Auto came in and provided the required support for the company to continue its path of becoming Europe's largest motorcycle maker. The Austrian company also saw huge potential for its products in an emerging market such as India.
Fun Fact: KTM stands for Kronreif Trunkenpolz Mattighofen. Hans Trunkenpolz was an engineer that established the company in Mattighofen, Austria. Ernst Kronreif was the first investor in the company.
KTM AG is now owned by Pierer Industrie AG (an Austrian industrial investment group) and Bajaj Auto Limited. As of March 2020, Bajaj Auto (through its Netherlands subsidiary) has invested a total of Rs 1,219 crore and holds a 48% stake in KTM. The chart below shows the complete ownership structure.
Benefits of the Partnership
With the entry of KTM in India, they were able to create a new segment of bikes that were never seen before in the country. The company launched the KTM Duke 200 in 2012. It instantly became a huge hit amongst Indians due to its low cost and top-notch performance. This entry was facilitated through the support of Bajaj Auto. This was followed by the launch of Duke 390, and subsequently RC 200 and RC 390.
KTM's bikes are being manufactured at Bajaj Auto's facility in Pune. This has been the main reason for its low cost in India. This cost advantage has allowed customers all around the world to obtain KTM's premium bikes at a more reasonable price. Also, it supports the Indian Government's 'Make in India' initiative.
Due to their strategic partnership, Bajaj has gained access to KTM's advanced technology. They were able to create high-performance bikes such as the Pulsar NS200, RS200, and Dominar 400. You may have noticed that the engines of these bikes are exactly the same as those in KTM's models. The recently launched Dominar 250 also derives its engine directly from Duke 250.
Bajaj Auto's research & development (R&D) team and KTM's engineers work hand-in-hand to launch new models that are faster and better. Over the years, we have seen that both companies have been able to introduce a large number of models in both the domestic and international markets.
The partnership has helped Bajaj Auto to secure its vision of entering advanced markets such as the United States, Canada, Japan, Australia, etc.
Sales Figures
Ever since KTM's Indian operations began in 2012, both companies have been able to reap massive benefits through the synergy. There has been a major demand for Bajaj and KTM bikes, which has rapidly increased over the years. The companies have ensured that Indians have a wide range of models to choose from. It is interesting to know that the proportionate profit from KTM to Bajaj Auto was €40.6 million (Rs 322 crore) in FY20, as against €43.1 million (Rs 350 crore) in the previous year. Bajaj also earned dividend from KTM AG during the previous financial year, which amounted to Rs 109 crore. This has proved to be a great contribution to Bajaj's overall performance in FY20.
KTM was also able to sell more than 64,000 units in India and record a 26% YoY growth in FY20. India has emerged as a key destination for exporting KTM's range of 125cc, 200cc, 250cc, and 373cc bikes. It has become one of the fastest-growing motorcycle brands in our country. Bajaj Auto exports the KTM models to more than 80 countries. After establishing its hold in India, the Austrian motorcycle company has been able to progressively increase sales and market share globally as well.
Recent Developments
Bajaj Auto Ltd has started a preliminary discussion with its Australian partner, Pierer Industrie AG, for simplifying their shareholding pattern in KTM. As of now, Pierer Mobility AG (PMAG) and Bajaj Auto's Netherlands subsidiary (Bajaj Auto International Holdings BV) hold 51.7% and 48% respectively, in KTM AG. Pierer Industrie is the parent company of PMAG and holds 60% in the company.
As part of the proposed transaction, Bajaj Auto will swap its 48% stake in KTM AG for a stake in PMAG. Then, both Pierer Industrie and Bajaj will move their stakes in PMAG to a new holding company. This move allows Bajaj to have an active role in future KTM product planning. More importantly, it would also have a say in upcoming India-specific KTM products.
Another major update is that Bajaj and KTM are working together to develop and manufacture electric bikes for the Indian market. We could see their high-performance electric motorcycles hitting the markets soon.
The Way Ahead for Bajaj Auto
This has been a major example of a very successful partnership between two companies that have a wide vision for the future. They have time and again launched a wide variety of performance bikes at a very reasonable price for Indians. After 13 years of partnership, they have been able to gain a major market share in the two-wheeler sector. The technical collaboration and the manufacturing abilities of both companies are exactly what helped it to show massive growth all over the world. Such kind of expansion is truly unique in this world.
Will they be able to sustain this track record? Will the love for Bajaj and KTM bikes remain among the bike enthusiasts of the world? Let us look forward to seeing how they plan to take this collaboration to the next level.
Post your comment
No comments to display