Telecom Spectrum Auctions: Explained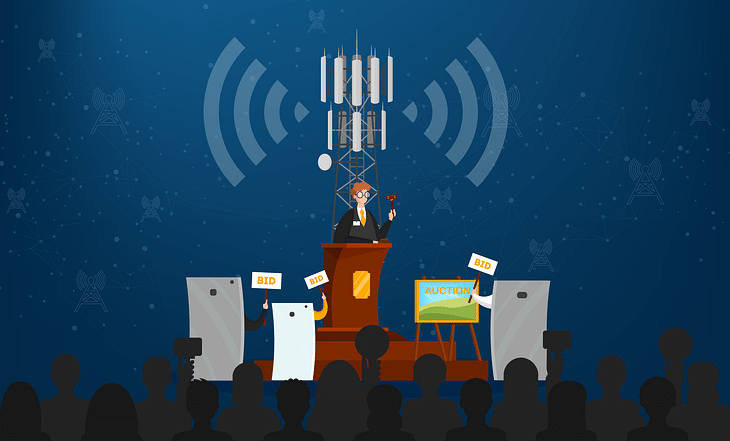 Our government has conducted numerous telecom spectrum auctions over the past two decades. It is truly an interesting process by which major telecom companies attempt to expand their network capacities across India. The auctions also help the Centre to raise funds for various development activities. The much-awaited spectrum auction for a range of 4G airwaves took place between March 1-2. Let us have a detailed understanding of how this process actually works.
What are Telecom Spectrum Auctions?
Key Terms
Firstly, we need to learn certain important terms associated with telecom spectrum auctions. A spectrum is a range of radio waves used for communication purposes. It includes FM and AM radio broadcasts, as well as WiFi or Bluetooth. These waves are defined by important attributes such as wavelength (length of the wave), amplitude (height of the wave), and frequency (number of cycles per second). Radio waves are those that have a frequency of 3 kilohertz (3,000 cycles per second) to 300 gigahertz (3 billion cycles per second). Thus, different frequencies are used for different purposes.
As we know, our smartphones also require signals to connect from one end to another. These signals are carried on airwaves, which must be sent at designated frequencies to ensure that there is no interference. The most commonly used range for cellular communication is 800 megahertz (MHz), 900 MHz, 1,800 MHz, 2,100 MHz, and 2,300 MHz.
The Auction Process
The Central government owns all public assets that are available within the geographical boundaries of our country. This also includes airwaves. A spectrum auction is a process by which the government uses an auction system to sell the rights to transmit signals over specific bands of the electromagnetic spectrum. Due to the exponential rise in the number of cellphone and internet users, there is a need to provide more space for the signals. Thus, our government efficiently manages the spectrum available in India through these auctions.
India has a total of 22 telecom circles. Any company that wishes to offer its services or operate in these circles must purchase a Unified Access Services (UAS) license. The spectrum, which is subdivided into bands with varying frequencies, is sold by the government for a fixed period. The Department of Telecommunications (DoT) conducts auctions of these licenses, which are valid for a period of 20 years. Telecos place their bids for the various frequency bands that are offered.
The last auction was held in 2016. The government offered 2,354.55 MHz at a reserve price of Rs 5.60 lakh crore. However, it managed to sell only 965 MHz, which was about 40% of the spectrum that was put up for sale. The total value of bids received was just Rs 65,789 crore.
The March 2021 Spectrum Auction
Now, after 4-5 years since the last auction, there was a great need or demand for a new spectrum auction. This was because the validity of some airwaves bought by telecom companies is set to expire in 2021.
On March 1, 2021, the DoT kickstarted the auction of 2,251 MHz at a reserve price of Rs 3.92 lakh crore. The government offered spectrum across seven bands— 700 MHz, 800M Hz, 900 MHz, 1,800 MHz, 2,100 MHz, 2,300 MHz, and 2,500 MHz. Spectrum will be offered for a validity period of 20 years. The Earnest Money Deposit (EMD) amount by Reliance Jio was the highest among the bidders at Rs 10,000 crore. This was followed by Bharti Airtel at Rs 3,000 crore and Rs 475 crore by Vodafone Idea (Vi). An EMD is like a security deposit that a company puts down at the beginning of the auction.
The bidders have an option to pay 50% upfront of the final bid amount for the 1,800, 2,100, 2,300, and 2,500 MHz bands. The remaining amount can be paid in equated 16 installments over two years at an interest rate of 7.3%. For 700, 800, and 900 MHz bands, the upfront amount is 25% of the successful bid. Notably, the final bidders are also required to pay 3% of the Adjusted Gross Revenue (excluding wireline services) as spectrum usage charges for the spectrum won through this auction.
marketfeed had prepared a detailed article on Adjusted Gross Revenue (AGR). As you may know, Bharti Airtel and Vi owe high AGR dues to the government. You can read more about it here.
The Result
The spectrum auction received a great response right from the first day. As per official data released by DoT on March 2, the spectrum attracted bids worth Rs 77,814.80 crore. Bids were placed primarily on 800 MHz, 900 MHz, 1800 MHz, 2100 MHz, and 2300 MHz bands. However, there were no takers for airwaves in the premium bands of 700 MHz and 2,500 MHz (as it had high reserve prices).
Reliance Jio emerged as the biggest buyer in the auctions. It has placed orders for Rs 57,122.65 crore worth of spectrum. Jio had placed bids for 488.35 MHz spectrum in the auction.
Bharti Airtel has acquired 355.45 megahertz (MHz) spectrum across sub gigahertz (GHz), mid-band, and 2,300 MHz bands for Rs 18,699 crores. The company said the acquired spectrum will help improve its coverage in villages. It would also help them provide services to an additional 9 crore customers in India.
Vodafone Idea (Vi) bought spectrum worth Rs 1,993.40 crore in the auction. It had placed bids for 0.8 MHz spectrum in the auction. Vi said it had acquired spectrum in five circles, which would help boost its 4G coverage and capacity.
Conclusion
The Indian government has conducted over 14 spectrum auctions so far. The Centre has been able to generate significant revenue through these auctions as well. However, it has also been subject to alleged corruption and fraud. You may remember the 2G spectrum scam, which was ranked as the world's second-biggest abuse of executive power by Time magazine in 2011. It was found that former Telecom Minister A Raja and other prominent politicians collected bribes from companies such as Swan Telecom, Reliance Telecommunications, and Uninor in exchange for licenses. Since then, the auction process has become more transparent and simpler as a result of technological advancements.
The response to the spectrum auctions conducted recently had beaten all estimates. It shows how telecom companies such as Reliance Jio and Bharti Airtel are committed to providing better services for their customers. Jio, with its deep pockets, clearly has the upper hand as it looks to further dominate the telecom industry. Financially stressed Vodafone Idea was unable to meaningfully participate in the bidding process.
We would soon be able to see a spectrum auction for 5G airwaves. Interestingly, Bharti Airtel and Jio have already announced plans to launch 5G services soon- by using their recently acquired spectrum. The Indian telecom sector will surely witness a boom in the coming years. Let us look forward to seeing how these companies make use of their spectrum for the further growth of the telecom sector as a whole.
Post your comment
No comments to display