Tech Mahindra: A Stock for the Future?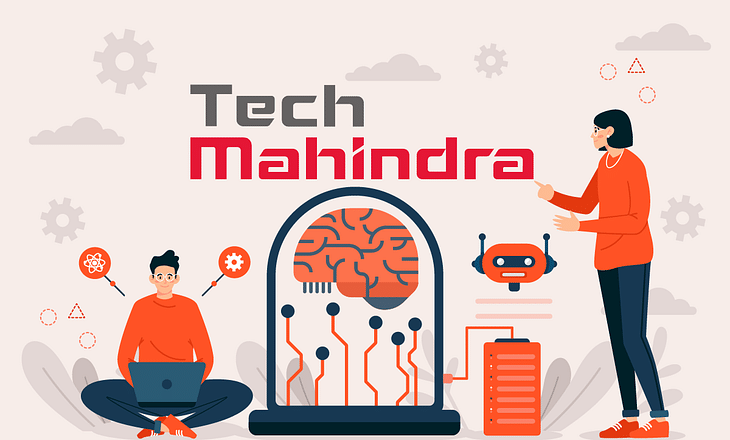 Mahindra & Mahindra is one of the biggest groups in India. The IT arm of the group, Tech Mahindra is the 5th biggest IT company in India. It is one of the major sources from where the Mahindra group generate their revenue. marketfeed did an editorial on the future plans of Mahindra & Mahindra. You can find it here. Very soon, the Indian IT companies will be coming out with their Q3 results. Before that happens, let's dig deeper and understand more about the company.
About Tech Mahindra
Tech Mahindra Limited was incorporated on October 24th 1986 as a joint venture between Mahindra and British Telecom. In 2009, Tech Mahindra purchased a major stake in the Satyam Computer Services after the famous Satyam scam. You can read about the Satyam scam here. Tech Mahindra changed Satyam's name to Mahindra Satyam. To take the benefits of existing synergies, Mahindra Satyam was merged with Tech Mahindra in 2013.
Since then, Tech Mahindra has focussed on both organic and inorganic growth to march forward. They have acquired many companies over the years. Few to mention are CJS Solutions Group LLC, DynaCommerce BV, BORN Group and more. They have ventured into different industries and provided their solutions and tech-supports for companies to thrive.
In today's era, every business in any industry requires a robust IT support to make a mark. Thus, it is no surprise to see Tech Mahindra offer services to a number of industries. The chart below shows the percentage of revenue they collect from each industry. The highest contributor to their top line comes from the communications sector.
Strengths of Tech Mahindra
The biggest strength for Tech Mahindra comes from the range of services they offer in several industries. They try to provide a holistic service experience to their customers with its huge portfolio of offerings. Every business is associated with some kind of risks. For example, imagine if Tech Mahindra was serving only hotels and tourist companies, their business would be nearly shut due to pandemic. But, as they serve a range of sectors, even a slowdown in one or two industries does not stop their business as they continue to serve others.
Tech Mahindra's major chunk of the revenue comes from North America and Europe. In fact, almost 75% of the total revenue comes from these two continents. All in all, Tech Mahindra is present in more than 90 states across Europe, North America, Africa, Middle-East, Australia and Asia-Pacific. In India itself, they operate 38 offices across 14 and more states. This enormous geographical presence helps them to expand and establish as one of the most all-rounded tech companies.
An eye on financials of Tech Mahindra
Tech Mahindra is one of those very few companies which has always seen its top-line growing over the years. At the end of FY20, the company reported revenue from operations to be Rs 36,868 crore. This was up by 6% to what was recorded in FY19. The chart below shows the revenue from operation trend in the last five years. The CAGR for the same stands at 8.6%.
The bottom line for the company saw a slight decline in FY20 for the first time in four years. Tech Mahindra recorded profits worth Rs 4,033 crore in FY20 against Rs 4,298 registered in FY19. This was mainly because of a slight increase in the cost of services and higher depreciation. Depreciation amount can go up and down each year so a company should not be judged on that basis alone. The CAGR for the net profit stands at 7.7% as shown by the chart below. Like most companies, Tech M is also net-debt free which allows it to invest more in upcoming technologies and better staff.
Tech Mahindra has the highest dividend yield percentage in its sector. It holds a Dividend yield % of 1.61% which is higher than Infosys and TCS' 1.47% and 1.15% respectively. Their 12-month Earnings Per Share(EPS) currently stands at Rs 41 which is at par with Infosys' Rs 41 and HCL's Rs 44. The other two tech giants, TCS and Wipro have an EPS of Rs 81 and Rs 16 respectively. This proves that Tech Mahindra has been making robust and stable money for each share as per the industry pattern.
Leveraging on Technology
Tech Mahindra's Makers Lab develops solutions with the aid of new technologies so that their clients receive the most innovative experience. They utilize next-generation technologies like Artificial Intelligence (AI), Machine Learning (ML), Robotics, Internet of Things (IoT), Virtual Reality (VR) and 5G. All these techniques aid them to make solutions which are faster as well as easier for the clients to incorporate. All these are the technologies of the next generation, which makes this stock very exciting.
Currently, they have more than 50 technology platforms and solutions. By building intelligent and next-gen solutions, they help their clients to transform digitally. To solve complex business problems across different sectors, Tech Mahindra produced more than 20 Blockchain platforms in FY20 only. These blockchain platforms make the operations of their clients more secure and faster. They also launched the inaugural Blockchain accelerator program for the State Government of Telangana. This program aims to empower Blockchain start-ups across India.
Conclusion
The stock market fall of 21st December 2020 reminded us that we are still in an economic mess. And, this seems to continue until we find a robust fix to the virus. The market fell rapidly wiping out a huge amount of gains of many traders. A similar fall occurred in March when the news of lockdown just started to hit. Which sector was able to revive the fastest? The IT sector.
Tech Mahindra is currently trading at their all-time high. Even the recent bloodbath seems to be relatively comfortable for the IT stocks. Maybe, people will realise this faster and start investing more in the IT companies which are deemed to thrive in the 'digital' future. What are your views on Tech Mahindra? Let us know in the comment box. Until next time.
Post your comment
No comments to display