Tata Motors to Supply 25,000 Electric Sedans to Uber - Top Indian Market Updates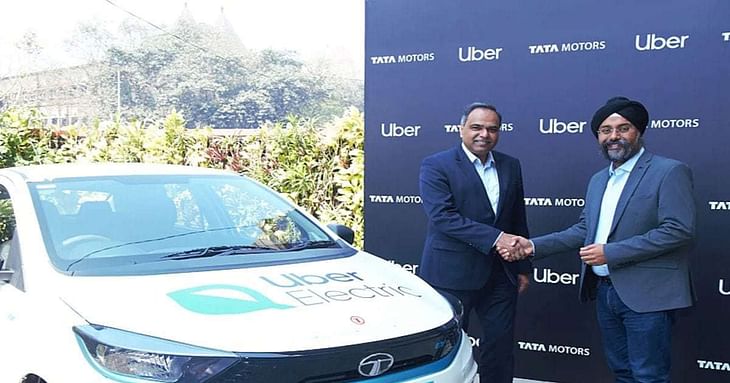 Here are some of the major updates that could move the markets tomorrow:
Tata Motors to supply 25,000 XPRES-T electric sedans to Uber
Tata Motors said it would supply 25,000 XPRES-T electric vehicle units to Uber in one of the largest deals in the green mobility space to date. As per a memorandum of understanding (MoU) between the companies, Uber will utilise electric sedans in its premium category service. The electric fleet would be operational across Delhi NCR, Mumbai, Kolkata, Chennai, Hyderabad, Bengaluru, and Ahmedabad
Read more here.
Adani Ports to prepay $121 million short-term debt due in March
Adani Ports & Special Economic Zone Ltd. will prepay the debt raised through commercial paper after it repaid 15 billion rupees of similar debt due on Monday as scheduled, the company's spokesperson said. India's largest-private-sector ports operator used its cash balance and funds generated from business operations to pay its short-term debt due on Monday.
Read more here.
Maruti Suzuki to focus on local manufacturing and reducing carbon footprint
Maruti Suzuki India said it will continue to work on all kinds of technologies in order to reduce its carbon footprint. The auto major will also focus on local manufacturing to achieve its green goals. It also noted that Maruti Suzuki has the least amount of fleet carbon emission among all car manufacturers in India.
Read more here.
Bank of Baroda CEO says willing to keep lending to Adani Group
Bank of Baroda CEO says that it is willing to consider lending additional money to the Adani Group, including for a project to remodel a slum that is among the world's largest. The bank will extend loans to the conglomerate if it meets the lender's underwriting standards. He also added that he's not concerned about the market volatility around Adani stocks.
Read more here.
Adani said to decide against a bid for stake in power trader PTC
Gautam Adani has decided against bidding for a stake in state-backed electricity trader PTC India Ltd as the company looks to preserve cash amidst the Hindenburg issue. In January, Adani was among the possible bidders reviewing preliminary information on the Mumbai-listed company, Bloomberg News reported. The company will not proceed with any offer for the energy trading firm, said the people, who asked not to be identified as the information is private.
Read more here.
Gland Pharma to invest Rs 400 crore to expand its Telangana plant
Gland Pharma will invest Rs 400 crore to create additional capabilities in its existing facility at Genome Valley in Hyderabad to manufacture biologicals, biosimilars, antibodies, and recombinant Insulin. The expanded site is envisaged to meet the national and international regulations to be followed in the manufacturing of biological products as applicable, and shall be built under the GMP guidelines applicable for the respective product lines, it said.
Read more here.
Domestic aviation traffic continues growth, Jan records 1.25 cr passengers with 95.72% rise
Domestic aviation traffic has continued to witness massive growth. Passengers carried by domestic airlines during January 2023 were 1.25 crore, registering an annual growth of 95.72% and monthly growth of 95.72%. According to data released by the Directorate General of Civil Aviation (DGCA), the passenger load factor or occupancy of the airlines remained on the higher side in the range of 80 to 90%.
Read more here.
Centre opposes Hindustan Zinc's $2.98 billion deal for Vedanta zinc assets
The Central government has opposed Hindustan Zinc's proposed $2.98 billion acquisition of zinc assets from Vedanta Ltd. The govt will oppose any further resolutions on the deal and explore all legal avenues available to it. The Centre holds nearly 30% stake in Hindustan Zinc, while Vedanta is the company's largest shareholder.
Read more here.
Post your comment
No comments to display