Tata Motors to Hike Prices of Passenger Vehicles - Top Indian Market Updates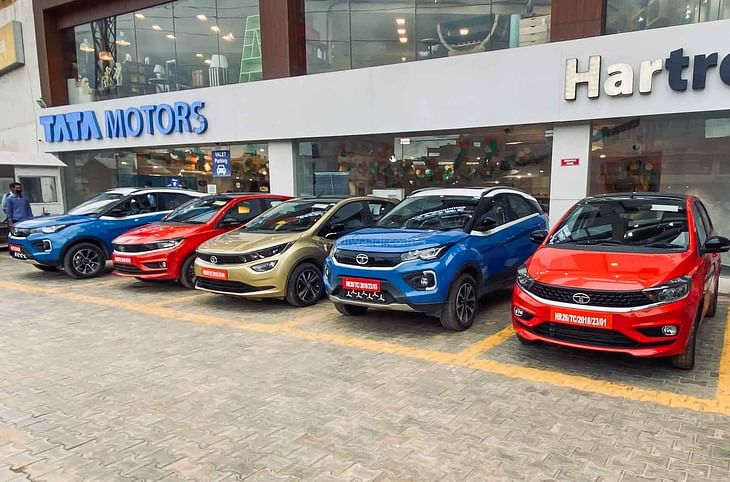 Here are some of the major updates that could move the markets on Monday:
Tata Motors to hike prices of passenger vehicles next month
Tata Motors will increase the prices of its passenger vehicles from May 1 to partially offset the increase in input costs. The weighted average increase will be 0.6% depending on the variant and model. This will be the second price hike by the automaker for its passenger vehicles after it initiated an average hike of 1.2% in February.
Read more here.
NTPC to add more coal plants
NTPC Ltd plans to build more coal plants this year to meet the country's growing energy demand, despite long-term decarbonization targets. The company is expected to award construction orders for approx 4.5 gigawatts of coal-fired capacity across 3 sites where it already operates power plants. NTPC also plans to increase its coal output from its own mines by 48% compared to the previous year.
In other news, NTPC is planning to raise funds through an initial public offering (IPO) for its green energy unit, NTPC Green Energy Ltd (NGEL), in FY23.
Read more here.
Zee Music inks multi-year global deals with YouTube, Meta
Zee Music Company (ZMC) has renewed its licensing agreement with YouTube and Meta, signing a three-year partnership with YouTube and a two-year partnership with Meta. This allows users to continue using Zee Music Company's extensive catalogue of over 11,000 songs to create social experiences across YouTube, Facebook, and Instagram. Zee Music Company has already achieved over 290 billion views across its YouTube channels. ZMC is a subsidiary of Zee Entertainment Enterprises Ltd (ZEEL).
Read more here.
India's forex reserves rise to $584.75 billion
India's foreign exchange (forex) reserves increased by $6.30 billion to $584.75 billion for the week ended April 7, after declining by $329 million in the previous reporting week. The foreign currency assets increased by $4.74 billion to $514.431 billion for the week ended April 7. Gold reserves also rose by $1.49 billion to $46.69 billion. The country's reserve position with the IMF also went up by $13 million to $5.17 billion in the reporting week.
Read more here.
Muthoot Finance completes pre-payment of External Commercial Borrowings of $225 million
Muthoot Finance said it completed the pre-payment of External Commercial Borrowings (ECB) of $225 million on April 13. ECBs are commercial loans widely used by eligible resident entities who raise ECBs from recognised non-resident entities. Last week, the Kochi-headquartered company declared an interim dividend of Rs 22 per share for FY23. Muthoot Finance is an Indian financial corporation and the largest gold loan NBFC in India.
Read more here.
SBI keeps lending rates unchanged across tenures
State Bank of India (SBI) will keep the lending rates unchanged across tenures, effective April 15, 2023. Its 1-year Marginal Cost of Funds based Lending Rate (MCLR) remains unchanged at 8.50%. The MCLR is the minimum lending rate below which a bank is not permitted to lend. In February, SBI hiked its lending rates by 10 basis points (bps) across tenures.
Read more here.
Bodhi Tree cuts planned investment in Reliance JV Viacom18 by 70% to Rs 4,306 crore
Bodhi Tree has reduced its planned investment in Reliance Industries' broadcast venture Viacom18 by 70% and will now pump in Rs 4,306 crore. In April 2022, Reliance Industries said that Qatar Investment Authority-backed Bodhi Tree would spend Rs 13,500 crore out of a planned Rs 15,145 crore investment in Viacom18. Bodhi Tree is a joint venture between James Murdoch and a former Star India executive.
Read more here.
NSE to introduce WTI crude oil, natural gas futures contracts from May 15
National Stock Exchange (NSE) will launch futures contracts on underlying WTI crude oil and natural gas in the commodity derivatives segment from May 15. This comes after the exchange received approval from markets regulator SEBI to launch the rupee-denominated Nymex WTI crude oil and natural gas futures contracts in its commodity derivatives segment. These contracts will expand NSE's product offering in the energy basket and its overall commodity segment.
Read more here.
Vi showcases anti-phishing solution to TRAI, RBI & SEBI
Vodafone Idea (Vi) became the first telecom operator to showcase its anti-phishing solution to the Telecom Regulatory Authority of India (TRAI), the Reserve Bank of India, and the Securities & Exchange Board of India. The operator showed an accuracy rate of over 99%. This means that its artificial intelligence (AI)-based solution (developed by Tanla Platforms) is stopping phishing attempts through SMSes most of the time.
Read more here.
Post your comment
No comments to display