Tata Motors to Hike CV Prices by 3% in Oct - Top Indian Market Updates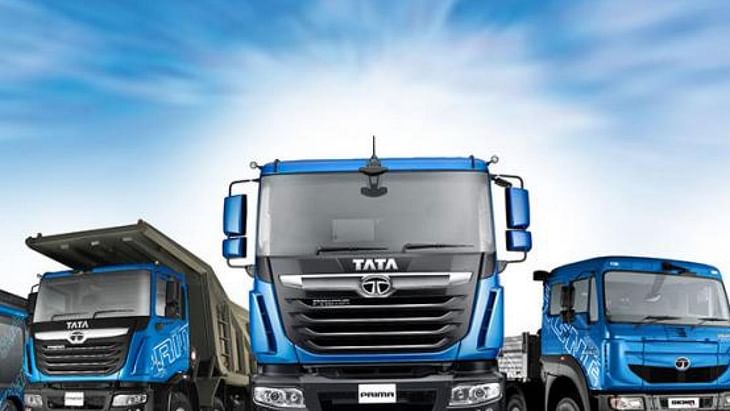 Here are some of the major updates that could move the markets tomorrow:
Tata Motors to hike commercial vehicles prices by 3% in Oct
Tata Motors will raise the prices of its commercial vehicles (CVs) by up to 3%, its third hike in 2023, to offset the residual impact of past input costs. The price hike, effective Oct. 1, will be applicable across its range of CVs. The automaker previously raised prices by 1.2% in January and by 5% in March to ensure its vehicles comply with the new emission norms.
Read more here.
SBI launches digital opening of NRE/NRO account setup via YONO
State Bank of India (SBI) has introduced a digital facility for Non-Resident Indians (NRIs) to effortlessly open NRE and NRO accounts (both savings and current accounts) through its mobile app YONO. This service is designed for NTB or 'new to bank' customers, providing them with ease and efficiency in the account opening process.
Read more here.
Petromin Corporation signs 3 agreements with HPCL to invest $700 million
Petromin Corporation KSA will invest $700 million in partnership with Hindustan Petroleum Corporation Ltd (HPCL) in three strategic areas. It will invest around $100 million to set up around 1,000 vehicle service centres at HPCL retail outlets in India. Petromin will also invest around $100 million to install and operate up to 5,000 electric vehicle charging units at HPCL-operated stations throughout India.
Read more here.
NTPC mining arm to explore battery minerals overseas
According to a Reuters report, NTPC's mining arm will explore overseas sourcing of battery minerals such as lithium, cobalt and nickel. India has been pursuing pacts with other countries to secure key minerals in resource-rich countries such as Australia, Argentina and Chile. The country aims to be a net zero emitter of greenhouse gases by 2070.
Read more here.
Torrent Pharma looks to partner with CVC Capital to fund Cipla purchase
Torrent Pharmaceuticals Ltd is in advanced negotiations with CVC Capital Partners to form a consortium and raise at least $1.2-$1.5 billion. The fundraise is for its proposed acquisition of Cipla. Torrent is also engaged with Brookfield to raise $1-1.2 billion in mezzanine debt. The company's founders, the Sudhir and Samir Mehta family, are seeking to dilute equity and create a non-disposable undertaking (NDU) using their shares as collateral for loans.
Read more here.
India's net direct tax collections rise over 23% to ₹8.65 lakh crore
According to the Income Tax department, India's net direct tax collections grew 23.51% to ₹8,65,117 crore till September 16, 2023, in the current financial year (FY24). The provisional figures show net collection figure for the corresponding period in FY23 was ₹7,00,416 crore. This surge can be attributed to a balanced mix of Corporation Tax (CIT) and Personal Income Tax (PIT), which includes Securities Transaction Tax (STT).
Read more here.
India's trade deficit widens to $24.16 billion in August
India's trade deficit in August 2023 surged 17% month-on-month to $24.16 billion. The trade deficit in July stood at $20.67 billion. This rise can be attributed to an 11% increase in goods imports, whereas exports only experienced a modest 6.9% growth during the same period. [Trade deficit is the difference that arises when the amount of imports by a country exceeds its exports.]
Read more here.
VA Tech WABAG signs pact with Al Jomaih Energy and Water
VA Tech WABAG Ltd signed a Memorandum of Understanding (MoU) with Al Jomaih Energy and Water (AEW), a developer of energy and water projects in the Middle East. The companies examining collaborative opportunities in water project development across Saudi Arabia and the broader Middle East region.
Read more here.
Sona BLW Precision concerns over auto workers' strike in US
Sona BLW Precision Forgings Ltd informed of a strike at the plants of three of its key clients in the United States. United Auto Workers (UAW) in the US went on strike at some of the plants of three original equipment manufacturers (OEMs) on September 15, 2023. The company added that it supplies to these three OEMs in the US, directly or indirectly.
Read more here.
HFCL secures ₹1,015 crore order from Madhya Pradesh govt
HFCL secured a ₹1,015 crore order from the Madhya Pradesh Jal Nigam for providing engineering, procurement and construction (EPC) services. The order involves a provision for laying optical fibre cables on critical routes and execution of a multi-village drinking water supply network in the Sheopur district of the state. The project will be executed by the company in 24 months in collaboration with Khilari Infrastructure Pvt. Ltd.
Read more here.
Post your comment
No comments to display