Tata Motors Electric: Supercharging India's EV Sector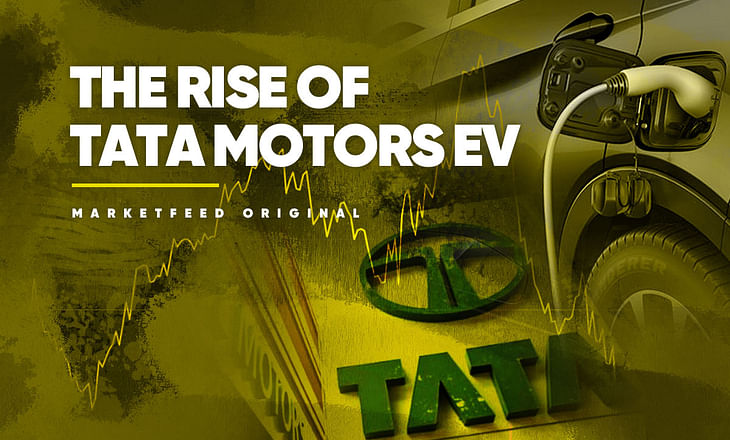 The Government of India has set a target of achieving sales of 60-70 lakh hybrid and electric vehicles (EVs) every year from 2020 onwards. You may also be aware of several Central and state governments schemes that boost EV manufacturing and sales. The primary aim of such programs is to facilitate the transition from internal combustion engine vehicles to reduce pollution levels. It will also bring down dependency on expensive fuel imports. Several Indian companies have already started working towards securing a share in the gradually evolving EV market.
Last week, Tata Motors announced that it will be creating a new passenger electric vehicles subsidiary— TML EVCo. US-based private equity firm TPG Rise Climate Fund and Abu Dhabi's ADQ will invest a whopping $1 billion (~Rs 7,530 crore) for an 11-15% stake in the EV arm. In today's article, learn how Tata Motors' fundraising program and the entire ecosystem created by Tata Group companies could accelerate India's EV sector.
The Rise of TML EVCo
The investment from TPG Rise Climate and ADQ will value Tata Motor's new subsidiary (TML EVCo) at ~$9.1 billion. The company will be asset-light, and the entire investment will go towards creating intellectual property (IP) such as new vehicle designs and EV platforms. TML EVCo will require over Rs 16,000 crore of investment over the next five years.
The new passenger electric vehicles arm will create a portfolio of 10 EVs over five years. The company will collaborate with Tata Power to accelerate the creation of an integrated charging infrastructure. This partnership will facilitate rapid EV adoption in our country. Tata Motors has also confirmed that it plans to launch EVs with a larger battery pack than existing models. TML EVCo will leverage its parent company's technological capabilities and channelise them into dedicated EV platforms and charging infrastructure.
With the creation of the new subsidiary, Tata Motors intends to keep its existing brand exclusively for petrol, diesel, and compressed natural gas (CNG) cars. However, looking at the recent trend, most automobile manufacturers are in the process of phasing out their fossil fuel cars.
Tata Group - Spearheading India's EV Revolution
Tata Motors is the only Indian carmaker to have covered extensive ground in setting up an EV ecosystem. Registering sales of over 10,000 units in FY21, they account for ~70% of sales in our country's EV market. The company has established more than 700 charging stations across 120 cities. Interestingly, it incorporates the services of other group firms such as Tata Power, Tata Chemicals, and Tata Consultancy Services (TCS) for offering end-to-end solutions in India's EV space.
Tata Power has already commenced projects for creating a comprehensive network of EV charging stations in India. Meanwhile, Tata Chemicals will help establish large-scale lithium-ion battery and battery cell manufacturing technology and infrastructure. The business group has set aside Rs 4,000 crore for building a lithium-ion battery plant in Gujarat. TCS and Tata Technologies will help fine-tune the software required for EVs.
According to analysts, the investment from TPG Rise Climate and ADQ will be the first prominent fundraising by an Indian automaker in the electric vehicles segment. It is set to be a game-changer for Tata Motors and the entire EV industry. If executed well, the deal would redefine India's automobile landscape and future EV potential.
Conclusion
Currently, the Indian EV market is witnessing low sales due to the lack of charging infrastructure and the high cost of vehicles. Less than 1% of cars sold in the country are EVs. Most automakers have not ventured into the market due to low demand. Moreover, the automobile industry is struggling due to the global semiconductor shortage.
However, many believe that the Tata Motors-TPG deal will boost not just the automaker's future EV plans but also the Indian EV industry as a whole. It will encourage more investments in the sector, which in turn will support local manufacturing. We will be able to witness a decline in the dependency on imports. Favorable government policies and a further decline in the cost of batteries and other components will drive EV sales.
The $1 billion investment will allow Tata to ramp up growth and secure its position as India's market leader in EVs. We will have to wait patiently and see if the company's operating or financial performance will improve as a result of these strategic changes.
What are your thoughts on Tata Group's ambitious plans to supercharge India's EV sector? Are you excited about the future prospects of Tata Motors? Let us know in the comments section of the marketfeed app!
Post your comment
No comments to display