Tata Group, SIA to Merge Air India With Vistara by 2024 - Top Indian Market Updates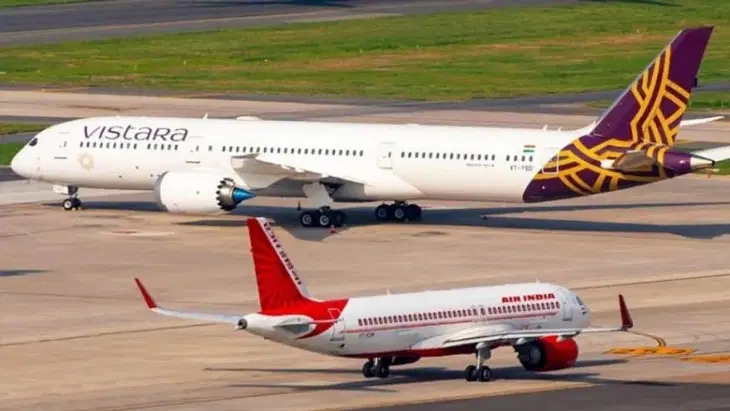 Here are some of the major updates that could move the markets tomorrow:
Tata Group, SIA to merge Air India with Vistara by 2024
Singapore Airlines (SIA) and Tata Sons have agreed to merge Air India and Vistara. SIA will secure a 25.1% stake in the merged entity at an investment of ₹2,058.5 crore. This 25.1% stake will be in an enlarged Air India Group, which will have Air India, Vistara, AirAsia India, and Air India Express. The merger of all airlines is estimated to be completed by March 2024.
Read more here.
Britannia Industries to form JV with Bel SA
Britannia Industries Ltd has signed a joint venture (JV) agreement with France-based Bel SA and Britannia Dairy Pvt Ltd (BDPL) to develop, manufacture, and sell cheese products in India and other markets. As a part of the JV, Britannia Industries will sell a 49% stake in BDPL to Bel SA for ₹262 crore. It will then infuse an additional ₹215 crore in the joint venture.
Read more here.
Tata Motors partners with IndusInd Bank to boost EV adoption
Tata Motors has partnered with IndusInd Bank to offer exclusive electric vehicle (EV) financing to the automaker's dealers. IndusInd Bank will provide additional inventory funding with attractive pricing to authorised passenger EV dealers of Tata Motors. This move is part of Tata Motors' mission to increase EV adoption in India.
Read more here.
Cipla launches injection for prostate cancer in the US
Cipla Ltd announced the launch of Leuprolide Acetate Injection Depot in the US market. The drug is used to treat advanced prostate cancer. It is also indicated for endometriosis and is used with other medication to treat anemia caused by uterine fibroids. According to IQVIA data, LUPRON DEPOT had sales of approximately $197 million in the US for the 12 months ended September 2022.
Read more here.
Gland Pharma acquires French CDMO Cenexi for €120 million
Gland Pharma's Singapore subsidiary, Gland Pharma International PTE, will acquire France-based contract development & manufacturing organisation (CDMO) Cenexi Group for €120 million (~₹1,012 crore). The acquisition will give Gland Pharma a foothold in the European CDMO market. Cenexi has a presence across four manufacturing sites in Europe, which include three sites in France and one site in Belgium.
Read more here.
ICICI Bank launches digital lending solution iLens
ICICI Bank announced the launch of a digital lending solution called 'iLens'. It allows customers to secure housing loans digitally with hassle-free onboarding via paperless login, uploading documents, instant sanctions, and disbursement of loans. ICICI Bank Lending Solutions (iLens) is powered by the TCS Lending Platform. The bank also plans to offer personal loans, auto loans, and credit cards through this platform.
Read more here.
Lupin launches generic version of COPD treatment drug
Lupin Ltd announced the launch of a generic version of Formoterol Fumarate Inhalation Solution in the US market. The drug is used to treat chronic obstructive pulmonary disease (COPD). According to IQVIA MAT data, the product had estimated annual sales of $268 million for the 12 months ended Sept 2022.
Read more here.
Tech Mahindra signs pact with Axiata Group to develop 5G enterprise solutions
Tech Mahindra has signed a Memorandum of Understanding (MoU) with Axiata Group Berhad to co-develop and market 5G enterprise solutions across Malaysia, Sri Lanka, Bangladesh, Nepal, and Cambodia. The two entities aim to develop new-age and cost-effective 5G solutions across the manufacturing, oil & gas, and smart cities & services industries.
Read more here.
Biocon completes acquisition of Viatris's biosimilar business
Biocon Biologics has completed the acquisition of the $3.34 billion Viatris' global biosimilars business. The company has issued Compulsorily Convertible Preference Shares (CCPS) in the company valued at $1 billion (equivalent to an equity stake of ~12.9%) and made an upfront cash payment of $2 billion to Viatris. Biocon Biologics is a subsidiary of Biocon Ltd.
Read more here.
ONGC gas price to be capped at $6.5 for five years
A government-appointed gas price review panel has recommended a floor and ceiling price for natural gas produced from legacy fields of state-owned firms for five years to help moderate CNG and piped cooking gas rates. Oil & Natural Gas Corporation (ONGC) and Oil India Ltd (OIL) will be paid a minimum price of $4 per million British thermal units (Btu) and a ceiling price of $6.5 per million Btu, compared to the current rate of $8.57.
Read more here.
Post your comment
No comments to display