Tata Consumer Products - A Detailed Analysis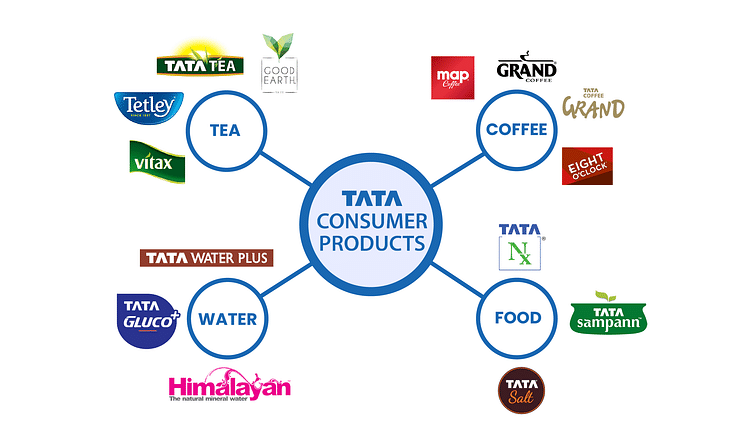 As you might have noticed, the Tata Group is focusing its efforts to completely restructure its retail segment. They are introducing the Super App, which will be a one-stop online destination for all its brands. There are also reports stating that the Group is planning to acquire a majority stake in the e-commerce platform- BigBasket. marketfeed had prepared a detailed article regarding Tata's plans to improve its retail presence. You can read more about it here.
The Tata Group is transforming Tata Consumer Products into the new face of its fast-moving consumer goods (FMCG) segment. Let us understand how this company has grown over the years. Let us also find out some of the important financial highlights which make this company a favourite amongst many investors.
Company Profile
It is very important to take a look at a company's growth since its very inception. So, let us look at how Tata Consumer Products has reached its current position.
Brief History
Tata Group established its consumer products segment way back in the 1980s. During this period, the tea industry in India was facing heavy competition from China and other foreign markets. However, Tata saw this as an opportunity to introduce the concept of 'branded tea' in our country.
In 1983, the Group established Tata Tea, after acquiring a Scottish tea company- James Finlay. It has created several widely popular brands such as Tata Tea Kanan Devan and Chakra Gold. These brands brought about a revolution in the consumption of tea in India. We can see that Kanan Devan is a trusted brand in most of our Indian households today. This product was a result of a tie-up with the Kannan Devan Hills Plantation in Munnar.
By the 1990s, Tata Tea had gradually introduced its brands in the global markets. In 1993, the company formed an export joint venture with the United Kingdom-based Tetley Tea. They also set up a fully-owned subsidiary in the United States (Tata Tea Inc.), wherein instant tea was processed and marketed. In 2000, Tata Tea acquired the Tetley Tea Group, for $432 million (~Rs 3,218 crores today). It is interesting to know that Tetley was one of the first companies to introduce the concept of a teabag in Europe. In 2006, Tata Tea went on a major buying spree. They acquired US-based Eight O'Clock Coffee, and leading tea brands in the Czech Republic and South Africa.
Tata Tea introduced a very popular campaign in India in 2007. It provided a platform for the youth of our country to voice out their opinions, and fight against social injustice. You might be able to recollect it by the name- Jaago Re! The company was able to receive a major boost after this campaign was launched.
In 2012, the cities of Delhi and Mumbai received a very exciting update from the Tata Group. They had entered into a 50:50 joint venture with Starbucks Inc. to operate its outlets in the major metro cities in India. As of 2020, the number of outlets across the country has quickly expanded to more than 185.
Thus, all these specific brands mentioned above became a part of Tata Global Beverages Limited.
The Merger in 2020
It was only in February 2020, that Tata Global Beverages Limited (TGBL) and Tata Chemicals Limited (TCL) announced that they would merge to create a new entity. Thus, Tata Consumer Products Ltd. (TATACONSUM) was established as a result of this merger. After the merger, TCL will retain its salt manufacturing operations. It will be fully focussed on the chemicals business only.
Tata Consumer has now combined Tata's food and beverage brands under a single umbrella. This would include some of Tata's popular brands that had been created or acquired since its entry into the consumer product segment. The brands include Tata Tea, Tetley, Eight O'Clock Coffee, Himalayan Mineral Water, Tata Salt, Tata Sampann (masalas). Tata's out-of-home brands include Tata Starbucks and Tata Cha. The company has more than 2.5 million retail outlets in the country.
In September 2020, they made a non-binding bid for the vending machine business of Coffee Day Enterprises Ltd. Coffee Day is one of the largest coffee chains in India, and has over 60,000 vending machines across malls, public spaces, and schools. This could help Tata Consumer obtain more access to the premium coffee platform in India, along with the help of Starbucks.
At a time when the Indian retail sector is witnessing a boom due to the lockdowns, it is sure that Tata would also want to get into the scene. It has immense plans to transform Tata Consumer into a very strong entity and diversify into multiple food products. Through this new company, the Group wants to improve its hold in the international market as well.
Market Size
Tata Consumer Products has a market size of Rs 30 lakh crore in the Food & Beverages (F&B) industry, as of FY 2019-2020. The company has a reach of about 20 crore households in India. As compared to other companies in this segment, the number of brands owned by this company is relatively low. At the same time, it has immense potential to diversify and launch new products in the market. Tata Consumer is currently focusing on providing healthier and better quality products at affordable prices. It is gearing up to face competitors such as Hindustan Unilever, Nestle, and Britannia in India.
The company has one major advantage when it launches new products- the 'Tata Brand Trust'. For years, the Tata Group has time and again proved to be a company that produces good quality products for all types of Indian consumers.
Financial Performance
Over the last 10 years, Tata Consumer's stock price has seen a Compounded Annual Growth Rate (CAGR) of 16%. The company is also virtually debt-free. Its Return on Capital Employed (ROCE) is at 9.54%, which is quite low as compared to its competitors in the consumer goods industry. This means that for every Rs 100 worth of capital employed, Tata Consumer earns Rs 9.5 on it.
Over the last 5 years, its revenue has grown at a yearly rate of 3.89%, whereas the industry average was at 4.88%. The company has a total promoter holding of 34.69%, as of September 2020. The company has a good dividend track report and has consistently declared dividends for the last 5 years.
In September 2020, Tata Consumer was ranked third amongst the most valued listed Tata companies, after TCS and Titan. We have seen that the share price of TATACONSUM has increased by 63% so far this year, thus giving them a market value of about Rs 47,580 crore.
Financial Highlights - Q2 (FY21)
Tata Consumer Products Ltd. posted very strong results in the second quarter ended September (Q2). It reported a 33% year-on-year (YoY) increase in consolidated net profit to Rs 234.33 crore. The company had posted a net profit of Rs 198.65 crore in Q2 of the previous financial year (when it was earlier known as Tata Global Beverages Ltd).
The company's revenue from operations was up by 18.50% YoY to Rs 2,781.34 crore, during the same period. The sales volumes of all its products have seen an increase, on a year-on-year basis.
Tata Consumer's financial performance during the quarter was due to a strong improvement in domestic sales. The FMCG industry as a whole had managed to show steady progress amidst the Covid-19 pandemic. The sale of domestic beverages accounted for 45%, and the sale of international beverages accounted for 32%. The domestic food business accounted for the balance of 23%. The company had also introduced cost management policies during the July-September period.
"We posted all round revenue and profit growth during the quarter driven by accelerated momentum in our India business. The integration of our food and beverage business in India is progressing ahead of plan and we should start to see synergy benefits in the near term" - TCPL Managing Director & CEO Sunil D'Souza.
Conclusion
The growth of Tata Group's consumer product business has been a very interesting and complex journey. However, they have proved to be patient and resilient in their growth. It is very interesting to know that they have acquired more than 5 companies in countries such as the United States, the United Kingdom, and Russia. Their products have a wide reach and are used by all types of consumers. They have posted significant growth in their revenues in the previous two quarters, despite supply chain disruptions amidst the Covid-19 pandemic.
As mentioned earlier, the Tata Group has major plans to expand its retail presence in India. Do remember that this is a space where major players such as Reliance and Amazon India are locking horns and showing their dominance. It would be quite a difficult process for Tata to gain market share in this field.
Let us look forward to seeing how Tata Consumer Products would contribute to the ultimate aim of its parent company. Surely, we would be able to see their plans turning into concrete actions in the coming months. Will new product launches and company acquisitions be sufficient? Let us wait and watch for the results.
Post your comment
No comments to display