Tata Chem's Net Profit Falls 12% YoY to Rs 523Cr in Q1 - Top Indian Market Updates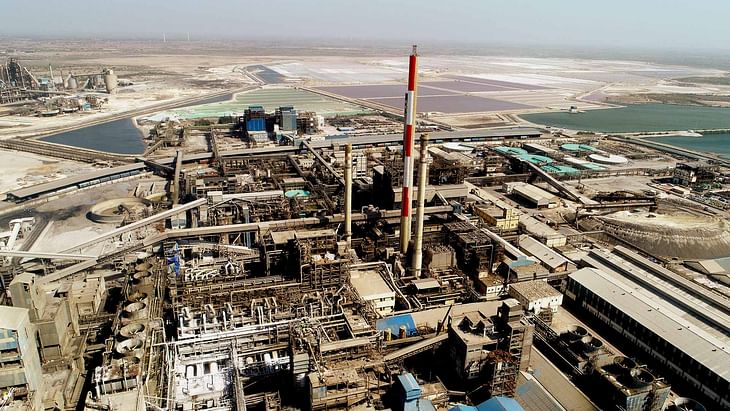 Here are some of the major updates that could move the markets tomorrow:
Tata Chemicals Q1 Results: Net profit falls 12% YoY to ₹523 crore
Tata Chemicals Ltd reported an 11.8% YoY decline in net profit to ₹523 crore for the quarter ended June (Q1 FY24). Net profit stood at ₹593 crore in Q1 last year. Its consolidated revenue from operations stood at ₹4,218 crore, up 5.6% YoY. EBITDA increased 2.8% YoY to ₹1,043 crore in Q1. As on 30 June 2023, consolidated gross debt dropped to ₹5,873 crore, as compared to ₹6,296 crore as of March 31, 2023.
Read more here.
Adani Energy Solutions gets financial closure for $1B project
Adani Energy Solutions Ltd (AESL) announced financial closure for its $1 -billion green high voltage direct current (HVDC) link project. It will enable further 'greening' of the Mumbai Grid by supplying more renewable power to the city while supporting its rising electricity demand. The 80 km multi-faceted project's construction work for this link will begin in October this year. The credit facility is part of the $700 million revolving project finance facility tied up in October 2021 for its under-construction transmission assets portfolio.
Read more here.
Reliance plans crude unit maintenance at Jamnagar complex
Reliance Industries Ltd plans to shut down a crude unit and some secondary units for maintenance in September-October. The crude units at its 704,000 barrels per day (bpd) export-focused plant will be shut down for 3-4 weeks. Reliance is the operator of the world's biggest refining complex which houses two plants with a combined capacity of about 1.4 million barrels per day. The shutdown of units would curtail Reliance's crude imports and may push up gasoline margins.
Read more here.
USFDA issues Form-483 with zero observations for Solara Active's Cuddalore facility
The US Food & Drug Administration (USFDA) has issued Form-483 with zero observations for Solara Active's Cuddalore facility in Tamil Nadu. The US FDA inspected the facility between July 31 and August 4, 2023. The inspection established that the facility is in an "Acceptable State of Compliance" with Zero Form 483 inspectional observations from the Agency. With this successful inspection outcome, the current inspection classification of the Cuddalore site shall be reinstated to NAI (No Action Indicated).
Read more here.
GCPL Q1 Results: Net profit falls 8% YoY to ₹319 crore
Godrej Consumer Products (GCPL) reported a 7.6% YoY fall in net profit to ₹318.8 crore for Q1 FY24. Its revenue from operations rose 10.4% YoY to ₹3,448.9 crore during the same period. EBITDA stood at ₹642.8 crore, up 23.4% YoY. The company's India business sales grew by 9% YoY led by volume growth of 12%.
Read more here.
Star Health and Allied Insurance enters into tie-up with Standard Chartered Bank
Star Health and Allied Insurance announced its collaboration with Standard Chartered Bank to enhance its distribution network. After this collaboration, Star Health will make its health insurance products readily accessible to customers via Standard Chartered Bank's extensive distribution network. The insurance company hopes that with 100 branches spread across 42 cities, the bank will serve as a convenient one-stop destination for its customers seeking comprehensive health insurance coverage.
Read more here.
Gland Pharma Q1 Results: Net profit falls to ₹194 crore
Gland Pharma reported a 15.3% YoY fall in net profit to ₹194.1 crore for the June quarter (Q1 FY24). Net profit stood at ₹229.1 crore in Q1 FY23. However, total revenue rose 41.1% YoY to ₹1,208.7 crore during the same period. EBITDA stood at ₹294 crore, up 8.9% YoY. EBITDA margin stood at 24.3% in the reporting quarter as compared to 31.5% in the corresponding period in the previous fiscal.
Read more here.
EaseMyTrip board approves raising ₹149 cr on a preferential basis
EaseMyTrip's board has approved raising up to ₹149 crore through a preferential issue of equity shares. The company's board has also approved the issuance of 3.37 crore preferential shares at ₹44.32 per share. This is at a discount of 9.5% to today's closing price of ₹40.10. Recently, Easy Trip Planners Ltd had announced plans to acquire a 51% stake in Guideline Travels Holidays India Private Ltd, Dook Travels Private Ltd, and Tripshope Travel Technologies Private Ltd.
Read more here.
Apraava Energy inks pacts with REC, PFC to get Rs 9,120 cr finance for its projects
Apraava Energy has inked initial pacts with REC Ltd and Power Finance Corporation (PFC) to get finance of ₹9,120 crore. The funding is for wind, transmission, and advanced metering projects in the country. The signing of MoUs took place as part of the Green Finance Summit organised by REC. The summit was on the sidelines of the Green Business Summit Clean Energy Ministerial (CEM) and Energy Transition Working Group (ETWG) Ministerial held on July 21, 2023, in Goa.
Read more here.
Post your comment
No comments to display