Syrma SGS Technology Ltd IPO: All You Need to Know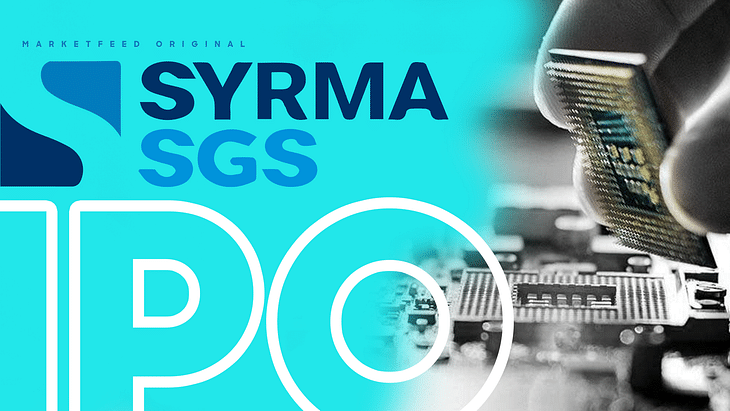 An IPO has arrived at Dalal Street after nearly three months! Chennai-based Syrma SGS Technology has launched its initial public offering (IPO) today— August 12. In this article, we take a closer look into the company and its IPO.
Company Profile - Syrma SGS Technology Ltd
Syrma SGS Technologies Ltd (SSTL) is an engineering and design company engaged in electronics manufacturing services (EMS). They offer high-value integrated design and production solutions for the automotive, industrial appliances, healthcare, IT, railways, and consumer products industries.
SSTL's product portfolio includes:
Printed circuit board assemblies (PCBAs)
Radio frequency identification (RFID) products - Uses frequency to search, identify, track, and communicate with items/platforms and people.
Electromagnetic and electromechanical parts
Motherboards
Memory products - Dynamic Random Access Memory (DRAM) modules, solid state, and USB drives
The company boasts of hundreds of prominent clients, including TVS Motor Company, Hindustan Unilever, AO Smith India Water Products, Eureka Forbes, and Total Power Europe B.V. They are currently focusing on a high-margin product portfolio for these customers.
SSTL operates 11 state-of-the-art manufacturing facilities across Himachal Pradesh, Haryana, Uttar Pradesh, Tamil Nadu, and Karnataka. Four of these facilities collectively contribute more than 75% to the company's revenue. It also has dedicated research & development (R&D) facilities in Chennai and Stuttgart, Germany.
About the IPO
Syrma SGS Technology's public issue opens on August 12 and closes on August 18. The company has fixed Rs 209-220 per share as the price band for the IPO.
The fresh issue of shares (of the face value of Rs 10 each) aggregates to Rs 766 crore. The IPO also includes an offer for sale (OFS) by promoters and early investors, aggregating to Rs 74 crore. Individual investors can bid for a minimum of 68 equity shares (1 lot) and in multiples of 68 shares thereafter. You will need a minimum of Rs 14,960 (at the cut-off price) to apply for this IPO. The maximum number of shares that can be applied by a retail investor is 884 equity shares (13 lots).
SSTL will utilise the net proceeds from the IPO for the following purposes:
Funding capital expenditure requirements for the development of an R&D facility. Also for expanding or setting up manufacturing facilities - Rs 403 crore
Funding long-term working capital requirements - Rs 131.58
General corporate purposes.
Financial Performance
SSTL's net profit has declined in the last two years, but revenue has grown at a healthy CAGR of 27.56%. Unfortunately, their margins have been under pressure due to Covid-led cost increases in raw materials. Net debt has declined significantly from Rs 801.2 crore in FY19 to Rs 259.15 crore in FY21.
The company's revenue from operations jumped 132.64% (year-on-year) YoY to Rs 1,019.7 crore for the financial year ended March 2022 (FY22). EBITDA rose 50.4% YoY to Rs 46.8 crore during the same period. The share of exports to the total revenue stood at 54.77%. They sell their products in over 24 countries, including the US, Germany, and Australia.
Risk Factors
SSTL's customers do not make long-term commitments with the company and may cancel or change their production requirements. This could adversely impact its business and financial condition.
The failure to identify and understand evolving industry trends and develop new products could severely impact the company's overall performance.
The global nature of SSTL's operations exposes it to risks such as foreign currency exchange rate fluctuations, strict import/export regulations, etc.
They depend on third parties for the supply of raw materials and delivery of products. SSTL's operations will be severely affected if such providers fail to meet their obligations.
The failure to keep technical knowledge confidential could destroy the company's competitive advantage.
There are certain outstanding legal proceedings against SSTL, its directors, and promoters.
IPO Details in a Nutshell
The book-running lead managers to the public issue are IIFL Securities, ICICI Securities, and DAM Capital Advisors. Syrma SGS Technology filed the Red Herring Prospectus (RHP) for its IPO on August 4. You can read it here. Out of the total offer, 50% is reserved for Qualified Institutional Buyers (QIBs), 15% for Non-Institutional Investors (NIIs), and 35% for retail investors.
Ahead of the IPO, DPIL raised Rs 252 crore from anchor investors. The marquee investors include Nomura, Kuber India Fund, BNP Paribas Arbitrage, ICICI Prudential Mutual Fund (MF), Tata MF, etc.
Conclusion
The electronics industry is one of the largest and fastest-growing in the world. India is becoming a popular manufacturing hub for key electronic components. Our government has committed more than $15 billion over the next six years across Production-Linked Incentive (PLI) schemes related to semiconductors, IT hardware & components, and large-scale electronics manufacturing. The Indian EMS market is also expanding due to the China+1 strategy and import substitution. With its strong product portfolio and R&D capabilities, Syrma SGS Technology is well-positioned to capitalise on domestic and global opportunities.
Once it gets listed, SSTL will be directly competing with leading players in the EMS industry such as Dixon Technologies and Amber Enterprises.
The company has not received major interest in the grey market. SSTL's IPO shares are trading at a premium of ~Rs 20 in the unofficial market. Before applying to this IPO, we will wait to see if the portion reserved for institutional investors gets oversubscribed. As always, do consider the risks associated with the company and come to your own conclusion.
What are your opinions on this IPO? Will you be applying for it? Let us know in the comments section of the marketfeed app.
Post your comment
No comments to display