Suryoday Small Finance Bank IPO: All you need to know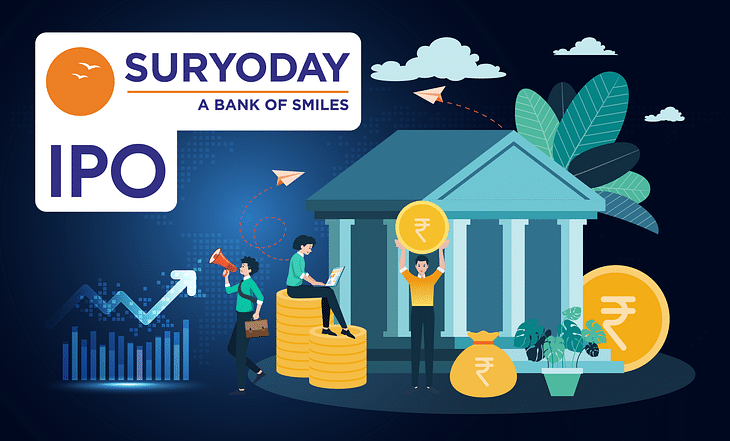 Even I am losing out on the count of IPOs coming through this week! On 17th March we have another double-decker day for IPO as Suryoday SFB and Nazara Technologies decide to take the public route. Without wasting any time, let's straight jump in and analyse all about the Suryoday Small Finance Bank IPO.
Company Profile
Suryoday Small Finance Bank Limited is one of the leading SFB present in India. The company was incorporated in 2008. They used to carry out microfinance operations as they were set up as an NBFC–MFI (Microfinance Institutions). It started its operations as a Small Finance Bank only in January 2017. Baskar Babu Ramachandran, P. Surendra Pai, P. S. Jagdish and G. V. Alankara are the promoters of the bank.
As of 31st December 2020, Suryoday SFB had 554 Banking Outlets with more than 4500 employees. They have a customer base of 14.4 lakh. Suryoday SFB lending business covers microfinance, commercial vehicle loans, affordable housing loans, small business loans and unsecured loans to micro, small and medium enterprises (MSMEs). Currently, they have a market share of 4.25% in the sector they compete in. Their Asset under Management (AUM) has increased from Rs 198 crore to Rs 3,003 crore in the previous two years.
Suryoday offers credit products such as MFI loans, Vikas Loans, Shopkeeper Loans and more. Apart from this, they also offer digital banking and NPCI payment systems. They already have 661 customer service points (CSPs) and will continue to expand their reach through the CSP model. They put a lot of focus on expanding its asset portfolio while focusing on secured lending. Being an SFB, they know the importance of data analytics. And, that is why they don't shy away from investing in technology.
About the IPO
The IPO of Suryoday Small Finance Bank will open on 17th March 2021 and will close on 19th March 2021. The total issue size of the IPO is Rs 582.34 crore. The price band of the IPO is Rs 303 – Rs 305 per equity share. An investor has to apply for a minimum of one lot which is equal to 49 shares. The maximum number of lots an investor can apply for is 13 or 637 shares.
The total issue comprises of two parts: A Fresh Issue and an Offer for Sale. The fresh issue of equity shares aggregating up to Rs 248.58 crore. The offer for sale (OFS) aggregating up to Rs 333.76 crore. The minimum investment required by an investor is Rs 14,945. The maximum investment he can make is Rs 194,285 which is not possible if the issue is oversubscribed. Currently, the promoters of the company have 30.35% of the total holdings. This percentage will decrease to 28.02% after this IPO.
The allotment date and listing date for the IPO are 24th Match 2021 and 30th March 2021 respectively. The objective behind taking the public route is to utilize the net proceeds from the fresh issue towards increasing the Bank's Tier-1 capital base to meet the future capital requirements. Tier 1 capital is the primary funding source of the bank as it consists of shareholders' equity and retained earnings.
Financial Overview
| | | | | |
| --- | --- | --- | --- | --- |
| * | 31 Dec 2020 (FY 21) | 31 March 2020 (FY20) | 31 March 2019 (FY19) | 31 March 2018 (FY18) |
| Total Assets | 6,350.40 | 5,364.52 | 3,761.20 | 2,155.96 |
| Total Revenue | 689.27 | 854.13 | 597.02 | 324.92 |
| Profit/Loss After Tax | 54.86 | 111.19 | 90.39 | 11.49 |
(Values in Rs crore)
In FY18, Suryoday SFB had a net unsecured loan book of 94.81% but this has decreased to 74.59% by the end of December 2020. Overall retail deposits of the bank stand at 72.4% of the total deposits. Their outstanding deposits stood at Rs 3,344 crore out of which 13.32% belongs to the CASA (Current Account Savings Account) deposits. More than 70% of the total deposits for the bank comes from only two states which are Maharashtra and Tamil Nadu.
The table above shows that Suryoday Bank has churned out consistently positive results since stepping into the SFB business. Their profit jumped 9 times in FY19 and grown even further by the end of FY20. Suryoday's revenue surged by more than 40% from FY19 to FY20 and looks set to generate an even higher number this year.
As of December 2020, their gross NPA ratio stands at 0.78%. This has fallen from 2.25% recorded in the previous quarter (ending September). This was because of the decision of the Supreme Court where they extended the moratorium period for the borrowers due to Covid-19. If this decision was not made, their gross NPA ratio would have increased to 9.2%. Also, one point to note is that they haven't paid any type of dividend yet.
Risk Factors
Most of the bank's lending business comes from three states, which are, Tamil Nadu, Maharashtra and Odisha. A fall in collections from these three states can impact heavily.
An increase in NPA levels cannot be disregarded. As a small finance bank, their target borrower segment has small traders, individuals with micro-enterprises and others. These are the ones who are most impacted due to the economic downturn caused by COVID-19. Thus, there is a possibility of an increase in NPA levels in future.
As of 31st December 2020, 30% of its total deposits came from its 20 largest depositors. If they lose any of these valuable customers, total deposits might reduce drastically.
Most of their collections are cash-based. Thus, that involve the physical presence of their employees. If Covid-19 cases continue to increase, the government will be forced to implement lockdowns or curfews. Thus, causing a huge decline in cash collections.
As with any other bank, Suryoday Small Finance Bank's success depends largely on the policies implemented by the RBI and the central government. Any volatility in interest rates can adversely affect their Net Interest Margins and cash flows.
IPO Details in a Nutshell
| | |
| --- | --- |
| IPO Date | March 17, 2021 – March 19, 2021 |
| Issue Type | Book Built Issue IPO |
| Face Value | Rs 10 per equity share |
| IPO Price | Rs 303 to Rs 305 per equity share |
| Lot Size | 49 Shares |
| Issue Size | Aggregating up to Rs 582.34 crore |
| Fresh Issue (goes to the company) | Aggregating up to Rs 248.58 crore |
| Offer for Sale (goes to promoters) | Aggregating up to Rs 333.76 crore |
| Allotment Date | March 24, 2021 |
| Listing At | BSE, NSE |
| Listing Date | March 30, 2021 |
Conclusion
Suryoday has already raised around Rs 150 crore at a price of Rs 291.75 per share in the pre-IPO placement. Axis Capital, ICICI Securities, IIFL Securities, SBI Capital Markets are the book running lead managers. Though, there are two major points which concern me.
Firstly, a number of IPOs are open today. This will split the interest of investors and may result in lower (and divided) interest in all. Secondly, Covid-19 has had a huge negative impact on these Small Finance Banks because their borrowers are mostly from small or medium businesses. I will wait for till the night of the 17th and see how much the investors are interested in this IPO. If the IPO is moving towards oversubscription, I might move to apply for one lot.
Do your own analysis about the company and let us know in the comments section if you find any other interesting information. Suryoday SFB filed its draft papers last October. You can find it here. Will you be applying for this IPO? Tell us in the comments section below!
Post your comment
No comments to display