Sugar Stocks Rally to Continue?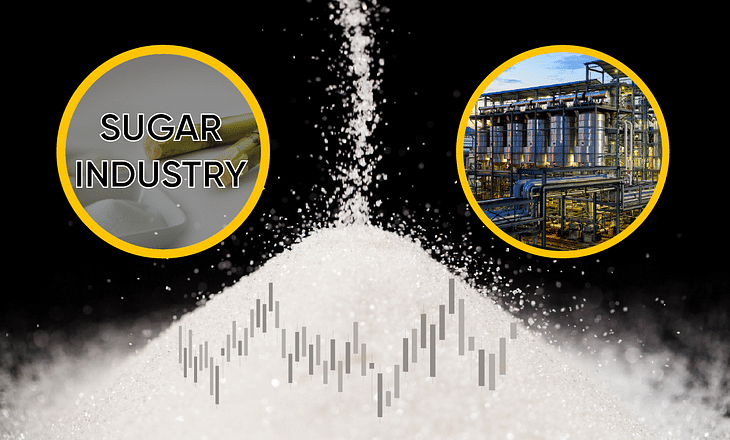 Last Year in November, we at marketfeed talked about why sugar companies continued to churn high profits despite low production and consumption in wake of the COVID-19 pandemic. The reason was simple. Sugar companies turned towards producing ethanol(a byproduct of sugarcane), used in hand sanitizers and to mix with petrol. You can read in detail about the article over here.
In February 2021, had you invested in sugar stocks like Rana Sugars Ltd., Dalmia Bharat Sugar and Industries Ltd., Balrampur Chini Mills Ltd., your investment would have doubled in three months' time. Sugar stocks have constantly been rallying ever since we talked about them in November last year. Traders and Investors suggest that Indian sugar companies have a bright opportunity when it comes to sugar export. This is because of a global sugar shortage across the world and in major exporting countries like Brazil, Thailand, and the European Union. In this piece, we explore why sugar stocks are rallying and how India's sugar industry is likely to gain from the current global sugar market scenario.
Sugar Stocks Continue To Rally
In the table given below, we can clearly see that sugar stocks have given MASSIVE returns. Some stocks like Dalmia Bharat Sugar have given returns close to 300%. In the last 1 month, the sugar sector has outperformed the NIFTY50 and SENSEX. While both the benchmark indices had their ups and downs last month, the sugar stocks gave some really positive and consistent returns. While the Q4 results for the past financial year have started pouring in, analysts are positive about profits in the quarter. This is mainly due to the global shortage of sugar, surging international prices and domestic prices, and India's ethanol blending program.
Ethanol Blending Program In India
The Ethanol Blending Program in India was started in 2003 to mix bioethanol(produced from wheat or sugarcane) with petrol. This reduces the burden of importing crude petroleum from other countries which is a burden on the Indian Government's pockets. Moreover, the environment-friendly factor, additional income for sugarcane producers, and cost-efficiency are an added plus. The government has set a goal of 10% ethanol blending with petrol for 2022 and 20% ethanol blending with petroleum by 2025. Almost a month ago India hit a record of 7.2% ethanol blending from 4.3% in 2020 for the first time.
Global Sugar Shortage To Benefit India?
Indian has an excess or a glut of sugar/sugarcane supply. However, this excess sugar cannot be exported for economic reasons. The reason being that international prices of sugar were much lower than the cost of production in India. So if sugar companies were to actually export sugar, they would have to do so at a loss. The sugarcane farmers kept supplying sugarcane to mills, but mills were not able to maximize their profits since domestic, as well as international prices, were low. This made a backlog of payments to be given to the farmers by the sugar mills. The backlog is estimated to be Rs 25000 crores as of January 2021.
Considering the above, the government is trying to 'subsidize' exports. The government provided a subsidy of Rs 6268 crore in FY19-20. This year, the government has already approved a subsidy of Rs 3500 crore in December 2020. The proceeds of the subsidy will be used to enhance transportation, marketing, packaging, etc. The government has set a target of exporting 60 lakh tonnes of sugar for the current financial year.
Crude oil prices all across the world have increased by more than ~150% in a year's time. Brazil and Thailand are the largest exporters of sugar in the world. In Brazil, the average ethanol blend in petrol is about 48%, much higher than India's 7.2%. Brazil has now started diverting its sugarcane harvest to produce ethanol to blend it with petroleum. Moreover, Thailand and the European Union have had lower production of sugar this time. The uncertainty of Brazil's diversion of sugarcane toward the production of ethanol combined with lower production in Thailand and the European Union has sent international prices skyrocketing.
Over a year, international sugar prices have increased by ~50%. Combine this with the export subsidy and it could mean some really good profits for Indian sugar co-operatives. This way, the farmers too could have their backlog of payment complete.
What Lies Ahead?
India has always maintained an excess of sugar. Despite producing the most amount of sugar in the world, it is not able to get a fair value in the international markets. This adds to the sugar surplus, pushing sugar prices further down. India needs to improve efficiency, technology, and marketing in order to improve its exports. India's domestic sugar prices have stagnated for the past 2 years and have remained consolidated for quite some time now. The only way to improve India's domestic prices would be to export in the international markets while the prices remain high and drive up the Ethanol Blending program. This would eventually utilize the domestic surplus and eventually drive up prices. The government needs to take the necessary steps in order to fully utilize the current price surge across the world.
Post your comment
No comments to display