Stocks That Could Rally During Christmas Season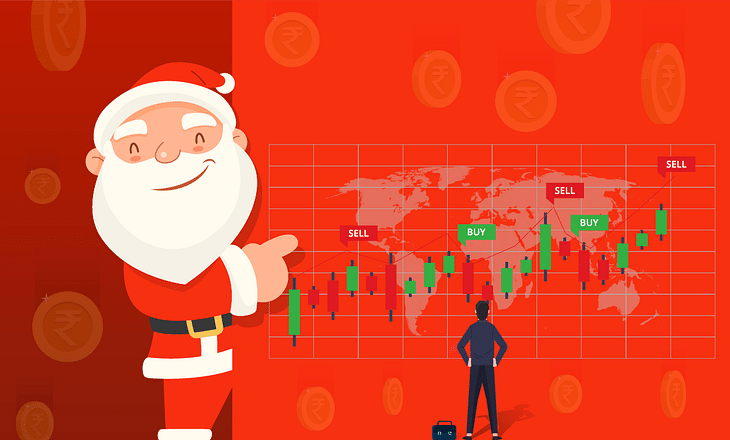 Christmas, the season of joy and hope, is officially upon us! This is a special period when people all over the world take a break from their busy schedules and spend time with family. Even though it is considered to be a holiday season in western countries, all stock markets remain open throughout this period (except for December 25). By going through historical data and trends, we have noticed that certain specific stocks show an impressive rally in the month of December.
Our mission here at marketfeed is to help you make smart and informed decisions, which ultimately helps you win in the stock market. Let us understand the interesting concept of a 'Santa Claus Rally' and find out specific stocks that could show a surge in the coming weeks.
What is a Santa Claus Rally?
A Santa Claus Rally is a sustained increase in the stock market that usually occurs in the second half of December. To be more specific, the period consists of the final five trading days of the year, combined with the first two days of the next year. This means that for the present financial year, we could witness a rally between December 27, 2020 to January 2, 2021. There are multiple studies which show that investors receive better-than-normal returns during the Santa Claus Rally. This particular phenomenon is very prominent in the US markets.
There are several theories that are used to explain the cause of a Santa Claus rally in December. Certain stock market experts believe that a general feeling of optimism during this season is one of the major reasons for such a rally. Investors would be in a festive mood and tend to infuse more money to buy stocks. Some people believe in buying more stocks in anticipation of a general rise in stock prices during the month of January. Individuals would receive holiday bonuses, which they utilise for making investments in the stock market. Traders may also like to wind down their (short) trading positions early in December to enjoy the holiday season with their families.
Another theory is that large institutional investors, who are often pessimistic (bears), tend to go on a vacation during this period. This leaves the stock markets for the small retail investors, who tend to be more bullish. However, do bear in mind that stock markets could become highly volatile during the Christmas-New Year period.
Interestingly, over the last few decades, our Indian stock markets have shown an impressive rally throughout the month of December.
Specific Sectors That Could Benefit During Christmas
Retail Sector
The Indian retail sector had received a massive boost as a result of high demand during the festive season (Diwali) in November. As we know, the Covid-related lockdowns had caused major difficulties in terms of supply chain disruptions. However, we can now see that the operations of retail firms have returned to normal. The surge in demand seen during the October-November period has continued or sustained onto December.
The Christmas season is one of the busiest periods for all retail companies. At the same time, it is the most profitable season for them. They often receive huge orders from the domestic as well as international markets. The retail firms that supply or sell good quality Christmas-related products would perform relatively well. There is a great demand for products such as interior holiday decorations, bakery items, electronic items, Christmas trees & lights, Christmas stars, and much more. We also see a huge consumption of poultry during Christmas and New Year. This is also a period when retail firms come up with attractive offers to increase sales.
Do keep a close watch on stocks such as Avenue Supermart, Trent, V-Mart Retail, Spencer Retail, V2 Retail.
Logistics Sector
The Indian manufacturers of certain Christmas items often export their products to countries around the world. Logistic firms are the heroes that ensure that orders are accurately shipped and delivered. The international distribution chains work 24/7 and help people around the world to get their Christmas gifts/orders on time. These companies have established a proper distribution network in India as well.
Stocks such as Snowman Logistics, Mahindra Logistics, Blue Dart Express, Gati, Navkar, Allcargo can be closely watched.
With the arrival of the Covid-19 vaccine, Indian logistics firms are expanding their operations to meet any demand that may arise for its distribution. marketfeed had prepared a very detailed article on certain logistics stocks that could show a rally in the coming months. You can read it here.
Textiles & Apparel Sector
Christmas is a period when we see a huge increase in the demand for clothes or cloth materials. Since it is a holiday period, people would be flooding branded stores to be ready for the next year. We also see a great demand for Indian-made dress materials and cloth from the international market as well. There are specific companies such as Kitex and Bombay Dyeing that have established a great market for their products in multiple countries.
Stocks of companies such as Page Industries, Kitex Garments, Raymond, Bombay Dyeing, Arvind, Aditya Birla Fashion & Retail, KPR Mill could be watched closely.
Automobile Sector
Historically, we have seen the automobile industry as a whole show an increase in revenue or sales during the period between November-January. The positivity surrounding Diwali, the festival of lights, had helped certain automobile manufacturers to reach pre-Covid sales levels. We could see this sustained growth during the christmas period as well. Prominent Indian automobile brands that have a well-established market in foreign countries could be specifically looked into.
There had been reports stating that many automobile manufacturers are going to increase the prices of their cars or two-wheelers from January 2021. Thus, we could see an increase in vehicle bookings this month. The offers and discounts offered by these companies during the holiday season would also encourage people to purchase cars in December.
Do keep a close eye on prominent automobile stocks such as Maruti Suzuki, Tata Motors, Hero MotoCorp, Bajaj Auto, TVS Motors, Eicher Motors, etc.
Conclusion
We have only stated a few examples of how specific sectors could show a positive growth during the next two weeks. Do let us know in the comments about your thoughts on certain other stocks that could show a rally during the Christmas season.
As mentioned before, historic data shows that stock markets typically show a bullishness during the Christmas season. At the same time, the markets could become volatile during this period. So, investors will have to be very cautious and disciplined while entering into trades. Our own Nifty 50 and Sensex had already crossed their all-time highs, and have started consolidating. Will we witness a Santa Claus rally in our markets this time? We will have to patiently wait and watch. Until then, marketfeed wishes all our readers a very Happy Christmas!
Post your comment
No comments to display