Steel Prices Rise to 3-Month High in Jan - Top Indian Market Updates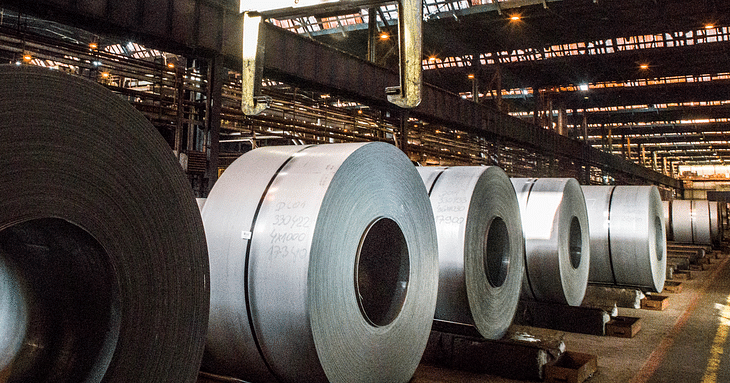 Here are some of the major updates that could move the markets tomorrow:
Steel prices rise to 3-month high of ₹56,900 per tonne in Jan: SteelMint
According to a SteelMint report, steel prices increased by 5% to hit a three-month high of ₹56,900 per tonne in January. Prices of coking coal have risen in January to $310 per tonne from $279 a tonne in December 2022. India remains dependent on imports to meet over 85% of its coking coal requirements.
Read more here.
Axis Bank enters into revised pact to acquire additional 7% stake in Max Life
Axis Bank has entered into a revised agreement with Max Financial Services to acquire an additional 7% stake in Max Life Insurance at fair market value using discounted cash flow method. The revision in the agreement follows the guidance issued by the Insurance Regulatory and Development Authority (IRDAI) in October 2022. Discounted cash flow refers to the estimated value of an investment based on future cash flows.
Read more here.
Coal India subsidiary NCL to start M-Sand production
Northern Coalfields Ltd (NCL), a subsidiary of Coal India Ltd, will soon start production of M-Sand, a material used for construction works. NCL will start production of M-Sand or Manufactured Sand for its Amlohri project in Madhya Pradesh.
In other news, CIL has issued Letters of Acceptance for nine coal mining projects to be operationalised through the engagement of mine developers and operators. These 9 projects have a production capacity of around 127 million tonnes (MT).
Read more here.
NTPC produces 14.55 MT coal from captive mines in April-December
State-owned NTPC's coal production increased 51% year-on-year (YoY) from its captive mines to 14.55 million tonnes (MT) in April-December 2022. Its four operational coal mines have contributed to accomplishing the highest-ever monthly coal production of 22.83 lakh tonnes in December 2022. In the third quarter (Q3 FY23), NTPC produced 5.79 MT of coal and dispatched 5.42 MT to its power plants.
Read more here.
Glenmark Pharma launches generic version of diuretic Bumetanide injection
Glenmark Pharmaceuticals Ltd's US arm has launched its generic version of diuretic Bumetanide injection. Bumetanide is used to reduce extra fluid in the body (edema) caused by conditions like congestive heart failure, liver disease, and kidney disease. According to IQVIA sales data, the generic version of this injection achieved annual sales of approx. $16.5 million for the 12 months ended November 2022.
Read more here.
Non-promoter shareholders allowed to sell stake via OFS: Sebi
The Securities and Exchange Board of India (SEBI) has modified the existing framework for conducting an offer for sale (OFS) of securities by companies by allowing non-promoter stakeholders to opt for the same. Until now, only promoter and promoter group entities were allowed to sell stakes through an OFS on the stock exchanges. The OFS mechanism will now be available to companies with a market capitalisation of ₹1,000 crore and above.
Read more here.
PSP Projects wins ₹1,344 crore order from Surat Municipal Corporation
PSP Projects Ltd. has secured a government project worth Rs 1,344.01 crore from the Surat Municipal Corporation (SMC). The company will construct a state-of-the-art high-rise office building for SMC in Surat, Gujarat. With this latest order, the total order inflow of PSP Projects has increased to ₹3,292.59 crore in the current financial year (FY23).
Read more here.
​​Indian Overseas Bank revises interest rates up to 45 basis points
Indian Overseas Bank (IOB) has revised interest rates on rupee retail term deposits up to 45 basis points (bps) with immediate effect. Depositors of the domestic, non-resident ordinary (NRO), and non-resident external (NRE) would receive interest rates up to 7.75% by opening term deposits for 444 days. The interest rate on foreign currency deposits has also increased by up to 100 bps.
Read more here.
Zydus Lifesciences gets final USFDA approval for Febuxostat tablet
Zydus Lifesciences has received final approval from the United States Food & Drug Administration (USFDA) to market Febuxostat tablets. The tablets are prescribed for lowering or controlling high uric acid levels in patients suffering from gout (or severe arthritis). It will be produced at the pharma company's formulation manufacturing facility at Moraiya, near Ahmedabad.
Read more here.
Adani-led group completes purchase of Israel's Haifa Port
A consortium led by India's Adani Group has completed the purchase of Haifa Port in northern Israel for 4 billion shekels ($1.15 billion). Israel has been selling its state-owned ports and building new private docks to bring down costs and cut above-average waiting times for vessels to unload. The entry of the Shanghai International Port Group (SIPG) and the Adani-led group will likely boost Israel's standing as a regional trade hub.
Read more here.
Post your comment
No comments to display