SpiceJet's Net Profit Jumps 161% YoY in Q3 - Top Indian Market Updates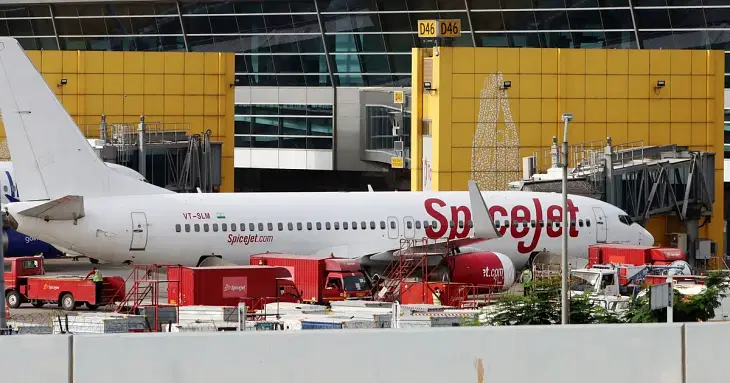 Here are some of the major updates that could move the markets on Monday:
SpiceJet Q3 Results: Net profit jumps 161% YoY to ₹110 crore
SpiceJet Ltd reported a 161% YoY jump in consolidated net profit to ₹110 crore for the quarter ended December (Q3 FY23). Its revenue from operations rose 2.4% YoY to ₹2,317 crore in Q3. The average domestic load factor stood at 91% in Q3, the highest among all airlines in India.
Read more here.
NSE subsidiary launches India's first Municipal Bond Index
NSE Indices Ltd, a subsidiary of the National Stock Exchange (NSE) has launched the country's first-ever municipal bond index. The index will track the performance of municipal bonds issued by Indian municipal corporations. At present, the index consists of 28 municipal bonds issued by 10 issuers. All of the present constituents have a credit rating in the AA category.
Read more here.
PVR opens Lucknow's biggest 11-screen Superplex
PVR has opened 11 screen multiplex at Lulu Mall in Lucknow, Uttar Pradesh. The 11-screen Superplex will strengthen the company's foothold in Uttar Pradesh with 158 screens in 32 properties and consolidate the nearly-merged entity's presence in North India with 438 screens in 100 properties. With this launch, PVR-Inox now operates the largest multiplex network with 1,653 screens at 355 properties in 113 cities.
Read more here.
Vodafone Idea's bank loans fall 43% in Q3
Vodafone Idea's dues to banks and financial institutions fell almost 43% YoY to ₹13,190 crore for the quarter ended December 2022 (Q3 FY23). Its trade payables-reflecting arrears to vendors such as tower firm Indus Towers and network gear supplier Nokia rose around 5.3% in the same period to ₹14,728.6 crore. Vi is now prioritising only payments essential for the continuation of its operations.
Read more here.
Reliance Retail opens first freestanding Gap store in Mumbai
Reliance Retail announced the opening of the first freestanding Gap store in Mumbai. A freestanding store is a store on the street and not in a mall or a shopping centre. Through its partnership with Gap, Reliance Retail said it would bring Gap's shopping experience to customers across India through a mix of exclusive brand stores, multi-brand store expressions, and digital commerce platforms.
Read more here.
ABB to invest ₹1,000 crore to expand manufacturing base in India
ABB India plans to expand the number of manufacturing facilities in India and will invest around Rs 1,000 crore over the next five years for the same. The company inaugurated its new factory in Nashik today, doubling its Gas Insulated Switchgear (GIS) production capacity. It will serve customers across various industries, including power distribution, smart cities, data centers, transport, etc.
Read more here.
Relief for ZEEL as NCLAT stays insolvency proceedings
The National Company Law Appellate Tribunal (NCLAT) today stayed insolvency proceedings against Zee Entertainment Enterprises Ltd (ZEEL). On Wednesday, the National Company Law Tribunal (NCLT) admitted an insolvency plea against ZEEL by private sector lender IndusInd Bank. The matter pertains to a default of ₹83 crore by Siti Networks, a sister company owned by Essel Group (or Zee Group).
Read more here.
Alkem Labs arm Enzene launches adalimumab biosimilar in India
Enzene Biosciences, a subsidiary of Alkem Laboratories, has begun commercial supplies of adalimumab biosimilar. The drug is used for treating autoimmune diseases like rheumatoid arthritis and ankylosis spondylitis. This is Enzene's fourth biosimilar launch in the last eighteen months.
Read more here.
Post your comment
No comments to display