SpiceJet to Send 80 Pilots on Leave Without Pay - Top Indian Market Updates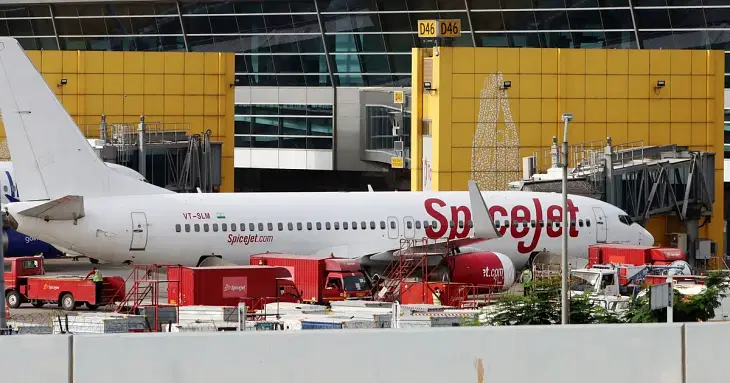 Here are some of the major updates that could move the markets tomorrow:
SpiceJet to send 80 pilots on leave without pay
SpiceJet Ltd will send around 80 pilots on Leave Without Pay (LWP) as the airline finds itself with excess pilots. Around 40 pilots from the Boeing 737 fleet and 40 from the Q400 fleet have been asked to go on LWP for three months. The airline will call them back gradually as it deploys new aircraft into its fleet. SpiceJet plans to add seven new Boeing 737 Max starting from December 2022.
Read more here.
Hero MotoCorp, HPCL to set up charging infrastructure for EVs
Hero MotoCorp Ltd has partnered with Hindustan Petroleum Corporation Ltd (HPCL) to set up charging infrastructure for electric vehicles across India. The companies will first set up charging stations in select cities and expand to other key markets to establish a high-density of EV charging station network. They will initially establish charging infrastructure at HPCL's existing network of energy stations.
Read more here.
Piramal Enterprises to raise ₹750 crores via NCDs
Piramal Enterprises Ltd's board has approved a proposal to raise ₹750 crore through the issuance of non-convertible debentures (NCDs). It will raise market-linked NCDs on a private placement basis up to ₹100 crore along with an option to retain oversubscription of up to ₹650 crore. The debentures will be listed on the debt segment and capital market segment of NSE and BSE, respectively.
Read more here.
C E Info Systems acquires 26% stake in KOGO
C E Info Systems Ltd (CEISL) has completed the acquisition of a 26.37% stake in Kogo Tech Labs Pvt. Ltd for ₹10 crore. This acquisition would help automotive OEMs deliver a premium and engaging user-first approach to travel experiences for their vehicle owners. Kogo is a gamified social travel commerce platform. Users earn KOGOCOIN as they step out and can spend it on hotels, experiences, and stores on the KOGO Marketplace.
Zydus Lifesciences launches cancer drug in the US
Zydus Lifesciences Ltd has announced the launch of Lenalidomide capsules in the US. The drug is used to treat various types of cancer. It works by slowing or stopping the growth of cancer cells. Lenalidomide can also treat anemia in patients with certain blood/bone marrow disorders. Zydus will maufacture the drug at its manufacturing facility at the Special Economic Zone (SEZ) in Ahmedabad.
Read more here.
Adani pledges stake worth $13 billion in newly acquired Holcim cement units
The Adani Group has pledged shares valued at around $13 billion (~₹1.03 lakh crore) in two cement firms days after it completed the acquisition from Holcim Ltd. Stakes in two companies (57% of ACC and 63% in Ambuja Cements Ltd.) have been pledged for "the benefit of certain lenders and other finance parties". The buyouts from Holcim earlier this year marked the group's entry into the cement business.
Read more here.
Adani Transmission to invest over ₹5,000 crore in FY24-25
Adani Transmission Ltd. is planning to invest over ₹5,000 crore to add more capacity in each of the next two financial years. The company aims to increase the share of its renewable energy capacity to 60% by FY26-27. Currently, Adani Trans holds a portfolio of 18,795 circuit kilometers (ckm) of transmission lines and 40,001 megavolt-amperes (MVA) of power transformation capacity across 13 states.
Read more here.
Mindtree secures multi-year engagement with UK-based Currys
UK's leading retailer of technology products and services, Currys, has selected Mindtree Ltd. to deliver a highly personalised shopping experience to its customers across multiple markets. Mindtree will design and implement an omnichannel solution that provides a unified customer experience across online, mobile, and in-store shopping while driving cross-channel fulfillment and inventory optimisation for Currys.
Read more here.
NPCI in talks with govt as Zomato, Swiggy plans entry into UPI space
The National Payments Corporation of India (NPCI) is worried over the delay in implementing its mandate requiring payment apps to hold no more than 30% market share in the UPI ecosystem. NPCI is in talks with the govt. and industry stakeholders over the effect of late implementation. The recent action comes at a time when Zomato and Swiggy are reportedly planning an entry into the UPI payments platform as third-party payments apps.
Read more here.
Wipro, Finastra to power digital transformation for corporate banks
Wipro Ltd has partnered with UK-based Finastra to help corporate banks accelerate digital transformation. This partnership combines Wipro's expertise in consulting and digital infrastructure with Finastra's cutting-edge solutions to deliver modern API-enabled platforms for banks. The solution will help banks streamline and digitize core trade finance processes and reduce cost overheads.
Read more here.
India to grow at over 7% in FY23: CEA
Chief Economic Advisor V Anantha Nageswaran said the Indian economy will grow at 7% in FY23, down from the 8-8.5% growth rate projected in January. The aftereffects of the COVID-19 pandemic and Russia's invasion of Ukraine are hurting economic growth. India can sustain the 7% growth rate for the rest of the decade, he added.
Read more here.
Post your comment
No comments to display