Shyam Metalics and Energy IPO: All You Need to Know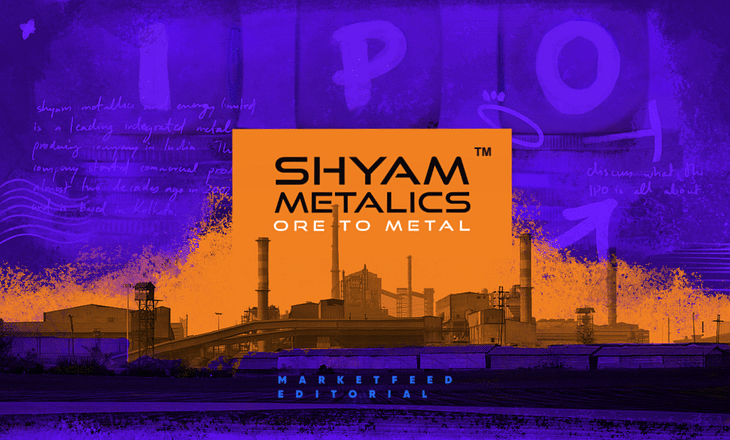 The IPO land has been barren in the past few weeks but now the IPO run is set to begin again. The company kicking it off is Shyam Metalics and Energy Limited who will be launching its IPO from June 14 to June 16. Let's discuss what the IPO is all about.
About the Company
Shyam Metalics and Energy Limited (SMEL) is a leading integrated metal producing company in India. The company started commercial production almost two decades ago, in 2002, and is based in Kolkata. The main focus of the company is to produce long steel products and ferroalloys. They are one of the top companies in India in terms of pellet capacity. Over the years, it has used the backward integration model to expand its business.
While considering the sponge iron capacity in India, SMEL is counted as the fourth-largest player in the sponge iron industry. As of Dec 31, 2020, this company boasts an installed metal capacity of 5.71 million tonnes per annum. Currently, it has three manufacturing plants located at Sambalpur in Odisha and Jamuria and Mangalpur in West Bengal. The company is further planning to expand their capacity to 11.60 MTPA by 2025, that is, more than double in the next five years.
Shyam Metallics are building an aluminium foil rolling mill which will be operational in FY22. This is also situated in West Bengal and has a proposed installed capacity of 0.04 MTPA. The company has its customers both in India and abroad. Jindal Stainless Limited, Rimjhim Ispat Limited, JM Global Resources and Traxys North America LLC are a few of the well-known clients of the company.
They operate in various domains of steel, power, ferroalloys and aluminium foil. In the area of steel, they manufacture various products like billets, pellets, sponge iron, TMT, structural steel and wire rod. This tells that they are not restricted to just one kind of product but have a diversified mix of stock.
About the IPO
The IPO will open on 14th June 2021 and will close on 16th June 2021. The total issue size of the IPO is Rs 909 crore. The fresh issue and the Offer for sale aggregate up to Rs 657 crore and Rs 252 crore respectively. The price band of the IPO is Rs 303 – Rs 306 per equity share.
Shyam Metalics and Energy plan to use the net proceeds from the IPO to repay their debt fully or partially. The allotment date and listing date for the IPO are 21st June 2021 and 24th June 2021 respectively. You have to apply for a minimum of 45 shares which is the size of one lot. The maximum you can invest is 630 shares which sum up to the 14 lots. However, if the issue is oversubscribed, the maximum one investor can get is just one lot.
The minimum an investor has to pay for this IPO is Rs 13,770. Similarly, the upper limit to the investment is Rs 1,92,780. Currently, the promoters of the company have 100% of the total holdings. After the IPO, this will decrease to just 88.35%. This means that the promoters are still bullish about their entity. This is why they are still holding such a high stake in the company.
ICICI Securities, Axis Capital, IIFL Securities, JM Financial and SBI Capital Markets are the book running lead managers to the issue.
Financial Overview
Shyam Metalics and Energy failed to match the revenue number last year slightly due to the Covid-19 effects in the first three months of 2020. However, their profits fell to almost half of what they recorded in FY19. The company is yet to release its Q4 FY21 Financial data. Till December 2020, they have managed to out beat the profit numbers of last year which is a great sign. However, it has to be seen if they do better this year than they did in FY19. The assets have increased every year from FY18 to FY20. However, that increase seems to be at a halt for this year.
Their EPS (Earning per Share) is not on a consistent uptrend trend as per their financial data of the last three years. It was amassed to be Rs 18.17, Rs 25.86, Rs 14.57 in FY18, FY19 and FY20 respectively. This averages to be Rs 18.93 which is slightly below Rs 19.52 of Q3 FY21.
Risk Factors
Every coin has a flip side. Though financials offer hope, one cannot ignore the risk associated with the company. Some of their major risks are given below.
Their production is totally dependent on their suppliers of iron ore, iron ore fines, coal and chrome ore. Any issues with their suppliers can lead to raw material shortage and delay their production targets.
The steel industry's demand and prices are highly volatile in nature. They are significantly affected by the cyclical nature of the sectors. Low steel prices or a sudden fall in them can decrease the various margins. Revenues accumulated by the company will also decrease with a decline in steel prices.
The Covid-19 pandemic forced them to impose a temporary lockdown of their business. Due to the suspension of transportation, their operations were affected. If these restrictions are placed again, the company will suffer.
All of their manufacturing plants and sources of their raw materials are located in the eastern part of the country. Thus, any issues in this region can adversely affect the company.
The industry in which they compete is highly competitive due to the presence of multiple established players. A special focus on product quality and capacity creation has to be given.
They are obliged to offtake a certain minimum percentage of raw materials every year from their suppliers. If they fail to do so, they will be liable to pay compensation or liquidated damages.
Conclusion
A few years back, steel prices fell drastically due to the global event. However, since then they have been increasing steadily and has skyrocketed during Covid-19. The steel demand gives a further boost to their industry as it increased by a CAGR of 5.4% from FY15 to FY20. The best part of this IPO is the timing of it. The steel companies are witnessing huge buying interest. The global prices of steel have also skyrocketed in recent weeks.
If you are not holding Tata Steel or SAIL or any other steel sector, you might have missed a very easy profit-making opportunity. It will be interesting to see if this IPO can also take benefits of the commodity cycle. The government also has a lot of infrastructure plans like metro constructions coming up as India tries to recover from the gruesome effects of Covid-19. As an IPO is launched after a brief while, there are chances that investors might get excited related to it.
Do your own analysis about the company and let us know in the comments section if you find any other interesting information. Shyam Metalics and Energy Limited filed its draft papers on February 26, 2021. You can find it here. Will you be applying for this IPO? Tell us in the comments section below!
Post your comment
No comments to display