Should You Invest In Paper Stocks Now?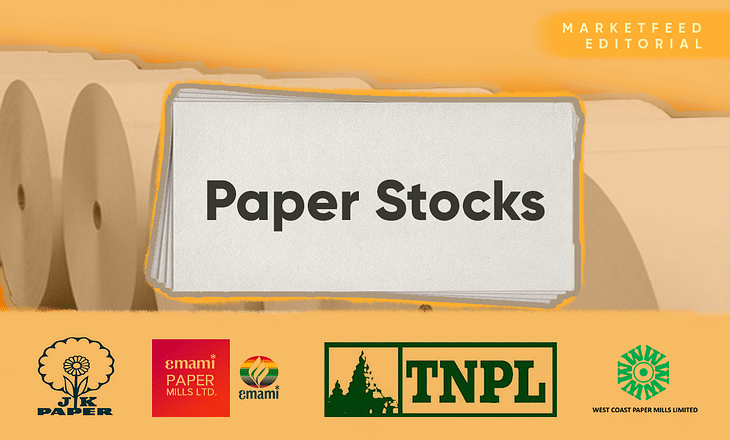 A burger wrapped in paper to currency notes, gift wraps, and even your e-commerce delivery package. All of them have one thing in common, Pulp and Paper. We might not realize it but the Pulp and Paper Industry plays a huge role in our lives. So it is a sector worthy of being looked into.
As we progress towards sustainable living, we are cutting down on the use of plastics and synthetics and increasing the role of paper in our lives. Paper as a commodity is unique in the sense that it is recyclable, it can be used over and over for quite some time. We might not notice it but there are big changes being made in the paper industry in terms of sustainability, profitability, and innovation.
From a finance perspective, the Pulp and Paper industry has pretty much been "sidelined" by analysts and brokers. We notice that research and advisory firms do not give weightage to the industry as much as others industries. Pulp and Paper stocks have given quite some returns in the past few years. These stocks are definitely worth checking out. In this piece, we discuss the Pulp and Paper sector in India and around the world. We also discuss what drives the Pulp and Paper market and the future of the industry.
The Setup
According to Indian Paper Manufacturers Association, the Indian paper industry accounts for about 5% of the world's production of paper. The estimated turnover of the industry is Rs 70,000 crore (domestic market size of Rs 80,000 crores) and its contribution to the exchequer is around Rs 5,000 crore. The industry provides direct employment to 5 lakh persons, and indirectly to around 15 lakh persons. The Indian paper industry is expected to grow by anywhere between 5-6% CAGR between 2021 to 2024.
Paper is manufactured from mainly three products:
Wood
Recycled Paper
Agro-Residue.
Paper production is capital-intensive, energy-intensive as well as water-intensive in nature. Paper is made from pulp. The pulp can come from wood, recycled paper, sugarcane, jute, straws, etc. The majority of the industry relies on the recycled and agro-residue-based raw materials instead of wood. This not only proves cost-effective but is also environmentally friendly. Close to ~75% of the paper produced comes from recycled fibre and agro-residues-based raw materials, remaining ~25% comes from the wood-based pulp.
According to CARE Ratings, "Packaging grade paper accounts for the highest share of about 54% followed by printing & writing, newsprint, and speciality paper with a share of around 35%, 7%, and 4%, respectively, in the domestic paper industry demand".
In India, imports of paper and paper products slashed by nearly ~40% in 2020. Yet exports rose, mainly to China. China does not recycle all of its paper domestically and has banned the import of old corrugated cartons and waste paper stating pollution curbs. It, therefore, imported finished kraft paper and recycled pulp from India.
Paper Industry During COVID-19
After the first lockdown was announced in March 2020, paper production was halted completely for quite some time. Paper stocks saw losses in corresponding quarterly results. Jobs were lost and the dynamics of the industry became haywire. According to CARE Reports, sales dipped by close to 48.9% YoY during the June 2020 quarter.
During the first COVID-19 wave, newspaper distribution was nearly shut, paper production was at a halt. Demand for paper decreased as the world started working from home. Now, the majority of the paper industry relies on recycled paper. This was a bit of a concern during the first lockdown.
One produces new paper from pulp which is obtained from waste paper. The problem here was that there wasn't enough 'waste' paper being produced in the market. Waste paper over here is an essential material used to produce new paper products. India actually doesn't even generate sufficient waste, such that it actually imports 70% of the total waste paper used in the production of pulp from Europe and the US. This points out to another important statistic that India's per capita consumption of paper is merely 15 kg as compared to the global average of 57 kgs and the US average of 200 kg.
As literacy improves and India makes its shift from plastics to paper, one can see a huge potential for an increase in per capita consumption of paper. The difference between India's per capita consumption and global average per capita consumption is the huge potential that the paper industry sees.
Pulp and Paper On Dalal Street
Fun fact, ITC is the largest producer of paper/paperboard/pulp in terms of volume and revenue generation. However, from an investor's perspective, we cannot consider it to be a paper stock. Accordingly, JK Paper has the highest market cap and also one of the strongest players in the segment. In the table given above, we see 5 stocks with the highest market capitalization and the returns they provided in 1 year. As of June 2021, JK Paper returned 100.3%. West Coat Paper 45.80%, Tamil Nadu Newsprint, and Papers returned 49.9 while Seshasayee Paper and Emami Paper returned 16.8% and 89% respectively.
That makes us ask. What impacts Paper stocks? One major factor that has impacted paper stocks is the anticipated ban on single-use plastic. Every once in a while we see that government starts taking strict action against the use of single-use plastic bags. One can clearly see a spike in paper share prices in August 2018, September 2019, and April-May 2021. Another factor that affects paper stocks is the cost of raw materials. Coal price can be an important factor since paper production is a power-intensive industry. An increase in the cost of power or electricity can impact profits that would eventually reflect on the markets. Other factors such as global pulp prices, raw wood, etc.
According to the latest report on paper and paper products by CARE Ratings, the paper industry did recover sharply by December 2020. Production resumed to normal and almost all of the top 5 companies by market capitalization reported a sharp increase in profit margins.
The Future
ITC and Century Textile and Industries are two conglomerates that are involved in making paper these give a REALLY strong competition to the companies that make just paper. The weakness that paper companies face is a lack of diversification, poor trade policy and international competetion
Imported paper is cheaper than domestically manufactured paper. The imported paper isn't sufficiently taxed while export duties are imposed on domestic companies. As for paper, whatever happens in China has a great impact on paper stocks. China imports ready made pulp from India to curb pollution in their own country and exports ready-made paper to India at the same time. There might an urgent need for reforms in the paper industry.
The demand for writing papers is expected to remain dampened unless academic institutions open up. Since it is these institutions that hugely contribute to the demand for writing papers. Another factor adding to the recovery of the industry could be newsprint circulation that would eventually fuel paper demand. Additionally, FMCG goods too are slowly switching to more environmentally friendly paper-based packaging. Broadly stating, as the global economy recovers and paper production goes back to normal, one can expect a healthy performance by the industry in Q2FY22.
Post your comment
No comments to display