Services PMI Rises to 57.2 in August - Top Indian Market Updates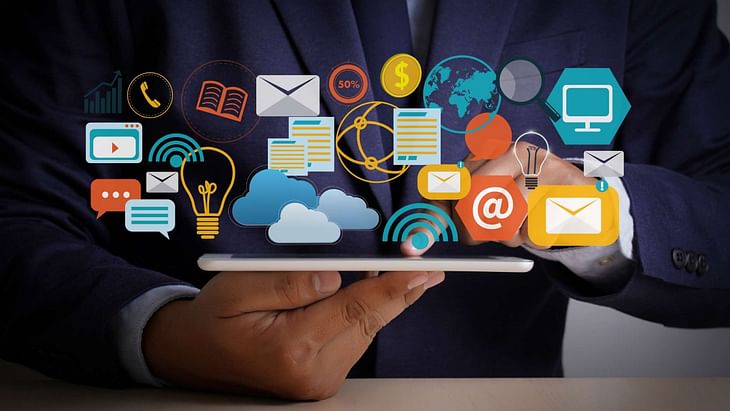 Here are some of the major updates that could move the markets tomorrow:
Services PMI accelerates to 57.2 in August
India's services sector saw gains in new business, ongoing improvements in demand conditions, and job creation during August. The S&P Global India Services Purchasing Managers' Index (PMI) stood at 57.2 in August, compared to 55.5 in July. The rate of job creation last month was the strongest in more than 14 years.
PMI is a month-on-month calculation, and a value above 50 represents an expansion compared to the previous month.
Read more here.
IEX's total trade volume falls 18% in August
Indian Energy Exchange (IEX) registered an 18% YoY decline in total trade volume to 7,805 million units (MU) in August 2022. This includes 6,517 MU in the conventional power market, 437 MU in the Green Power market, and 851 MU in the Renewable Energy Certificate (REC) market. The average clearing price in the Day-Ahead market rose 2% YoY to Rs 5.17 per unit last month.
Read more here.
Paytm denies link with Chinese loan merchants under ED scanner
Payment platform Paytm has denied any links with the merchants that are currently under Enforcement Directorate's (ED) scanner in the Chinese loan app case. On Friday, ED carried out search operations at six premises in Bengaluru concerning an investigation of the case. The premises of Razorpay, Cashfree Payments, Paytm Payment Services, and other entities "controlled" by Chinese persons were covered in the operation. The raids were conducted under provisions of the Prevention of Money Laundering Act (PMLA), 2002.
Read more here.
Dixon Tech signs pact with Google to sub-license rights relating to Android
Dixon Technologies Ltd has signed an agreement with Google to sub-license rights relating to Android and Google TV. This partnership will enable the company to offer a cost-effective and high-quality experience to its existing customers and potential new brands. It will further strengthen Dixon Tech's market leadership in the LED TV category.
Read more here.
Bank of Maharashtra organises loan outreach program; sanctions more than ₹1,000 crore
Bank of Maharashtra has organised a credit outreach program under which it has sanctioned loans worth nearly ₹1,000 crore. Loan sanction letters were distributed to the beneficiaries by Financial Services Secretary Sanjay Malhotra in Pune. He also visited self-help group stalls at the event and interacted with members. The secretary also visited self-help group stalls at the event and interacted with the members.
Read more here.
Mahindra Lifespace expects over 2.5-fold rise in bookings soon
Mahindra Lifespace Developers Ltd is targeting a 2.5-fold jump in its annual sales bookings to ₹2,500 crore in the next three years on better housing demand. The company registered ₹600 crore of residential sales during the April-June quarter (Q1) of FY2022-23, compared to ₹1,028 crore in the full previous year. It expects very strong continued growth in Q2 and the rest of the year.
Read more here.
Would surpass ₹21,000-crore revenue target by 2026: ABFRL chairman
Aditya Birla Fashion and Retail Ltd (ABFRL) is confident of fortifying its market position further and surpassing the projected revenue of ₹21,000 crore by 2026, said chairman Kumar Mangalam Birla. The company is leveraging technology and its execution excellence to build a strong, profitable, and future-ready brand portfolio. ABRFRL is also working on strategic alliances and is building a comprehensive set of iconic brands.
Read more here.
Aurionpro Solutions acquires US-based startup Hello Patients Solutions Inc.
Aurionpro Fintech Inc., a US-based subsidiary of Aurionpro Solutions Ltd, announced the acquisition of Hello Patients Solutions Inc, a startup registered in Delaware, USA. Hello Patients provides a healthcare billing and patients' management solution that leverages Aurionpro's technology for payments processing. Aurionpro will acquire the entire stake in Hello Patients in an all-cash transaction of $250,000 (~₹1.99 crore).
Read more here.
OPEC to cut oil output for first time in a year
For the first time in a year, OPEC+ agreed to make a token oil supply cut for October. The organisation aims to stabilise international markets after a faltering economic backdrop triggered the longest price decline in two years. At a meeting held today, OPEC decided to reduce production by 100,000 barrels a day in October, taking supplies back to August levels.
Read more here.
HAL-L&T consortium secures ₹860-crore contract to build five PSLVs
A consortium of Hindustan Aeronautics Ltd (HAL) and Larsen & Toubro has won an ₹860 crore deal from NewSpace India Limited (NSIL) to build five Polar Satellite Launch Vehicle (PSLV) rockets over four years. The contract was exchanged today between HAL and NSIL during the inaugural session of the 7th Bengaluru Space Expo 2022.
Post your comment
No comments to display