Sansera Engineering Ltd IPO: All You Need to Know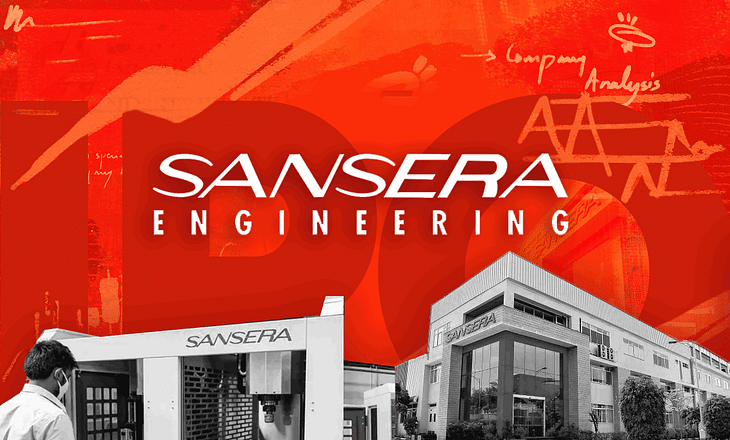 The IPO frenzy continues in the Indian stock markets. Sansera Engineering Ltd, one of the leading auto components manufacturers in our country, has launched its three-day initial public offering (IPO) today— September 13. In this article, we take a closer look into the company and its IPO.
Company Profile - Sansera Engineering Ltd
Sansera Engineering Ltd (SEL) manufactures complex and critical precision engineering components for the automotive and non-automotive sectors. Established in 1981, SEL is a technology-driven company with a strong focus on design, machine building, and automation capabilities. It supplies a wide range of precision forged and machined components used in two-wheelers, passenger vehicles, and commercial vehicles. The company also produces a wide range of precision components for the aerospace, off-road, and agricultural segments.
SEL was one of the top 10 global suppliers of connecting rods in the light vehicle and commercial vehicle segments last year. Moreover, it is one of the key manufacturers of connecting rods, crankshafts, and gear shifter forks for vehicles in India. The company sold components across 69 product families in FY21. Most of these components are critical for the engine, transmission, suspension, braking, and chassis systems of all types of vehicles.
The company supplies most of its products directly to original equipment manufacturers (OEMs) in finished (forged and machined) condition. They serve large automakers such as Bajaj Auto, Maruti Suzuki, Honda Motorcycle and Scooter India, and Yamaha. As of March 31, 2021 (FY21), SEL's automotive sector contributed 88.45% to the total revenue, while the non-automotive sector contributed 11.55%. The company operates 16 manufacturing plants, of which 9 are in Bengaluru, and one is in Trollhätten, Sweden.
About the IPO
Sansera Engineering's public issue opens on September 14 and closes on September 16. The company has fixed Rs 734-744 per share as the price band for the IPO.
The offer for sale (OFS) of up to 1.72 crore equity shares from existing shareholders aggregates to Rs 1,282.98 crore. Individual investors can bid for a minimum of 20 equity shares (1 lot) and in multiples of 20 shares thereafter. You will need a minimum of Rs 14,880 (at the cut-off price) to apply for this IPO. The maximum number of shares that can be applied by a retail investor is 260 equity shares (13 lots).
The main objective of the IPO is to provide an exit strategy (or liquidity) to SEL's shareholders and early investors. Thus, the company is not raising any funds through the public issue. It aims to achieve the benefits of listing the equity shares on NSE and BSE. The total promoter holding in the company will decline from 43.91% to 36.56% post the IPO.
Financial Performance
The slowdown in the auto sector marked a downturn in Sansera Engineering's financial performance for FY20. However, the company was able to make a strong rebound in revenue and profit growth in FY21, despite the severe impact of the Covid-19 pandemic. The average capacity utilisation across its manufacturing units declined from 69% in FY19 to 49% in FY21. It was able to capitalise on the diversification of product lines and product mix.
SEL derived 64.98% of its total revenue from the sale of products in India and 35.02% from sales in the US, Europe, and other countries combined in FY21. Compared to its peers in the auto components industry, Sansera was able to maintain a higher EBITDA margin and Profit After Tax (PAT) margin. The Return on Net Worth (RoNW) stands at 12.31%, which is at par with the industry average. RoNW signifies how well the company uses shareholders' capital to generate profits.
Risk Factors
The continuing impact of the Covid-19 pandemic on its operations is highly uncertain and unpredictable. Sansera Engineering was forced to temporarily shut down its manufacturing units for extended periods amidst strict lockdowns in India. If the situation persists, they may find it difficult to complete pending orders or commence new projects as per schedule.
The company does not have long-term supply agreements with its customers. Their business would be adversely affected if customers choose not to source their requirements from SEL.
Around 59.21% of Sansera Engineering's total sales revenue is derived from its top 5 customers (as of March 31, 2021). The loss of any one of these customers or a reduction in their purchases will severely impact financial results.
Pricing pressure from SEL's customers could negatively affect its gross margins, profitability, and the ability to increase prices.
SEL is subject to strict performance requirements (audits), including quality, delivery, and development activities. The failure to comply with these requirements may result in the cancellation of existing and future orders.
The failure to adapt to industry trends and evolving technologies (such as developing components for electric vehicles) to meet customers' demands will harm the company's overall performance.
IPO Details in a Nutshell
The book-running lead managers to the public issue are ICICI Securities, IIFL Securities, and Nomura Financial Advisory & Securities (India). Sansera Engineering Ltd had the Red Herring Prospectus (RHP) for its IPO on September 6, 2021. You can read it here.
Ahead of the IPO, the company raised Rs 382 crore from anchor investors. The marquee investors include the Monetary Authority of Singapore, Nomura, Abu Dhabi Investment Authority, Axis Mutual Fund (MF), ICICI Prudential MF, Kuber India Fund, etc.
Conclusion
The Indian auto components industry is growing at a rapid pace. According to a report from CRISIL, the market is projected to grow at a CAGR of 11.9% to Rs ~5.28 lakh crore by FY26. Sansera Engineering is well-positioned to benefit from the growth of the auto components industry, provided they launch new and improved products. The company has an active pipeline of products under development. This includes suspension and drivetrain components for electric two-wheelers, braking system components for passenger vehicles, etc. SEL is developing machined engine casting for the aerospace industry and components for power transmission as well.
However, a major concern to be noted is that SEL's promoters are selling/diluting a significant portion of their stake. This could indicate that the promoters are not confident about the future potential or prospects of the firm. Moreover, the entire automobile industry is going through an extended period of slowdown. The cyclical nature of the industry often limits the growth of auto component manufacturers.
SEL will be directly competing with leading auto component manufacturers such as Minda Industries, Sundaram Fasteners, Bharat Forge, Endurance Technologies, Motherson Sumi, Mahindra CIE, and many more. A highly competitive space indeed.
Before applying for Sansera Engineering's IPO, we will wait to see if the portion reserved for institutional investors gets oversubscribed. As always, do consider the risks associated with this company and come to your own conclusion.
What are your opinions on this IPO? Will you be applying for it? Let us know in the comments section of the marketfeed app.
Post your comment
No comments to display