Sah Polymers Ltd IPO: All You Need to Know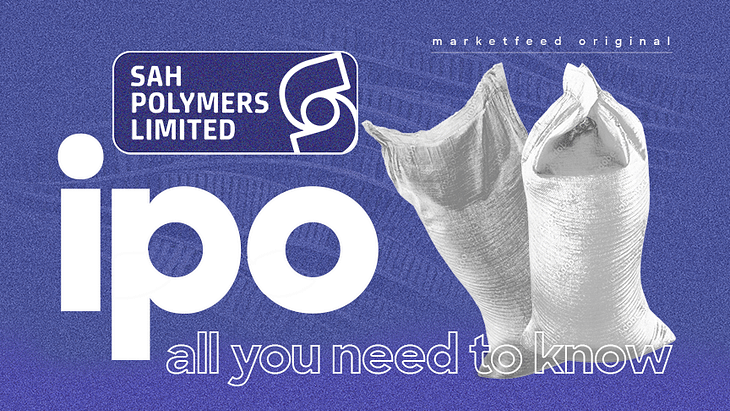 It's the last IPO of the year! Rajasthan-based Sah Polymers Ltd has launched its initial public offering (IPO) today— Dec 30. In this article, we shall analyse the company and its IPO.
Company Profile - Sah Polymers Ltd
Established in 1992, Sah Polymers Ltd (SPL) offers customized bulk packaging solutions to business-to-business (B2B) manufacturers that cater to the agro-pesticides, cement, chemical, fertiliser, textile, and steel industries. They manufacture and sell Polypropylene (PP) or High-Density Polyethylene (HDPE) Flexible Intermediate Bulk Container (FIBC) bags, woven sacks, and HDPE/PP woven fabrics of various weights, sizes, and colors. The company makes customised products based on customers' requirements.
SPL has a presence in six states and one union territory in India. It also exports products to 14 countries, including Portugal, France, Italy, Ghana, the United Arab Emirates, USA, and Ireland. The company is a Del Credere Associate cum Consignment Stockist (DCA/CS) of Indian Oil Corporation Ltd (IOCL) and also operates a dealer-operated polymer warehouse of IOCL for its polymer division.
Sah Polymers is promoted by SAT Industries Ltd, which is listed on the NSE and BSE. It has a manufacturing facility at Udaipur, Rajasthan, with an installed production capacity of 3,960 million tonnes per annum (MTPA).
About the IPO
Sah Polymers Ltd's public issue opens on Dec 30 and closes on Jan 4. The company has fixed ₹61-65 per share as the price band for the IPO.
The fresh issue of shares (of the face value of ₹10 each) aggregates to ₹66.3 crore. Individual investors can bid for a minimum of 230 equity shares (1 lot) and in multiples of 230 shares thereafter. You will need a minimum of ₹14,950 (at the cut-off price) to apply for this IPO. The maximum number of shares that can be applied by a retail investor is 2,990 equity shares (13 lots).
SPL will utilise the net proceeds from the IPO to:
Set up a new facility to manufacture a new variant of Flexible Intermediate Bulk Containers (FIBC) - ₹8.18 crore
Repayment or prepayment of certain borrowings availed by the company and its subsidiary - ₹19.66 crore
Funding working capital requirements - ₹14.95 crore
General corporate purposes
The total promoter holding in the company will decline from 100% to 60.46% post the IPO.
Financial Performance
Over the past three financial years (FY20-22), SPL has reported consistent growth in revenue and profits. Its revenue has grown at a CAGR of 27.75% during this period, while profit after tax (PAT) has increased at a CAGR of 284%. EBITDA margins have improved from 3.7% in FY20 to 8.7% in FY22. Meanwhile, total borrowings have increased from ₹10.37 crore in FY20 to ₹30.54 crore in FY22.
The company posted a net profit of ₹1.25 crore and total revenue of ₹27.59 crore for the quarter ended June 2022 (Q1 FY23).
Risk Factors
The company has experienced negative cash flow from operations (or cash outflows) in the recent past and may face the same in the future.
SPL derives a significant portion of its revenue (~65.83% as of FY22) from its top 10 customers. The loss of any of these customers or a decline in demand from them will adversely affect its business.
They face heavy competition from numerous large and small players in the segment.
The company requires significant amounts of working capital for trade receivables and inventories. Its inability to meet working capital requirements may harm SPL's overall business.
IPO Details in a Nutshell
SPL filed the Red Herring Prospectus (RHP) for its IPO on December 20. You can read it here. Out of the total offer, 75% is reserved for Qualified Institutional Buyers (QIBs), 15% for Non-Institutional Investors (NIIs), and 10% for retail investors.
Ahead of the IPO, Sah Polymers raised ~₹30 crore from anchor investors. The marquee investors include Leading Light Fund VCC, Saint Capital Fund, and Maven India Fund.
Conclusion
The packaging industry is one of the largest and most vital sectors of India's economy. It has reported steady growth over the past several years and shows high potential for expansion, especially in the export market. To meet the growing demand from its existing customers and gain new clients, SPL will expand its manufacturing capacities by establishing a new facility. They also claim to be well-positioned to grow inorganically within their industry and improve customer networks.
SPL will be directly competing with listed peers such as Rishi Techtex, Jumbo Bag, Emmbi Industries, and Commercial Syn Bags Ltd once it gets listed.
The company has not received much interest in the grey market. SPL's IPO shares are trading at a premium of ₹6 in the unofficial market today. Before applying to this IPO, we will wait to see if the portion reserved for institutional investors gets oversubscribed. Do consider the risks associated with the company and come to your own conclusion.
What are your opinions on Sah Polymers Ltd's IPO? Will you be applying for it? Let us know in the comments section of the marketfeed app.
marketfeed wishes all our readers a VERY HAPPY NEW YEAR! Let's have a profitable year ahead! 🚀
Post your comment
No comments to display