Royal Enfield - Eicher Motors' Golden Baby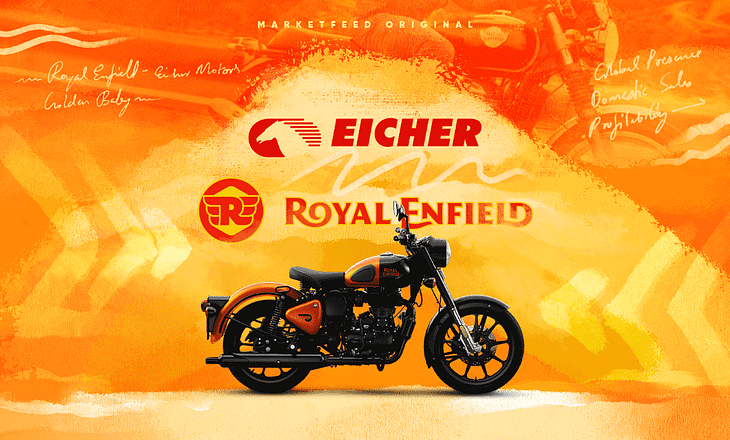 Have you ever desired to travel cross-country in a Royal Enfield? Each model of RE has a unique and aspirational value attached to it. The Royal Enfield Classic, Standard, and Himalayan have established themselves as benchmarks in the motorcycle industry. The company holds more than 90% market share among motorcycles that have engine displacement within 250-750cc.
In this article, we shall analyse how well the motorcycle brand is growing under its parent company. How does it compete with other cafe racer brands across the globe?
Royal Enfield - A Brief Profile
RE started its operations in England at the end of the 19th century. In 1932, the company introduced the evergreen model "Bullet" at a motorcycle show in London. It received an order from the Indian Army in 1952 for 800 350cc Bullets. The initial success in India made the foreign company partner with Madras Motors to form Enfield India. Eventually, they introduced Continental GT and the Interceptor, which hit good sales volumes. Towards the end of the 90s, the automaker was in serious financial trouble. Moreover, the parent company in London had already closed its operations in 1967.
Around the same period, a family-run business in India was finding it difficult to find its momentum. They first tried importing trucks to India back in 1948. This was followed by a partnership with Mitsubishi for manufacturing commercial vehicles (CV). All these businesses were not showing exponential growth. They were unable to attain a significant market share in the CV segment. Thus, the company made a bold decision in 1994 to acquire the financially wrecked Enfield India. That saviour is the current parent company of the two-wheeler manufacturer— Eicher Motors Ltd.
Eicher saw a huge market for two-wheelers in India. It divested other businesses and started to concentrate on the newly acquired vertical. The introduction of the RE Classic was a great success in India, followed by the release of Himalayan in FY17. The company also relaunched the 650cc twins (Continental GT, Interceptor) and Meteor 350 in FY21. There was also an uplift of the Classic 350 recently.
The main trump card of RE models is that they are affordable when compared to similar segment models. Let us take an example of Continental GT, which is tagged at a starting price of Rs 3 lakh. Similar cafe racer models such as the Honda CB650r start at Rs 7.7 lakh, while the Suzuki SV650 starts at Rs 7.5 lakh. RE's affordability factor has led to the growth of a strong customer base in developing markets like Latin America and several countries in Southeast Asia.
Global Presence
Royal Enfield started its North America division in 2015, followed by a research and development centre (R&D) in the United Kingdom in 2017. The two-wheeler manufacturer currently has 140 stores beyond the borders of India. In developing markets in the Asia-Pacific region, Enfield has 48 exclusive stores, with Thailand leading from the front. In Latin America, RE holds a significant share in the markets of Argentina, Brazil, and Colombia.
Domestic Sales
In the financial year 2015-16 (FY16), the automaker recorded total domestic sales of 4,98,791 units. It grew to 8,05,273 units in FY19, at a CAGR of 17.2%. In FY20, the manufacturer recorded a sharp decline in sales. Total sales stood at 5,73,728 units at the end of FY21. This can be attributed to the Covid-19 pandemic and the lockdowns imposed in various parts of the country.
Interestingly, 91% of the total sales are derived from the sale of 350cc models. The company has a 27% market share in the above 125cc segment as well. Royal Enfield has a 94% market share in the 250-750cc mid-size motorcycle segment.
Profitability
By analyzing the financial reports of Eicher Motors, we see that RE's total revenue from operations stood at Rs 8,619 crore in FY21, which has grown at a CAGR of 5.2% from Rs 7,038 crore in FY17. The decrease in sales of two-wheelers has resulted in negative growth in revenue as well.
Now, let us analyze the profitability of the brand with other major two-wheeler manufacturers in India.
Return on Equity (ROE) is a financial ratio that measures the company's efficiency to generate profits with respect to shareholders' equity. In FY21, Royal Enfield reported an ROE of 14%, which means that for every Rs 100 invested in the company, it can generate Rs 14 as profit.
Here, we can see that all automakers have been facing serious issues even before the onset of the Covid-19 pandemic. Royal Enfield's ROE has almost halved in 5 years.
Eicher - A Consolidated Profile
As mentioned earlier, Eicher divested their operations in other business verticals like tractors and started to concentrate on two main branches— Royal Enfield and a commercial vehicle joint venture with Volvo Group (Volvo-Eicher Commercial Vehicle or VECV).
VECV primarily concentrates on Light & Medium Duty (LMD) trucks, buses. In 2020, VECV acquired Volvo Buses India (VBI). The automaker produced 41,268 CVs in FY21. In the LMD segment across India, the company enjoys a market share of 30%.
The Earnings before Interest, Tax, Depreciation, and Amortisation (EBITDA) margin of RE's verticals are shown below:
We can see that Eicher's commercial vehicle (CV) vertical is a low-margin business compared to the two-wheeler vertical. Royal Enfield was able to retain 21% of total revenue as income, while the figure stood at 7% for the CV segment. It is interesting to note that both Enfield and the CV vertical generated revenue of around Rs 8,700 crore in FY21, in which RE retained higher profits.
Conclusion
The increase in the total working population in India, along with high disposable income and decreasing interest rates on vehicle loans, has fueled Royal Enfield's sales. As per rumours, Hunter 350, Roadster 650, and Scram are some of the company's upcoming models. The arrival of the facelifted Classic 350 shows that Enfield is updating their models at regular intervals, which will help improve sales. RE is constantly working towards establishing a strong global presence as well. The company has been able to generate an aspirational value for its brand in countries such as Thailand, Argentina, Brazil, and Columbia. However, there is heavy competition from international players such as Honda and Suzuki. The slowdown in the global automobile sector is also weighing down on the company.
The shares of Eicher Motors have rallied by ~29.7% over the past year. Currently, it is trading at Rs 2,852, 6% below its 52-week high.
Let us look forward to seeing how Royal Enfield implements its strategic plans. What are your thoughts about the company? Let us know in the comments section of the marketfeed app.
Post your comment
No comments to display