RIL to Roll Out 5G Services by Diwali - Top Indian Market Updates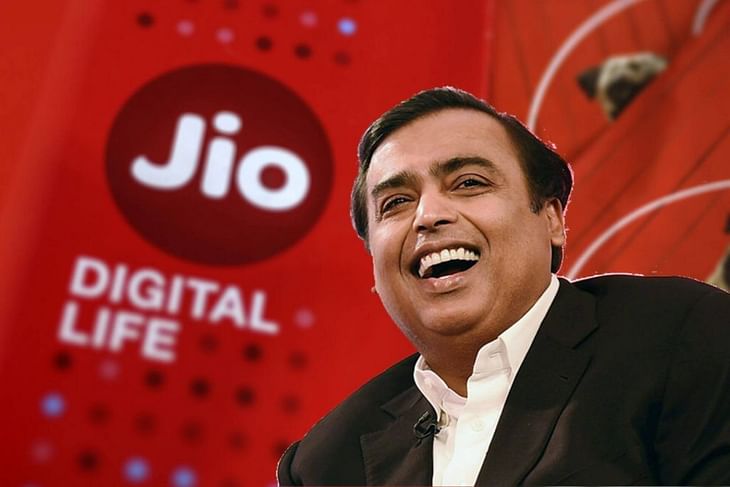 Here are some of the major updates that could move the markets tomorrow:
RIL to launch 5G services by Diwali; reveals ₹75,000 crore investment in petchem
Reliance Industries Ltd (RIL) has laid out a ₹2 lakh crore plan to launch the next generation (5G) of wireless services in India within two months. The company aims to deploy 5G services across metro cities by Diwali. RIL will partner with Qualcomm Inc to provide cloud-based 5G network solutions for businesses. It will also collaborate with Meta Platform Inc. for its JioMart shopping integration on WhatsApp.
Mukesh Ambani laid out a clear roadmap of how the conglomerate will be divided among two sons Akash and Anant, and daughter Isha. RIL will also launch its fast-moving consumer goods (FMCG) business this year. Moreover, they've announced an investment of ₹75,000 crore in the petrochemical business over the next five years.
Read more here.
Lupin gets USFDA nod for generic cancer treatment drug
Lupin Ltd has received tentative approval from the US Food & Drug Administration (USFDA) to market Dasatinib tablets in America. The drug is used to treat certain types of cancer. It works by slowing or stopping the growth of cancer cells. As per IQVA MAT data, Dasatinib tablets had estimated annual sales of $1,569 million in the US.
Read more here.
ABB India to upgrade Smart Power factory in Bengaluru
ABB India has decided to expand and upgrade its Smart Power factory in Nelamangala, Bengaluru, to meet the strong demand for its Smart Power solutions and energy management technologies. The facility is equipped with advanced collaborative robotics technology for better human-machine interfaces, artificial intelligence (AI), and digitalization technologies to create an automated and future-ready factory.
Read more here.
LTTS secures 5-year deal from BMW Group
L&T Technology Services (LTTS) has secured a multi-million-dollar deal from BMW Group. As part of the 5-year deal, LTTS will provide high-end engineering services for BMW's suite of infotainment consoles targeted for its range of hybrid vehicles. The proximity to BMW Group's campus will enable LTTS' engineers to work on various solutions and offer services in real-time.
Read more here.
Mahindra Finance partners with CRIF to enhance customer experience
Mahindra & Mahindra Financial Services Ltd has partnered with CRIF Solutions to offer a seamless onboarding experience for customers seeking loans. The company will leverage an automated platform called StrategyOne (an Enterprise Business Rules Engine provided by CRIF) to integrate its customer acquisition channels across multiple retail asset product lines. This partnership will facilitate quicker loan approval decisions by combining automation and risk analysis.
Read more here.
EaseMyTrip partners with magicpin to launch services for travel, shopping
Easy Trip Planners Ltd (EaseMyTrip) has announced a partnership with magicpin to launch a suite of products and services that will bring travel and shopping experiences together through cross-promotion. This partnership will have unique and specially curated offerings on each other's platforms.
Read more here.
Aurobindo Pharma subsidiary's plant gets one observation from USFDA
The USFDA has issued one observation after inspecting a plant owned by Aurobindo Pharma's US-based unit. The health regulator conducted its Pre-Approval Inspection (PAI) and Good Manufacturing Practice (GMP) inspection at the plant from August 22-26. The plant is owned by Aurolife Pharma LLC, a wholly-owned step-down subsidiary of Aurobindo Pharma Ltd. The company said it will respond to the USFDA within the stipulated timeline.
Read more here.
​​IRCTC plunges 8% after it withdraws e-tender for data monetisation plan
Shares of Indian Railway Catering and Tourism Corporation (IRCTC) fell over 8% today after the company withdrew the e-tender for its data monetisation plan. The bill was withdrawn after IRCTC was summoned by a Parliamentary panel over its controversial passenger data monetisation plan on Friday. The panel sought IRCTC's stance on the proposal as it was concerned over possible data privacy violations.
Last week, IRCTC revealed plans to employ a consultant to conduct business with government and private companies by using its customer and vendor application data. The company estimated a revenue opportunity of ₹1,000 crore from this move.
Read more here.
Vodafone Idea denies report of data breach
Vodafone Idea (Vi) has denied an alleged data leak of more than 20 million customers. A report by cyber security research firm CyberX9 claimed that call data records of around 20.6 million customers of Vi were leaked and accessed by cyber-criminals. The telco said the report is "false and malicious".
Read more here.
RBI to establish fraud registry to check bank frauds
The Reserve Bank of India (RBI) aims to establish a fraud registry to compile a database of dubious websites, phones, and other digital fraud methods as part of its attempts to increase client safety. Such a database will help to stop fraudsters from committing the same fraud because the websites or phone numbers will be blacklisted.
Read more here.
Post your comment
No comments to display