Renewable Energy Sector In India To Fly After Budget 2021?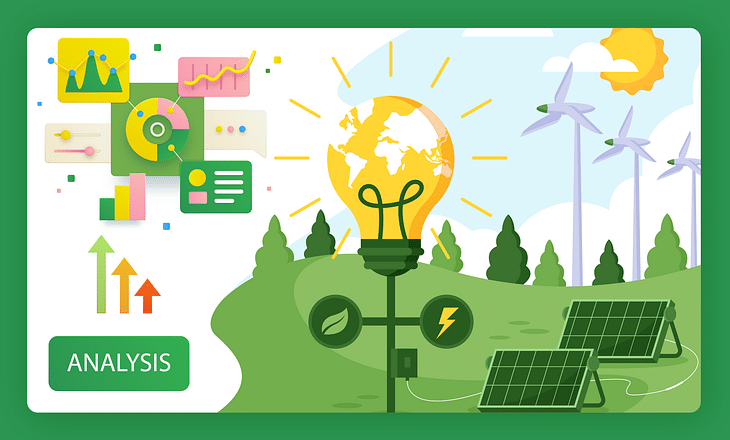 India has installed a renewable energy capacity of close to 136 GW as of February 2021. It has an installed solar energy capacity of 36.91 GW and a wind energy capacity of 38.43 GW. Additionally, India has installed a strong hydro-power capacity of 45 GW. The government plans to install 500 GW of renewable energy capacity by 2030. The Budget 2021 is a game-changer for the renewable energy sector.
The Electricity Amendment Bill that has received praise in the public domain can also prove to be a much-needed change for the power generation, transmission and distribution companies. Let's explore what the renewable energy sector has in its books for investors.
Current Scenario/Budget 2021 Impact
The solar and wind energy sectors aren't having the best time. Poor tariffs, bad government regulation, and high payment default rates are what the sector is facing. According to a 2019 report, power distribution companies owed renewable energy companies Rs 6,800 crores in payment dues. Delays in payment by State Electricity Regulatory Commissions(SERCs) make it difficult for renewable energy companies to set up new projects.
The pricing of renewable energy by government bodies isn't a transparent process and has its own set of challenges. Financial institutions do not have much understanding or expertise in renewable energy projects. Moreover, the taxation of renewable energy still falls under the grey area.
In the Budget Session of 2021, the Finance Minister announced reforms in the power and the renewable energy sector. These reforms will ensure improvement in infrastructure financing, clearing payment dues, and improving energy efficiency. The government will be infusing Rs 2,600 crores into the solar power sector through loans, incentives, and subsidies. It will also jack up import duty on solar panels to promote domestic production.
The government has also announced reforms that will improve the financial position of transmission and distribution companies. This will ensure that the amount of money owed to renewable power generation companies is paid.
Stocks To Watch Out For
Adani Green
Adani Green is a renewable energy company owned and operated by the Adani Group, headquartered in Ahmedabad, Gujarat. It has a project portfolio of 14,000 GW/Gigawatts. It means that if all of his projects become operational they will generate 14 GW of electricity, which can realistically power up to 42 lakh homes. Adani Green's projects include solar energy, wind energy, and hybrid solar-wind energy projects. Adani Green has a market capitalization of Rs 1.75 lakh crore. The company's share price has risen by 1,207% in one year's time.
To Know More, Click Here.
NHPC 
National Hydroelectric Power Corporation was set up in 1975 with the objective of setting up hydropower projects. It has a market cap of Rs 25514 crore It has a total installed capacity of 7071.2 MW. It has executed 22 hydro projects with an installed capacity of 6717 MW on an ownership basis plus some on a joint venture basis. The company holds projects majorly in the states of Himachal Pradesh, Uttarakhand, and Jammu, and Kashmir to name a few.
Sterling & Wilson Solar
Sterling & Wilson Solar is a Shapoorji-Pallonji Group company that works in end-to-end solar solutions, procurement, construction, operation, and maintenance of solar units. The company has a market cap of Rs 1975 crore. The Engineering, Procurement, and Construction (EPC) business contributed to 96.7% of company revenue in FY 19-20. Operation And Maintenance (O&M) contributed to 3.3% of the revenue in the same year.
The Company's unexecuted orders stood at Rs 11,396 crore as of March 31, 2020, up 47.3%, from Rs 7,739 crore as of March 31, 2019. This is a minor cause of worry, even though they are getting new orders every other week.
JSW Energy
JSW Energy currently generates 4,559 MW, out of which 3158 MW is thermal power,1391 MW is hydropower, and 10 MW solar power. Close to ~34% of JSW's portfolio is in renewable energy. JSW Solar bagged an order from Solar Energy Corporation of India for setting up of 2500 MW ISTS or Interstate Transmission System.
Tata Power
Apart from thermal power production, Tata Power's renewable business capacity is 2,637 MW (932 MW Wind & 1705 MW Solar). Close to 36% of its total energy is produces from renewables. The company also has an installed hydropower capacity of 693 MW, of which 65% is generated for the domestic market. The company plans to expand its renewable energy capacity base from 4.1 GW to 15 GW by 2025
Other Listed Companies
Waa Solar
Suzlon
Gita Renewables
Ujaas Energy and much more..
FM Nirmala Sitharaman announced in the budget 2021 that provisions were being laid for power consumers to choose between multiple power distribution companies. This will promote healthy competition and at the same time, help for better price discovery.
The renewable energy sector shares were struggling for much of its time in the stock exchanges. This is the reason behind poor valuations and price growth of renewable energy companies since IPO, often getting classified as 'penny stocks' or 'operator-driven stocks'.
Factors like the Electricity Amendment Bill, power sector reforms, increased power trading on the Indian Energy Exchange, Renewable Purchase Obligation (RPO), and so on, will spark a movement in the renewable energy sector.
These changes in the power sector will ensure an increase in cash flows for these companies. Struggling distribution companies may be able to pay their dues on time, this way reducing the financial burden on the entire sector. A defined tax-structure for electricity too can help power companies transfer tax-burden to their clients.
There are plenty of small-cap or "penny-stock" renewable companies listed on NSE and BSE, some of these infant companies might turn out to be power giants in the future if they manage to clear off their very high debts. Do you know any? Let us know in the comment section down below!
However, in our opinion, try to go for good companies like the ones we have mentioned above even if their valuations are higher. High debt levels and poor technology may limit these penny stocks from making a comeback, while good companies will flourish.
Post your comment
No comments to display