Reliance vs Farmers' Protests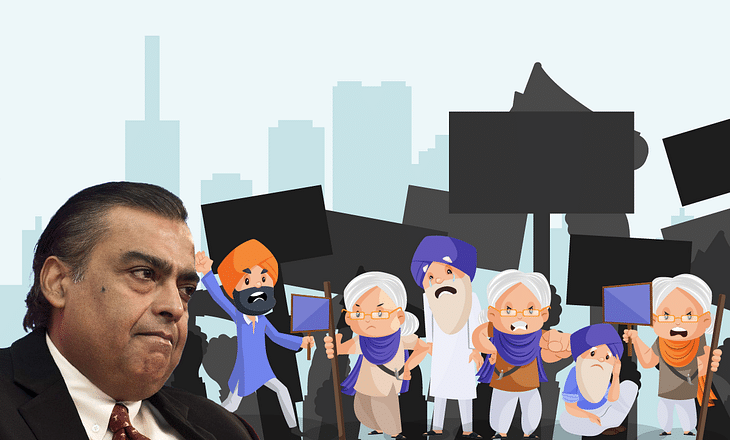 Telecom towers are an essential infrastructure that supports the continuous expansion of telecom companies. Major players such as Reliance Jio, Vodafone Idea, and Bharti Airtel operate tens of thousands of towers across urban and rural areas of India. There are over 5 lakh mobile cell towers that play an important role in accelerating the digital revolution in our country.
Recently, we have come across reports stating that thousands of telecom towers have been vandalized by farmers in Punjab. Most of these towers were operated by Reliance Jio. Let us understand the reasons as to why Reliance has been facing the heat of the farmers' protests. We shall also discuss the important developments that have taken place over the past few days.
The Telecom Tower Vandalism
On December 28, major news publications came up with a very shocking report: The farmers and support groups protesting against the Government's new farm laws have damaged around 1,500 mobile towers of Reliance Jio Infocomm Ltd in Punjab. More than 176 signal transmitting sites were vandalised on a single day- December 27. They disconnected the power supply to the towers and cut fibre cables. The mobile and internet services of the company had been disrupted in the state, causing inconvenience to its consumers. The violent act by farmers also became a threat to the employees and technicians who were running the telecom towers.
The Chief Minister of Punjab, Capt. Amarinder Singh, directed the police to take strong action against anyone destroying telecom towers in the state. The Cellular Operators Association of India (COAI) condemned the vandalism of mobile towers by agitating farmers.
Why are Farmers Boycotting Reliance?
The attacks on Jio's telecom towers comes amid speculation that the new farm laws allegedly benefit Reliance Industries. As we are aware, farmers from Punjab, Haryana, and Uttar Pradesh have been camping at the borders of Delhi for more than a month. They are protesting against three new farm laws that were passed by the Indian Parliament in September. The primary aim of these laws is to allow farmers to sell their produce to any buyer of their choice. Thus, they would be able to bypass middlemen or commission agents at state-controlled markets (mandis).
Mandis, or marketplaces for selling farm produce, were set up in the 1950s to end the exploitation of farmers. The government would also pay them a Minimum Support Price (MSP) for their agricultural products. Many farmers see the MSP as a vital safety net, and started to become very sceptical of the new laws. One of their biggest fears is that large companies such as Reliance Retail would exploit these laws and drive them out of business.
The Central Government and PM Modi have repeatedly said that procurement of crops at MSP will continue under the new laws. However, the farmers have stated that they would not stop their protests until these laws are repealed. They have also demanded the government to ensure a legal guarantee of MSP.
Reliance Jio, a subsidiary of Reliance Industries Ltd (RIL), has been facing the heat of the protesters. On December 27, it was reported that over 1.50 lakh Jio sims have been ported to Bharti Airtel and Vodafone Idea at protest sites. Around 500-600 people were getting their Jio sims ported every day. This was primarily seen in states such as Punjab and Haryana, wherein agriculture is the dominant activity. The farmers have also showed their dissent by torching Jio's banners and advertisements. And then, the protesting farmers started damaging the telecom towers in Punjab.
Jio's Allegations Against its Rivals
Reliance Jio sent a letter to the Telecom Regulatory Authority of India (TRAI) on December 10. They alleged that two companies had created an impression that Reliance stands to gain from the three new agricultural laws. It asked TRAI to take action against rivals Bharti Airtel and Vodafone Idea, for allegedly running a false propaganda campaign to attract its subscribers. Jio stated that they have been receiving a large number of port-out (cancellation) requests, which was mainly due to false information being spread to the farmers. It is not clear if Reliance had provided substantial evidence to support this extraordinary claim.
Both Bharti Airtel and Vodafone Idea (Vi) completely denied all allegations made against them. "Despite being provoked by some competitors who we know will go to any length to make baseless allegations, adopt bullying tactics and use intimidatory behaviour, we have always conducted our business with character and transparency", said Bharti Airtel in a statement. Vi also stated that these were baseless allegations that were made to destroy their reputation.
On January 2nd, Bharti Airtel sent a letter to the Department of Telecommunications (DoT). The letter stated that 'Jio's allegations against the firm did not demonstrate any evidence that it had any hand in the ongoing issues that the company is facing.' Bharti Airtel also said that the complaint should be dismissed "with the contempt that it deserves". The telecom company also urged the DoT to introduce a policy to mandate ICR (Intra-Circle Roaming) in such situations of vandalism and network outages.
RIL Files Petition in Punjab & Haryana HC
On January 4, Reliance Industries Ltd (RIL) filed a petition in the Punjab and Haryana High Court "to bring a complete stop to the illegal acts of vandalism by miscreants". The petition stated that "vested interests" were engaging in spreading false rumours against the group. RIL ensured that they had nothing whatsoever to do with the three farm laws, and in no way benefited from them.
In the petition, RIL stated that it is committed to empowering and supporting farmers. It highlighted that the Reliance Group never bought agricultural land for corporate farming and has no plans to do so either. RIL further claimed that it does not purchase food grains directly from farmers. In fact, its suppliers buy agricultural produce only at the Minimum Support Price (MSP) level. RIL urged the High Court to issue a suitable order to help protect its employees and property from vandalism.
On January 5, the Punjab and Haryana High Court issued notices to the Punjab Government and the Centre in response to Reliance Jio's plea. The company's lawyer, Ashish Chopra, said that the High Court has sought a response from the concerned government officials by February 8.
What Next?
With the destruction of telecom towers, the ongoing protests by farmers have turned out to be violent. Only a few of the damaged towers have been restored so far. Many subscribers or consumers of Reliance Jio are still facing network issues in Punjab. Major telecom companies are blaming each other for inciting such an aggressive act. The destruction of such vital telecom infrastructure needs to be stopped at all costs. Will the protests lead to Jio losing more subscribers? Will the farmers boycott more products of Reliance Industries? Or, will the concerned authorities find the people who damaged the towers and take strict action against them? We will have to wait and watch.
Post your comment
No comments to display