Reliance vs Amazon: The Future Retail War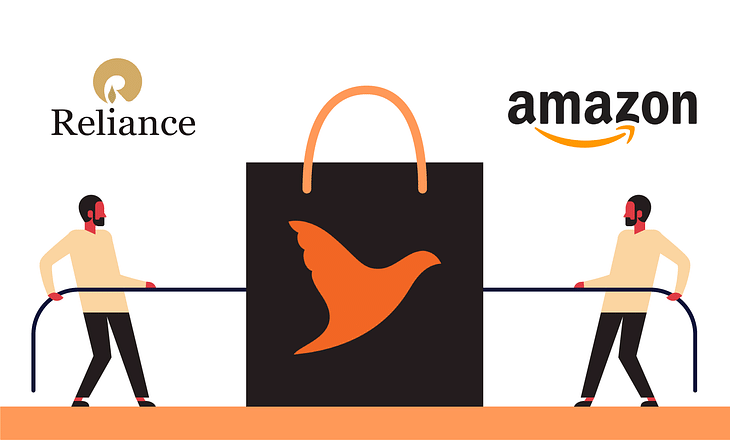 India's retail market is estimated to be worth Rs 60 lakh crores in FY 2019-20 and is expected to grow at a CAGR of 10% over the next 5 years to reach Rs 90 lakh crores by FY 2024-25. Reliance and Amazon are indulging in a serious war to capture this retail market in India.
Reliance and Amazon have been pursuing to buyout the cash-strapped Future Group, which owns retail brands like Big Bazaar, HyperCity, etc. This deal can give access to around 1,800 stores across Future Group's brands and subsidiaries such as Big Bazaar, FBB, Easyday, Central, which are spread across 420 cities in India.
Right after Reliance finalized its deal to acquire the Future Group for Rs 24,700 crores, Amazon opposed the deal and approached an international arbitration court to try and stall the deal. The court has given a temporary decision in favor of Amazon. A permanent injunction order is awaited. On the other hand, Reliance refuses to take a step back either. Let's find out what the mess is all about.
Why is Amazon Opposed to the Reliance-Future Deal?
After Reliance finalized its deal to acquire the Future Group, Amazon approached the Singapore International Arbitration Centre(SIAC) to appeal against Reliance for buying out Future Group. Amazon stated that this would be a violation of a contract that Future and Amazon had signed when Amazon had acquired a 49% stake in Future Coupons Limited, in November 2019. This acquisition gave Amazon a 3.58% stake indirectly in Future Retail Limited.
Coming to the contract between the two companies, they had mutually agreed that Amazon would have an option to acquire all or a part of the Promoter's Shareholding in Future Retail Limited in the near future, under certain circumstances. Additionally, Amazon would have the first right of offer. The Promoters had also agreed to not sell their stake to 'specified persons' and agreed to certain restrictions. We can get a smell of who the 'specified persons' might be.
Amazon says that according to the contract it has the first right of refusal. This means that a company can buy a stake in Future Retail only after Amazon refuses to buy it in the first place. The interpretation of the contract is debatable.
Is it a Retail War?
Reliance wishes to capture the e-commerce market through its brand JioMart(a subsidiary of Reliance Retail Ventures Ltd.), which was recently launched in January 2020. The company gained momentum during the COVID-19 lockdown. Amazon, on the other hand, wishes to acquire a better logistics, warehousing, and supply chain for its already existing e-commerce platform.
In January 2020, Future Retail and Amazon had 'joined hands' to 'take-on' Reliance's JioMart.They were strategizing for a partnership and possibly an investment. The relationship between Amazon and Future was steady. Future saw hope in partnering with Amazon. However, Reliance offered to acquire the group for a lucrative amount which could prevent the company from going bust. The deal was too good to let go. Future Group jumped off Amazon's Boat and got into Reliance's Boat. At the same time, Reliance being an Indian entity faced no restrictions of Foreign Direct Investments(FDI), unlike Amazon.
Future Group might face insolvency and eventually shut shop: Arbitrations are long and lengthy, they aren't as effective as litigation. Reliance has its own set of tricks up its sleeve. If the arbitration proceeding continues for long, Future Group won't get the cash it needs. This means that it won't be able to operate for long and eventually go bust. What would follow is a set of insolvency proceedings which would last long enough, such that neither Amazon nor Reliance would be able to acquire the assets. Since the assets would be auctioned off to pay back the debt that Future Group owes to its creditors. Essentially, this would be collateral damage.
Amazon was in talks with Reliance to buy a 26% stake in Reliance Retail in August 2019. In September, there were unconfirmed reports that Amazon was in talks with Reliance to acquire a 40% stake in Reliance Retail for $20 Billion(1.4 Lakh Crores). The deals didn't go through. The liquidity would have allowed Reliance to get rid of its huge debt. However, with foreign investments flowing in Reliance managed to go net-debt free without giving Amazon a piece of its cake.
Not just Retail, there's more to it: Reliance, Amazon, and Flipkart, the three major competitors, are all arms out against each other. All three own a food retail license, All three have their own OTT platforms, All three have their own UPI/Wallet payment services. All three have an established fashion brand. There could be more than just Retail in the picture.
Who Wins, Who Loses?
Reliance is an old and home-grown company, with a strong lobbying ground and sources in the government. Amazon on the other hand is a relatively newer foreign company with not as much lobbying power as Reliance. Amazon might therefore face problems on FDI and regulation even if things run in its favor. Reliance and Future have both come out in support of the acquisition. Reliance has stated that 'it intends to enforce its rights and complete the transaction in terms of the scheme and agreement with Future group without any delay'. Reliance and Future both want to go forward with the deal.
Amazon faces a challenge since enforcement of emergency arbitration orders is contestable in the Indian court of law. Future Group or Reliance might approach the respective court and stall the interim order by SIAC. Whatever is the course of action needs to be taken fast, time is ticking.
Post your comment
No comments to display