Reliance vs Adani Group: Spearheading India's Green Energy Revolution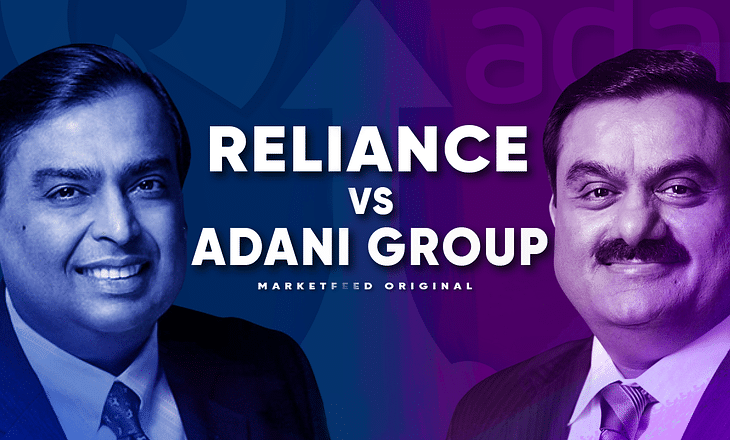 At the recent United Nations Climate Change Conference at Glasgow (COP26), India pledged to achieve net-zero carbon emissions by 2070. The Centre has committed to installing a non-fossil fuel electricity generation capacity of 500 gigawatts (GW) and sourcing 50% of India's energy requirement from renewable sources by 2030. The government also aims to reduce 1 billion tonnes of projected emissions within the same time frame. As India continues to rely heavily on fossil fuels, it will be a mammoth task to reach these green targets.
Two of our country's largest conglomerates, Reliance Industries and Adani Group, are now competing to dominate the gradually developing green energy sector. In this article, we explain how both business houses are working to push green energy in India.
The Strategic Plans of Reliance Industries Ltd
Reliance Industries Ltd (RIL) has entered the green energy sector with highly ambitious plans. Chairman Mukesh Ambani had revealed a roadmap to invest $10 billion (~Rs 74,400 crore) in solar, green hydrogen, batteries, and fuel cells over the next three years. A significant portion of the investment will go towards setting up four "giga factories". This move will boost domestic production of solar photovoltaic modules, fuel cells, and energy storage batteries. They will also work towards strengthening the value-chain partnerships and future technologies.
In June, Ambani announced that RIL has started developing the Dhirubhai Ambani Green Energy Giga Complex in Jamnagar, Gujarat. Spread across an area of 5,000 acres, the complex will turn into one of the largest integrated renewable energy manufacturing facilities in the world. RIL is also attempting to manufacture solar modules and essential components indigenously to bring down the overall cost of production. This initiative will also help reduce the reliance on Chinese products.
Acquisitions and Targets
One of RIL's subsidiaries, Reliance New Energy Solar (RNES), recently acquired Norway-based REC Solar Holdings for $771 million (~Rs 5,740 crore). REC is a leading manufacturer of solar cells and modules, along with solar-grade raw polysilicon. RNES has also acquired a 40% stake in Sterling & Wilson Solar for Rs 2,755 crore.
Reliance aims to generate 100 gigawatts of solar energy by 2030. They will also invest in carbon fibre plants for sustaining their hydrogen and solar ecosystems. This whole ecosystem will be developed and operated by a dedicated Renewable Energy Project Management and Construction Division. These factors will help the company meet its goal of becoming net carbon-zero by 2035. As a company that still generates ~60% of its revenue from oil refining and petrochemicals, it will be interesting to see how RIL executes its strategic plans.
Adani Group's Green Energy Roadmap
The Adani Group had recently announced plans to invest $20 billion (~Rs 1.4 lakh crore) over the next ten years in solar, wind, green hydrogen, and energy infrastructure. The group aspires to triple the share of renewable power generation capacity in its total portfolio to 63% from the present 21%. It aims to make Adani Ports a net-zero carbon emitter by 2025 and power all data centers with renewable energy by 2030. Moreover, the Adani Group will spend 75% of its planned capital expenditure (capex) until 2025 on green technologies.
In October 2021, Adani Green Energy Ltd completed the acquisition of SB Energy India for $3.5 billion (~Rs 26,000 crore). SB Energy India was a joint venture between Japan-based SoftBank Group and India's Bharti Group. It is the largest acquisition in the renewable energy sector in India so far!
The Market Potential
India was ranked fourth in wind power and renewable power in terms of installed capacity as of 2020. It obtained the fifth position in solar power. The Centre and state governments are providing subsidies and benefits for boosting clean energy. It is anticipated that around 49% of the total electricity will be generated by renewable energy by 2040. Green hydrogen also has immense potential to grow in India.
According to reports, the Indian renewable energy sector received a total investment of about Rs 5.2 lakh crore over the last seven years. By 2028, this sector could reportedly see investments worth $500 billion (~Rs 37.25 lakh crore). As two of India's biggest business tycoons enter into the green energy sector, we will be able to witness more competition, investments, and job opportunities. Ambani and Adani have aligned their business strategies with PM Narendra Modi's green energy targets.
However, it will be a tedious task for India to implement its green energy commitments. The Centre and state governments, large corporations, and the general public will have to take coordinated actions to reduce carbon emissions. We need to recognise the urgency of climate action and advocate it on a wider scale. India needs to rapidly increase its renewable energy deployment to meet the rising energy demands.
The stage is set for India's green energy revolution. Can Reliance Industries and Adani Group become giants in the global renewable energy space? What are your views on the future of green energy in India? Let us know in the comments section of the marketfeed app.
Post your comment
No comments to display